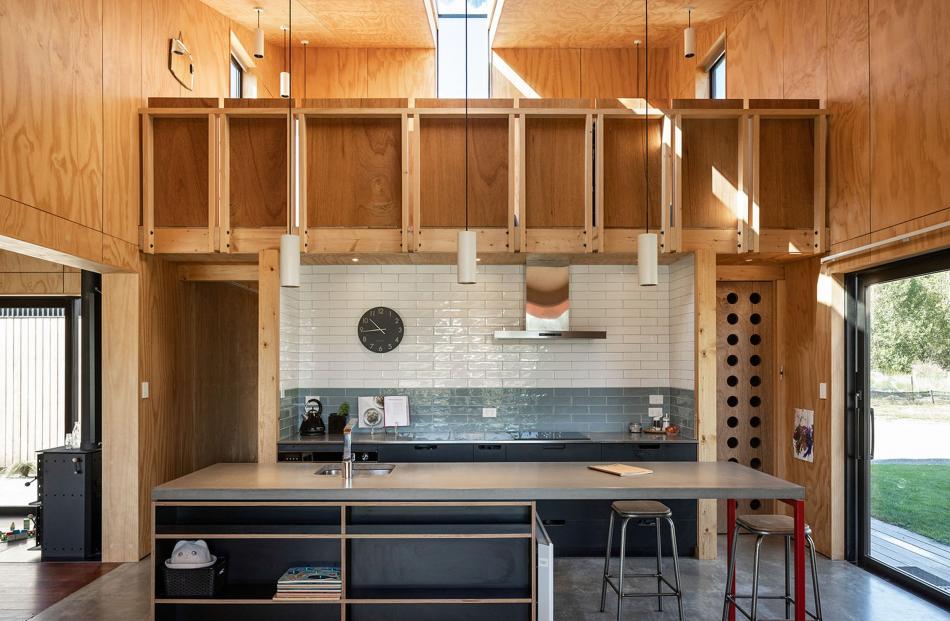 Strong geometric shapes feature in this Central Otago home. Kim Dungey reports.
Working to a budget, the owners of this Hawea Flat home decided to build in stages.
The young couple were living in Cambridge when they approached Wanaka architect Rafe Maclean with their vision for an energy-efficient home built from simple materials.
Maclean says they were keen to incorporate some interesting ideas, but with a relatively small budget, they needed to be fairly simple.
After developing a master plan for a permanent, three-bedroom home, they divided the project into stages.
Initially, they would complete the carport and a rectangular building containing the kitchen-dining area, laundry and bathroom with a mezzanine bedroom above. The garage, lounge and second bedroom would be built next and a third bedroom would follow later.
However, halfway through building the first stage, the couple discovered they were expecting a child, so stage 2 "kicked in" immediately, owner Tim Brazier working alongside Isaac Davidson, of Davidson Building.
Although the plan comprises simple rectangles, in section the building leans forward into the prevailing wind, protecting windows from the northern sun.
Measuring 106sq m without the garage and carport, the home makes use of what Maclean calls colourful trims and "thrifty detailing". Low-cost corrugated cladding was used on the exterior, but a red trim around the edge of the sloping wall creates interest. Inside, considerable planning went into the junctions where plywood meets other materials.
"It's almost like you're going into a tramping hut," he says.
"And some spaces are almost like on a yacht where it's really compact but everything's in the right place.
"I really like the warmth of all the timbers that have been used and ... there's some splashes of colour [that make it] quite playful. There's also lots of little surprises, like the strip window up top and the mezzanine's openness to the main living space."
The long skylight Maclean alludes to runs almost the length of the building and connects to a vertical window. As well as bringing light into the middle of the house, it allows the owners to look up at the night sky when lying in bed on the upper floor and makes the small space feel much bigger.
Passive house software, along with current and predicted climate data, was used to calculate heating requirements. The home's simple shape and small size made it relatively easy to insulate and achieve good comfort levels.
The third stage will add about 80sqm of floor space and result in the temporary wall between the ground-floor lounge and bedroom being removed to make one large living area. The loss of that bedroom will be compensated for by two new ones.
While keeping within the budget was important, little "tweaks" such as the strip window and the sloping wall with its red trim made the build worthwhile, Maclean says.
"They were key to keeping the project exciting for everyone ..."