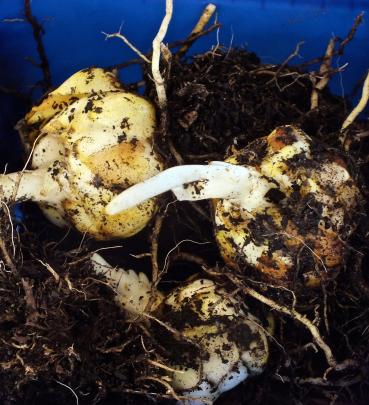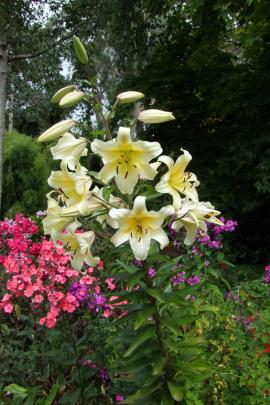 The Otago Lily Society's final bulb sale is being held tomorrow. Gillian Vine explains why this is the last such sale. 
Deciding to end its annual bulb sales with a final fling tomorrow is based, surprisingly, on the rising popularity of lilies.
Otago Lily Society (OLS) president Louise Ardley explains.
"We recognise - and are delighted - that lilies are now so popular that bulbs are widely available at reasonable prices, so the main point of the sale has disappeared."
In the past, the OLS filled a gap in the market by holding an annual auction of lilies, giving gardeners the chance to stock up while raising funds for the society.
Although many now popular varieties passed through the auctioneer's hands, there was also the chance to pick up rare species and less common cultivars.
This year will be no different, in that enthusiasts will be able to buy the likes of the Madonna (Lilium candidum), almost never available commercially, Spanish Turk's cap lily (L. pyracantheum) and L. pardalinum, a North American species with a single spotted bloom on each stem. As always, some bulbs will be in limited supply.
Louise recently took over the presidency after long-serving OLS president John Hill left the club. She is leading by example, donating some of her bulbs, including Lankon. This delicately spotted hybrid of L. longiflorum and L. langkongense was an acclaimed introduction at the 2011 Chelsea Flower Show in London. Despite that, it is not easy to obtain here.
As well as the hard-to-obtain species and varieties, the line-up will include lots of lilies - from Asiatics to Orientals - that are popular with gardeners, whether for size, colour or perfume.
A big change to this year's sale is that, unlike previous years, bulbs will not be auctioned. Instead, lilies will be priced individually. Wherever possible, varieties will be named.
Asked why have a lily sale in the middle of winter, Louise said: "This is the time to lift and divide lilies, replant them and plant new ones.
"Don't panic if your soil has lime in it. No lime for lilies is a bit of a myth, as I think a lot of the new bulbs are good in any garden situation."
To break up clumps if your lilies are crowded, lift carefully with a fork, pull the clump apart and replant, ideally in a new spot. Don't throw away any scales that have fallen off. Instead, press them into a pot of damp, gritty potting mix - damp kitty litter works, too - with the pointed tips above the mix. In time, a little green shoot will appear at the base of the scale. These can be transplanted and should flower in two or three years, depending on the variety.
Most lilies do best in well-drained soil with good sun but some species, such as Florida's L. catesbaei, will thrive in boggy ground and the martagons are happy in a shady spot as long as the soil does not dry out.
"If you want information on growing lilies, members will be on hand tomorrow to give advice," Louise said, and she encouraged anyone with an interest in lilies to join the OLS.
Buy them
The Otago Lily Society's bulb sale is being held from 1pm tomorrow at the Dunedin South Presbyterian Church Hall, 398 King Edward St, South Dunedin. There is no entry charge but people are asked to bring their own bags for purchases.