Gillian Vine looks at four recently-published garden books. 
The internet has many useful attributes but it cannot replace gardening books. How much simpler it is to put half a dozen slips of paper into a volume to mark pages to come back to than to have endless bookmarked websites?
A quartet of recently published garden books makes my point, as mine - already sprouting bookmarks - cover the ground from edibles to attracting wildlife.
Urban Arboreal, by Michael Jordan and Kelly Louise Judd (White Lion, $39.99), reads like a whirlwind tour of cities from Stockholm to Santiago, via Berlin, Barcelona, Cairo and Canberra, focusing on a street tree in each. It's once over lightly and not very well-researched in places - for example, we are told pohutukawa's "Maori name is rata". Oh dear.
Habitat, by A.B. Bishop (Murdoch Books, $45), is aimed at Australians who want to create wildlife-friendly gardens, but there a number of ideas that can be picked
up by anyone, anywhere.
The book is not just for those with vast gardens, but also city dwellers whose limited space Bishop encourages to utilise with vertical planting. She points out that even balcony owners can use plants that attract insects, including bees.
There are lots of photos of Australian animals, birds, insects and plants, which will certainly make Habitat attractive to youngsters as well as adults looking for better ways to connect with nature.
Flourish (Godwit, $55), by Juliet Nicholas and Barb Rogers, is a charming look into the gardens of creative women from Stewart Island to north of Auckland.
There are familiar faces - Margaret Barker, of Larnach Castle, Arrowtown's Janet Blair, writer Lynda Hallinan and Ayrlies creator Bev McConnell - but the 26 featured gardeners include others few would recognise. Among them are Dr Lyn Barnes, a university lecturer who has created a monarch butterfly haven in central Auckland, Sarah Caughley, whose Wellington courtyard garden is green-themed, and Rosa Davison, who has gone native south of Blenheim.
Rogers' text gives insights into the gardeners, while Nicholas' photos bring it all to life.
If you're looking for a book to give as a gift, Flourish is recommended.
Milkwood (Murdoch Books, $49.99) is a delight. Authors Kirsten Bradley and Nick Ritar have a small (1ha) permaculture property near the Victorian spa town of Daylesford. They are clearly experts in the art of what they call down-to-earth living and in Milkwood concentrate on just five areas - tomatoes, mushrooms, beekeeping, seaweed and wild food. That may sound an odd combination, but it works surprisingly well in this first-class book.
For starters, the reader is led through the techniques for growing great tomatoes, with helpful tips on raising from seed, planting and caring for the fruit, including the best companion plants to keep them healthy.
Then it's on to mushrooms, again with material on varieties and how to grow some of the more exotic varieties. As the spawn of most of those described is available in New Zealand, this section will be welcomed by anyone wanting an introduction to growing slightly different fungi.
Although interesting and very well presented, beekeeping is probably the weakest section of the book, as there are now so many specialist books on the topic written for New Zealanders.
Seaweed looks at a food that is fairly new to most New Zealanders and probably Australians, although it has been harvested and eaten in both countries for centuries.
You may harvest seaweed in most parts of NZ (marine reserves are off-limits) and some of Bradley and Ritar's species are common here, making it easier. Unlike mushrooms, none of our seaweed is poisonous, so you are safe experimenting. Milkwood has detailed and helpful advice on gathering, drying and storing seaweed, making this probably the best part of the book.
Finally, wild food is featured - interesting, but without much new material. Incidentally, what the authors call Warrigal greens is good old kokihi or New Zealand spinach (Tetragonia tetragonioides). As each section does, this one concludes with recipes and if my neighbours don't harvest their elderberries this season, I'll be there with a bucket so I can try Milkwood's elderberry syrup.
An excellent book, highly recommended.
Elderberry syrup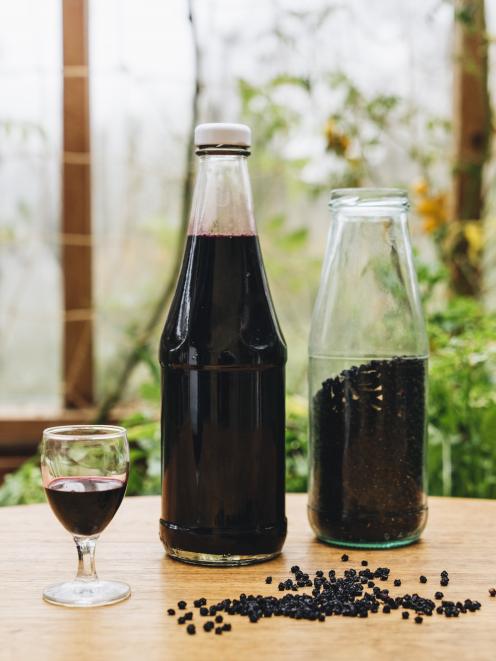 900g (4 packed cups)
fresh elderberries
2 tsp ground cinnamon
1 tsp ground cloves
6L filtered water
2.5cm of fresh ginger, grated
350g (1 cup) honey
250ml (1 cup) apple cider vinegar
Method
1. Put the elderberries, cinnamon and cloves in a large pot. Cover with the water, then bring to the boil. Take off the heat, put the lid on the pot and leave the berries to steep overnight.
2. The next day, return the pot to the stove and add the ginger. Bring to the boil, then reduce the heat and simmer for 30 minutes.
3. Line a colander with a clean tea towel. Pour the mixture through the colander and into another pot. Squeeze the elderberries in the tea towel to extract all the liquid. (Your tea towel will be purple for a month or so after this operation, but it will wash out eventually.) Give the elderberry mush to your chickens or add it to your compost.
4. Bring the liquid to a simmer, then add the honey and apple cider vinegar and stir to combine. At this point, taste the mixture. If it tastes like your family will slurp it up in spoonfuls, you're done. If not, adjust the sweetness accordingly.
5. Pour the hot syrup into sterilised bottles. Seal, label and store in a dark place. We store the syrup in re-used red wine bottles somewhere cool and dark, and keep any opened bottles in the fridge.
Recipe from Milkwood by Kirsten Bradley and Nick Ritar, published by Murdoch Books, distributed by Allen & Unwin, RRP $49.99.