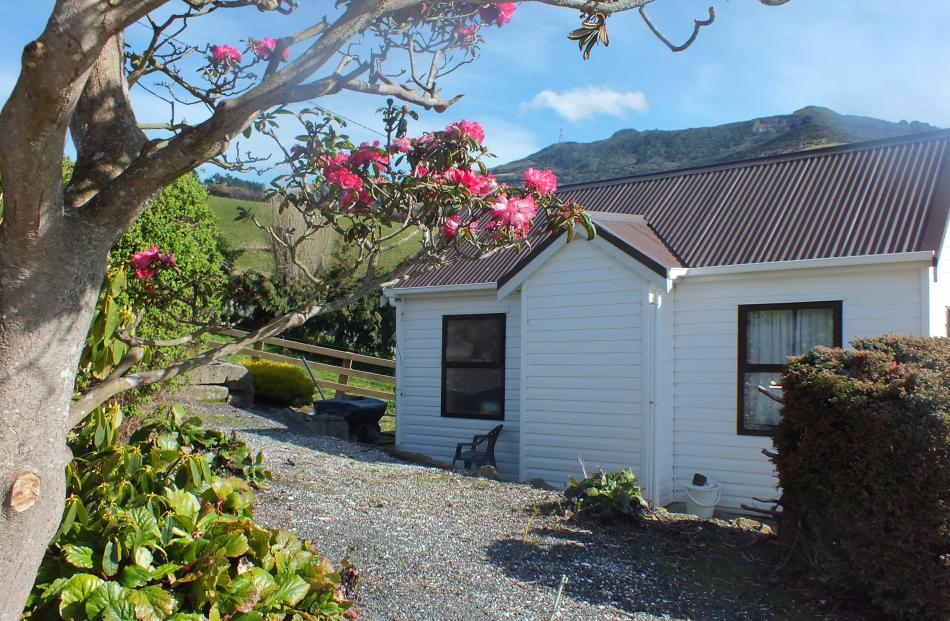 An historic Sawyer's Bay property is one of seven gardens open next weekend. Gillian Vine reports.
There's a charming little cottage in Rose Laing's Sawyers Bay garden. It was built, she explains, to house the original owners' gardener. There hasn't been a gardener in residence for many years: these days, Rose and her daughter, Wendy Butler, maintain the large garden around an impressive 1860s house.
The house, called Larden,  was built by Plumpton Clemison, who had learned engineering at Hawarden, just over the Welsh border from Chester. According to an Otago Witness account, Mr Clemison came to New Zealand in 1849 on the Mooltan and settled in Sawyers Bay, erecting a sawmill, then — when the land was cleared — turning to farming. He and his wife Mary (nee Peterson) had 11 children, 10 girls and a boy. Mr Clemison died in 1873 and is buried in a family plot in Dunedin's Northern Cemetery, alongside Mary who died in 1917.
In 1954, Ken Laing bought the property — the first time it had left the Clemison family — and continued the farming tradition, dairying in his case. He married Rose and although she says, "I just trundled around behind", she obviously made a significant contribution. These days, she has a large cow sculpture in the garden ("Because I haven't got the real thing any more") and other farming mementoes, including an old plough.
High on a hill, the views are spectacular, to Mt Cargill in one direction, across the Otago Harbour in the other. There is a downside, though. Wind comes from every direction.
"You can take your choice. I think we get most winds here," Rose says.
The place to shelter could be the octagonal summer house on the harbour side. Built in the late 19th or early 20th century, it remains unchanged, with seating around the sides and a central table whose shape mimics the building.
Outside, many things have changed, reflecting the challenge of revamping a large, old garden.
"There were little box hedges everywhere," Rose recalls.
Being very high maintenance, they needed to go, as did the massive vegetable garden (the Clemisons had that big family to feed), replaced with a more modest patch.
Then a huge macrocarpa near the entrance was removed so milk tankers could get to the dairy sheds, while the rhododendrons in the shrubbery were supplemented by others planted by the Laings.
Between the shrubbery and the house is a hedged formal garden with roses in beds around the edges and an old sundial in the centre. Among newer roses is Grand Prix Special,  named to celebrate excellence in dressage, of which Wendy is a keen exponent. The blood red rose has fluted petals which age to almost black, so Rose and Wendy are hopeful that it will perform well.
The sundial looks ancient and the base and column certainly are but the actual timepiece is newer, a gift from Rose's parents.
Trees behind the house include an ancient pear tree, red and yellow pohutukawa, and a red-flowered gum, which give colour in spring and summer.
Rose and Wendy appreciate the history of their property but are not locked into replicating the Clemison garden, preferring to keep what works for them and to put their own stamp on the garden.
See it
The Laing garden is one of seven properties open on Saturday, October 28, as a fundraiser for the Port Chalmers Presbyterian Church. Gardens are open 11am to 4.30pm and tickets ($15) include Devonshire tea at Emmanuel Church hall, Station Rd, Sawyers Bay. Tickets (with maps) will be on sale at the hall from 10.30am on the day or can be booked in advance by phoning 471-0690. A barbecue ($2) will be available in the hall grounds, and plants, cakes and produce will be on sale.