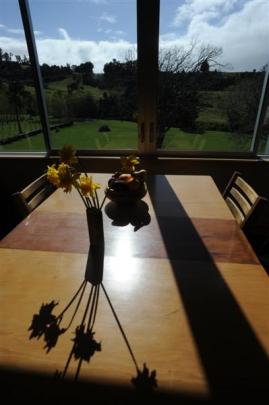 After more than 30 years living and working in places as diverse as Ethiopia, Indonesia and Auckland, Roy and Jan Johnstone have come home. Allison Rudd visited them at their ecofriendly house, nestled below a patch of native bush on a South Otago hillside and overlooking what they call their hidden valley.
---
We are in Roy Johnstone's study, looking out over cropped paddocks and past century-old walnut and oak trees to where 600 hazelnut trees stand in regimental rows.
Just below the window, a pair of wood pigeons land on a Matsudana willow, which fell over when it was young and was left to sprawl across the grass.
They scrap over the catkins, which are a spring-time delicacy, before flying off again.
Mr Johnstone and his wife, Jan, smile.
"This is my favourite place, sitting at my desk, looking out the window," Mr Johnstone says. "It's just lovely ... It's the peacefulness I really like."
The Johnstones' home, which they had designed and built for them, was completed four years ago. Its location, in the quiet Puerua Valley, 17km south of Balclutha, is where they always planned to settle one day.
Ms Johnstone has known the area all her life. Her parents, brother and cousins farmed or still farm nearby; her maternal grandmother grew up next door, and the Johnstones' 7.5ha lifestyle block was owned by Ms Johnstone's maternal uncle and her parents before they bought it 30 years ago.
The land has had previous owners with their own stories.
Tottie's Flat, the expanse at the bottom of the hill, is named after Tottie Dent and her sister, who lived for years in a cottage near the river.
Before them, Scottish school teacher T.S. Roscoe lived in a totara-slab cottage on the flat.
The slab cottage succumbed to time many decades ago, but Mr Johnstone discovered Mr Roscoe's rubbish dump a few years ago while digging the foundations for a shed.
"He must have done an awful lot of writing and smoking, because I found lots of ink bottles and pipes."
Having decided to build a house, the Johnstones were clear about what they wanted. It had to fit in with its rural setting, it had to face north to capture sunshine and the view, it have a low environmental impact, and it had to be warm.
At that time, Mr Johnstone, a geothermal consultant who has now retired, was working in Papua New Guinea and Ms Johnstone had returned to Balclutha to take up a position as student support tutor and librarian at Telford Rural Polytechnic.
She lived for a time in a rented farm cottage where, in winter, she maintains "it was warmer in the fridge" than the rest of the house.
They toyed with the idea of an earth-brick or rammed-earth house. They also considered building the house into the hillside and grassing the roof.
But, after discussions with their designer, Dunedin architect Ian Butcher, they ran with something more conventional but equally ecofriendly.
"And, boy, are we happy with it," Ms Johnstone declares.
The rectangular house sits unpretentiously on the hillside.
Its upper level contains a bathroom, toilet, storeroom, laundry, entranceway, spare bedroom and study. A gallery hallway with a bank of clerestory windows above overlooks the main living/dining room. The kitchen has a large window so the Johnstones can throw scraps directly to their sheep and chickens below, while the roomy conservatory off the living room is the perfect spot in which to grow tomatoes.
On the other side of the living room is the main bedroom with an internal staircase to the bathroom above.
The thick, well-insulated, concrete floor, brick and plastered concrete walls, double glazing, and conservatory trap the heat and release it in the evenings. The front door opens into an airlock porch, which also keeps warm air in and cold air out.
In winter, the sun reaches right to the back wall of the living room, a design feature the Johnstones particularly enjoy.
In summer, louvre windows between the conservatory and the living room, skylights in the conservatory roof and vents in the clerestory windows enable them to circulate air and cool the house.
Mr Johnstone says when he saw the house taking shape, he was concerned the lofty ceilings would make the lower level hard to heat. But those concerns have not eventuated.
Even on the snowiest day, and without additional heating, the house has never dropped below 13degC.
"A couple of loads of firewood" in the log burner is enough to lift evening temperatures to a comfortable 20degC, he says.
Because the house holds its heat overnight, the Johnstones do not worry about chilly mornings.
"Having warmth is wonderful. It actually allows you to get out of bed," Mr Johnstone says.
For Ms Johnstone, who has heart problems, the difference between living in their Auckland home, where they ran a dehumidifier constantly, living in the farm cottage, and now living in their new home has been "extraordinary".
"Now that I am in a house that is warmer and drier, I am just feeling better."
For the Johnstones, using natural building materials sourced as close to home as possible was important. The concrete contains Clutha River gravel and the macrocarpa used on flashings and eaves came from trees cut from Ms Johnstone's parents' farm.
They harnessed local workmanship too - Balclutha builder Ross Andrews, Balclutha joiner Steve Holden and Owaka bricklayer Ian Huddleston.
The Johnstones have solar hot-water heating and a wet-back system on their log burner, but have mains electricity.
With Mr Johnstone away from time to time for work, Ms Johnstone said this was more practical. Besides, there are the freshwater crayfish to think about - electricity is required to heat and power a controlled breeding facility in one of their sheds.
In 2000, they obtained resource consent to create 10 large ponds on a swampy patch at Tottie's Flat, take water from nearby Roscoe's Stream, and collect up to 1000 freshwater crayfish from local ditches and waterways as starter stock.
The Johnstones do not actively market their crayfish, although some restaurants are regular customers.
Their hazelnuts, which have been producing since the late 1980s, are sold to an Invercargill man, who roasts them and turns some into chocolate hazelnut spread - a product Mr Johnstone says is delicious on a banana split.
The Johnstones are happy to potter about with these enterprises.
Puerua Valley's relative remoteness is a barrier in the money-making equation, they say.
"One of the problems with supplying to, say Dunedin, is the distance. By the time you factor in the mileage and fuel, you have to sell a lot to make a living," Ms Johnstone says.
"We eat our profits, really," Mr Johnstone says.