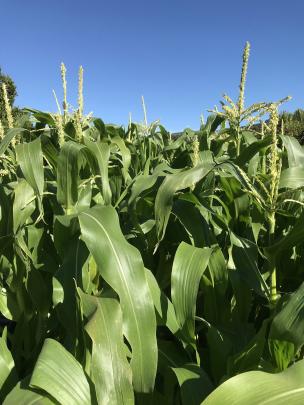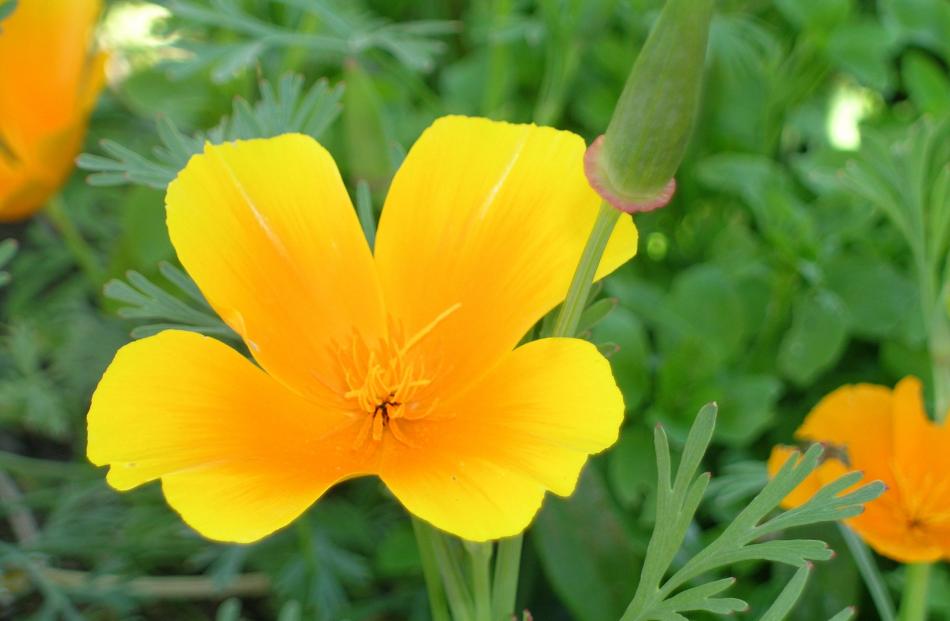 Gillian Vine reflects on the hot, dry summer.
January was the hottest on record around the region but the lack of rain was a bigger concern, one that is expected to continue this month, too; nothwithstanding the past couple of days.
Many plants seemed to be on speed, with flowers rushing into bloom and dying quickly. Shorter stems on the likes of gladioli and sweet peas were indications of dry ground, as conscientious gardeners limited watering in response to councils' calls to conserve water, while lawns frizzled, earwigs abounded in lilies and dahlias, and white butterflies found clear sunny days ideal for egg-laying.
Trees suffered, too. A neighbour's eucalyptus went into survival mode, dropping vast amounts of bark, and there have been signs of brown leaves in stressed trees over much of the region.
On the plus side, the Otago Lily Society held a successful show last weekend, with more entries than club secretary Margaret Muir anticipated. Many popular varieties that usually bloomed in late January had flowered early but other, later-flowering varieties ensured a colourful event.
In my vegetable garden, November-sown radishes and spinach — despite being watered — bolted to seed, potatoes had smaller yields than expected but rocket lived up to its name, while corn and butter beans thrived, and there have been so many courgettes I can't keep up.
The climate-change forecasters say we are likely to get more hot summers and, if so, gardening practices will need some adjusting.
There a a number of ways to help plants survive hot, dry conditions, especially if hosing restrictions are in place.
An obvious starter is to collect water in a tank or barrel. As well as a pipe bringing rainwater down from a roof, a tap in the barrel or tank is needed, as is some form of overflow that goes to a drain. Water used in the kitchen during vegetable preparation can be saved by washing lettuce, scrubbing the spuds and so on in a basin in the sink.
Packing in plants helps conserve moisture. That is not very practical in vegetable plots but hoeing between rows keeps soil aerated and destroys weeds, then when it does rain, water penetrates better in loose ground than in soil with a hard crust.
Whether it is flowers or vegetables, group plants according to their needs. For example, most species of Mediterranean, Californian or Mexican origin, such as lavenders, sage (salvias) and California poppies Eschscholzia californica, will survive with little or no water, as will many herbs, succulents and cacti. Onions and garlic do not need water once they mature as they need to dry off before harvesting, but most other vegetables need a consistently moist soil and watering is essential in hot weather. Do this in the evening to reduce evaporation.
Potted plants need more water than the same varieties grown in the garden, wilting quickly if not watered frequently. Mulches of stones can help reduce moisture loss, but in very hot conditions, may overheat the soil mix and bring about the plant's demise. Gravel and grit work well around alpine plants, preventing them rotting at the base as water does not build up.
Other mulches are valuable because of the nutrients they contain, with spring usually the time to apply them. Well-rotted mature is excellent around soft fruits such as gooseberries and raspberries, as well as bigger trees, such as apples. The rule here, as with all mulches, is to keep the product about 10cm away from  the trunk. Home-made compost works well for almost everything, but the downside is that unless a tumbling composter is used, the end result is often quite weedy.
Bark chips are popular and eventually rot, a process that can take five years. During that time, they draw some nitrogen from the soil. Like bark chips, sawdust depletes the soil of nitrogen as it decomposes. If you do you sawdust, check it is from untreated wood.
Pea and barley straw are good because they break down quickly but are messy, as birds often work them over looking for seeds and even moderate wind sends straw flying around the garden.
Carpet is not a beautiful mulch but works well around shrubs. Get old wool carpet and lay it face down with holes or slits for the plants. It will eventually rot, adding nutrients to the ground.
Lawn clippings are better put in the compost bin to break down, especially if you have more daisies and dandelions than grass. In very hot weather, there probably won't be much to mow unless your lawn is irrigated — a waste of water — and if you do mow, set the mower blades high to reduce burning. Look around now and plan what could be changed to offset future hot, dry summers.