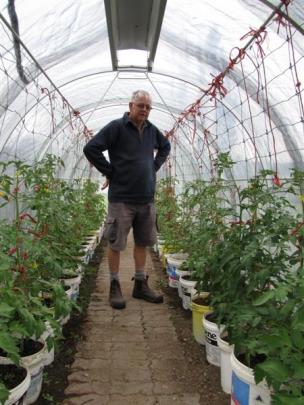 Locally-grown fresh produce is making a comeback in some areas. Sarah Marquet gets some tips from an expert.
Brian Seymour's family has grown prized gardens and it was once a dream of his to become a botanist but only when he retired from the police force was he able to really muck in in the garden.
And it was not just his garden to benefit from his extra time - under his hand, the Alexandra Community Garden has blossomed.
Born in Westport, he moved around as his father followed work in sawmills - Inangahua Junction, Ngahere and Richmond - and he worked with his mother in their gardens. His paternal grandmother was known on the West Coast for her gardening skills.
''She used to have garden fetes and garden parties; hers was the garden of the West Coast. Even the governor-general used to visit.''
By the time he reached high school, then in Nelson, he was planning to become a botanist.
However, he found he had a flair for book-keeping and instead followed a path in accounting, eventually obtaining a bachelor of accounting and administration degree from Victoria University, under a scholarship with the Post Office.
Instead of following that path, he applied for a position with the police force, was told he was too skinny and then completed National Service with the Army and did a short OE in Australia. He returned to New Zealand and successively re-applied for the police in 1983.
His 37-year career with the police force saw him move around many of the country stations in the South Island, usually living in the police house and with not much time to really establish a garden.
A vacancy for an Alexandra-based senior sergeant is what drew Mr Seymour and wife Glennis to Central Otago. Initially they lived in the police house but then bought a 4ha block of land at Muttontown.
The block now contains ''quite a big'' orchard with ''every variety of tree''; a huge flower garden with at least 300 roses and a lot of peonies; eucalyptus, pine, poplar and decorative tree blocks. The now 67-year-old also grows sugar maples, with the long-term goal of producing maple syrup. Just about the only fresh produce the Seymours have to buy are bananas - their garden provides everything else.
Getting a garden into good nick means it will almost take care of itself, he says, which is why he can afford to spend so much time at the Alexandra Community Garden.
Shortly after his retirement in 2004, he saw a job for garden manager advertised.
Then, the garden was a small plot on Hillview Rd but after a year, it was moved to its current site on Dunstan Rd.
It is now in its seventh season and is 10 times the size with 11 plots, a tunnel house and a glasshouse, as well as smaller plots owned and run by individuals or community groups.
The main garden feeds people through the combined churches food bank programme and, according to Mr Seymour, is the only such garden in the country.
It is no easy feat tending a garden to feed several hundred people, which is why Mr Seymour relies on a dedicated pool of volunteers - some are retirees or part-time workers, others are fulfilling community work obligations.
Everything they plant and all the equipment they use in the gardens has been donated or bought with donated money.
In his own garden, it is roses that are ''maybe'' his favourites.
''I guess I like that sort of flower but I don't really mind growing anything''.
---
Tips
• Nothing grows in Central Otago without water, so you have to use enough water. If you do not, nothing will grow properly. If you only use a little bit of water, the root system will stay near the surface and will bake.
• Try companion planting. For example, if you plant onions next to carrots, you will not get carrot fly.
• Rotate your garden - it's not a good idea to plant things like vegetables in the same ground year after year. Different plants require different nutrients and attract different bugs.
• Starting plants out in tyres is a great way to really get them going. Not only do the tyres provide warmth, you can also place an old piece of glass over the top, effectively creating a glasshouse.
• Growing tomatoes in buckets is a good way to keep disease out of your soil. Tomatoes have a habit of bringing unwanted disease with them. If you plant them in the ground, you need to dig out the soil and change it or use nasty chemicals. Using a bucket, you can just pick it up and tip the soil out. Use a bucket with holes in the bottom, put a little bit of gravel in to help with drainage then 75% straight horse poo and top it off with tomato mix, then feed the plant with blood and bone.
• If you garden properly, it should almost look after itself. Encourage bees, to help pollinate flowers; encourage birds and you will have to do very little bug-spraying.
---