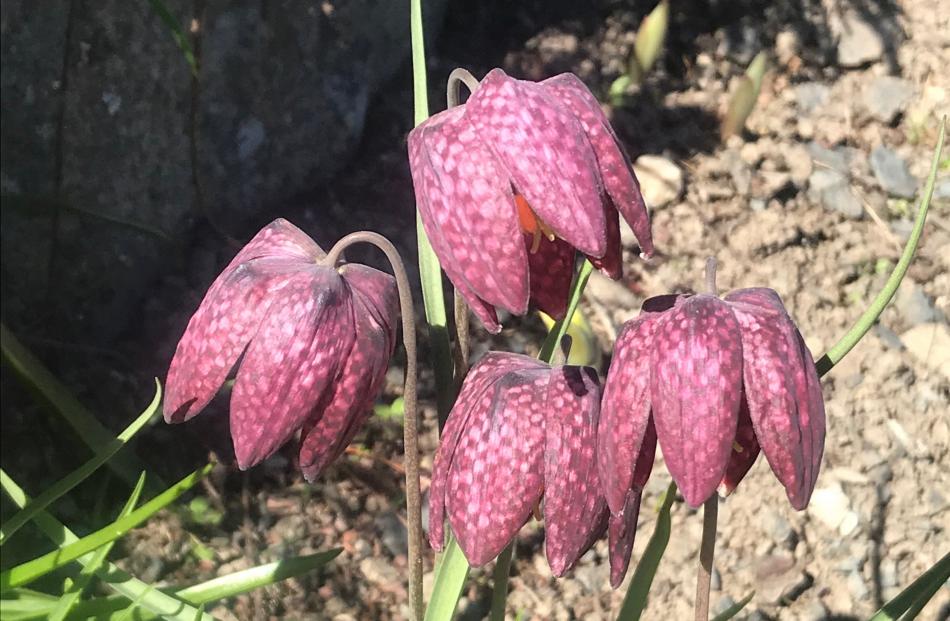 Gillian Vine takes a stroll in the Dunedin Botanic Garden's rockery.
When Dunedin advertised for a superintendent of gardens and reserves in 1902, it received 95 applications, which were whittled down to a short list of 20.
The council choice, made in February 1903, was far from unanimous but David Tannock (29) edged out the son of a prominent Dunedin nurseryman.
Tannock, who was then working in the West Indies, was a Scotsman trained in Glasgow and at Kew Gardens, London.
He took up his new post at an exciting time for horticulture. Every week discoveries of new plants were being made in Asia by the great professional collectors, including fellow Scot George Forrest and Englishmen E.H. Wilson and Frank Kingdon-Ward.
As well as a revamp of the flat Lower Garden, Tannock proposed extensive developments on the slopes above it, including a rockery and arboretum.
Work on the rockery began just six months after his arrival in Dunedin and within 18 months it boasted an impressive selection of plants, as Eric Dunlop notes in his comprehensive history of the Dunedin Botanic Garden.
There was no attempt to concentrate on plants from a single region, so that early selection included Himalayan poppies (Meconopsis napaulensis), primulas from China and the Balkans, North American heuchera, golden alyssum (Aurinia saxatilis) and New Zealand foxglove (Jovenana sinclairii).
That policy continues, so within half a dozen paces, today's visitors can see bright-flowered African Arctotis, Androsace lanuginosa from the Himalayas, an alpine sedum from Spain and a mat of New Zealand Raoulia parkii.
The presence of the shrubby Mediterranean rock rose (Cistus ladanifer) 110 years ago demonstrated a backing of taller plants to add interest - and in some cases, shelter - to the mix.
In 1911, the rock garden was extended southwards and stretched 155m along the bank above Lindsay Creek and two years later the original section was rebuilt.
This was considered at the time to be as large as the rock garden would be - and so it was until 1950 when a decade-long development began.
The late Cliff Donaldson worked on the project and recalled the frightening experience of getting rocks into position.
"Monster boulders from Mt Cargill were dropped up above the rock garden and the only way we could get them into position was with a cable attached to a winch or a timber box," he said in a 2013 interview.
Final placement was done by staff using crowbars, a dangerous job, as Mr Donaldson attested, having been "clobbered on my eyebrow with a piece of four by two".
Although it now covers some 2000sq m, twice its original size, the garden is maintained by just two people - rock, water and alpine garden curator Robyn Abernethy and an apprentice.
Asked about the focus of the rock garden in the 25 years she has worked there, Ms Abernethy said: "It's basically what will grow well there, although we do get away with planting bigger shrubs and the occasional tree to give perspective.
"Since I started in 1993, I have completed several projects including construction of beds at the north end and up around the pine tree, the area around the Tannock Seat, the southern entrance to the rock garden, and the conifer cultivar collection at the far north end."
At the southern end of the rock garden was a venerable lancewood, which was removed in December. It was so old its core was hollow and almost no living trunk remained, but it was "very sad to see it go", Ms Abernethy said.
Its offspring will replace it, as lots of seedlings have been saved.
Some DBG specimens, mainly from the alpine collection, will be selected by Ms Abernethy for a display at the Otago Alpine Garden Group's show on September 29.