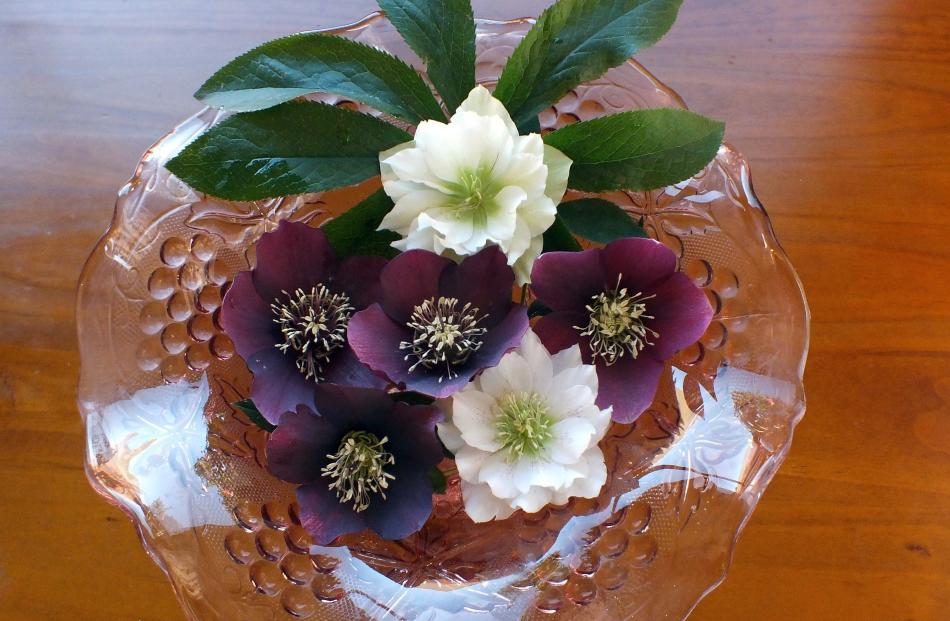 Gillian Vine chooses some flowers for indoors. 
Looking at my array of flower containers is something of an amble along Memory Lane.
There is a pair of crystal vases that were a wedding present more than 50 years ago; Christmas and birthday presents from my husband, mother, sisters and a brother; and a vase my grandmother bought for sixpence some 80 years ago.
Let me loose in an op shop or at an auction sale and I'm invariably tempted.
I'm no floral artist but having lots of varied containers is ideal because I love having flowers indoors. I manage to have something from my small garden almost all year round and a little glass pill bottle I dug up in the garden has been perfect for holding a few tiny winter blooms.
If a vase is placed on a windowsill, put a blob of Blu-Tak underneath to hold it firm: I learned this trick the hard way when a much-loved glass vase blew off in a breeze and shattered.
If perfume is your thing, hyacinths top my list in spring. One flower head will work as well as any commercial room deodoriser but be aware that it will set off sneezing in some unfortunate folk.
Spring bulbs won't begin appearing in garden centres until February but now is the time to look around, see what is in flower and do a bit of forward planning.
Daffodils, whatever their size or form, are perfect for indoors. Long-lasting, most have very good scent, although the minis have little or none.
Later in spring and through summer into autumn, there are splendid tall (1m-plus) and dramatic flowers - lilies, cardiocrinum, foxgloves, bearded irises, honey garlic (
Nectaroscordum siculum
), delphinium, cosmos, bishop's flower or false Queen Anne's lace (
Ammi majus
), taller amaranthus (
A. cruentus
), see-through vervain (
Verbena bonariensis
) and of course sunflowers, though I baulk at Giant Russian as it can top 3m.
After spring's Dutch, Spanish and English irises, tulips, ranunculus and anemones, medium-height pickable annuals come to the fore. Cosmos, cornflower, asters, sweet peas, zinnias, cornflower, larkspur and Iceland poppies can be picked, while perennial choices include alliums, calla lilies, patio lilies, roses, carnations, Sweet William and two perennial foxgloves, Strawberry Merton and the dwarf yellow Carillon.
Oriental lilies are my summer choice for perfume but the unscented Asiatics do have a greater colour range and don't usually set off sneezing. Be like the florists and trim the pollen-covered anthers off lilies' stamens so they don't shed and make a mess.
I'm somewhat ambivalent about having dahlias indoors, despite their usefulness because they bloom late summer through autumn, often when most of the flower garden is looking a bit tired. The single ones are fine but the doubles seem to harbour the odd earwig, even after spraying. None lasts especially well indoors, so unless I'm desperate for extra colour, mine tend to be left in the garden.
Chrysanthemums are another story, being very long-lasting when picked and flowering right through autumn. At the same time, gladioli, nerines, crinums, belladonnas and agapanthus come into their own. However, if you plan to grow "Aggie's pants'', be sure to select a sterile form, as the wild ones are extremely invasive.
Then comes winter, when flowers are usually brave little chaps like calendula or the cheery yellow winter aconite, which I avoid growing as it spreads so quickly. Early snowdrops, Iris reticulata, violets and Cyclamen coum are among the tiny treasures that can come inside, along with the first twigs of witch hazel and wintersweet.
This past season, I became hooked on bringing winter roses (hellebores) indoors. Having always been told they were useless in vases because the stems drooped, I found the solution: float the flower heads in a bowl. They lasted four or five days and were much admired, especially those with pretty speckled faces. Mine seed madly, so I'm saving seedlings to have more of these beauties in the future.
There's nothing like flowers in a vase to raise the spirits.
Don't forget foliage
In the back of a vase, greenery can mean grabbing a few twigs from a camellia or native Libertia's spear-like leaves. For foliage variety, try bells of Ireland, euphorbia, honesty, honeywort (Cerinthe major), love-in-a-mist or feverfew, especially the golden form. The seed heads of bells of Ireland, larkspur, love-in-a-mist and honesty dry well, too, for winter use.