He's one of the most influential figures in New Zealand rugby yet keeps a remarkably low profile, and that's just how Warren Alcock likes it, as Sally Rae reports.
Warren Alcock spends his days, as he succinctly puts it, mostly arguing about money; brokering deals for some of the biggest stars in rugby.
Deliberately steering clear of the media and a public profile, he has undoubtedly been a pioneer in sports management in New Zealand. And he does it from Dunedin.
The New Zealand Rugby Players Association's first accredited agent has represented more than 80 All Blacks, including such greats as Richie McCaw and Dan Carter.
He's described by New Zealand Rugby Union chief executive Steve Tew as probably the most influential player agent in the country.
Tew says he has an enormous amount of respect for Alcock, who played a pivotal role back in the "crunch point'' in the sport, when rugby turned professional in 1995, and that important role has continued through to today.
"More than that, he's someone who cares about the game. He understands its role in New Zealand, its role in communities. He always has the players' best interests.
"The key thing about Warren is he's incredibly honest ... very upfront, calm and considered. He takes time to consider matters. In the end, he's a man of his word.''
Down-to-earth and affable, Alcock (52) might prefer to keep a low profile but his reputation within professional rugby circles - and the wider sporting world - is huge.
In 2010, he featured at No18 in The New Zealand Herald's list of the 25 biggest power brokers in New Zealand sport.
A year later, he was sixth in NZ Rugby World magazine's 50 most influential men behind Carter, McCaw, New Zealand Rugby Players Association boss Rob Nichol, Tew and then All Black coach Graham Henry.
Writer Gregor Paul noted he was recognised as a tough negotiator whose ability to clinch "the big deal'' was legendary.
In 2015, he was named 24th in the New Zealand Lawyer Power List, which ranks the country's leading and most influential lawyers.
When it came to breaking into the virtually non-existent sports management industry, Alcock reckons it was a matter of perfect timing.
He was a young lawyer playing club rugby alongside - or, as he puts it, getting run over by - the likes of Otago stalwarts Arran Pene, Jamie Joseph and Josh Kronfeld when rugby turned professional.
"Suddenly all these contracts were flying around ... it was like, `Hey Warren, we need a lawyer','' he recalls.
"It was right time, right place. Since those early days, I have just kept picking up clients around the country. It got to the point eventually where I decided I needed to do it full-time.''
Kronfeld, his first big client, is coincidentally now also his brother-in-law, married to his wife Sarah's twin sister.
Most recently, Alcock was responsible for the contract negotiations that saw star Otago back Ben Smith re-sign with the Highlanders and the All Blacks through to 2020.
He negotiated the Sir Gordon Tietjens-Samoa Sevens coaching deal and, also last year, deals involving All Black coach Steve Hansen and assistant coach Wayne Smith, along with re-signing current All Blacks such as Ardie Savea, T.J. Perenara, Ryan Crotty, Beauden Barrett, Brodie Retallick and Julian Savea, to name a few.
Currently, he is working on deals involving All Black captain Kieran Read, players Sam Whitelock, Sam Cane, Liam Coltman and Codie Taylor and assistant coach Ian Foster.
It is not just about All Blacks - he represents Super and Mitre 10 Cup players and some schoolboys - and he speaks of the "enormous potential'' of home-grown Otago boys such as Josh Buchan, Slade McDowell and Ricky Jackson who are "the future''.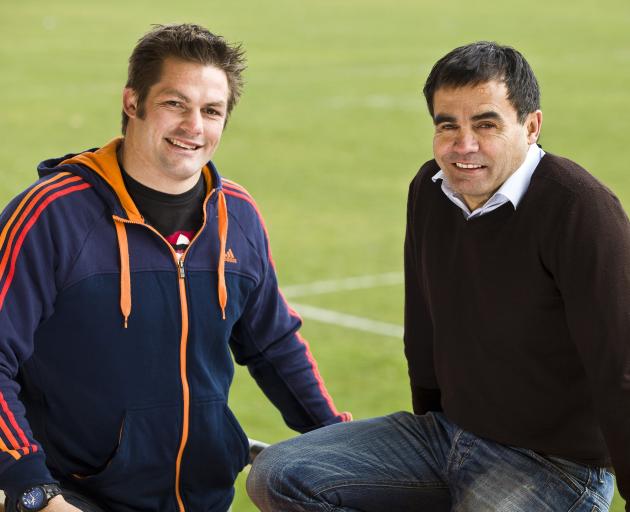 Last year, The New Zealand Herald reported senior players could expect a retainer of between $400,000 and $800,000 a year, but it was likely the best could command more.
"Some people might not find it very enjoyable knowing that every day they were going to work to have an argument over money. Basically, that's what I'm doing every day,'' Alcock says.
It is a far cry from the early days when amateur players suddenly became professional and were "happy to get whatever they got''.
"Now the players have a high degree of knowledge of what to expect in a negotiation and so you have to be on your game.''
Brought up in Napier, but originally from Mahia Peninsula and of Rongomaiwahine descent, a law career never crossed Alcock's mind until he won a compulsory impromptu speech competition at school, and his English teacher suggested it.
After a talk with the careers adviser, he was dispatched to spend time with then Napier lawyer Peter Callinicos.
Judge Callinicos, as he is now, encouraged him to study law at Otago, not Victoria, as his own mates had gone south and "had a much better time''. "From that moment on, I was always going to go to Otago,'' Alcock said.
University was initially a daunting experience for the shy teenager who had been "average'' at school and was one of only two known Maori students in his law class.
"I was a bit overwhelmed, to be honest. My academic side wasn't that strong. Suddenly I'm in a lecture theatre, with 500 people, listening to a lecture on legal history.
"In the 50 minutes, I didn't understand anything the lecturer said. I walked out thinking, `I'm in over my head'.''
Had it not been for the great lecturers, he could have persuaded himself out of law. "There's no doubt in my mind that the quality of teaching at Otago law school ranks it as the best law school in New Zealand.''
He graduated with first-class honours, becoming the first Maori honours graduate from the Otago law school. He also did an arts degree in economics.
Alcock continued at law school as a teaching fellow for several years before becoming an assistant lecturer, when he was asked to develop a Maori land law paper.
He was about to begin a block of lectures in the law of evidence when he broke his jaw playing rugby and had his mouth wired and could not talk.
When he finally decided he needed to practise law, it was the first time he had to consider leaving Dunedin. It was a very different proposition from when he first arrived in the city and was unsure how he would endure it.
"Five years seemed like a heck of a long time for me in Dunedin away from home. I remember thinking `how am I going to last five years here?'
"When it got to that point of having to get a job, I couldn't face leaving Dunedin. I was enjoying [it] so much.''
So he applied for a job at Gallaway Haggitt Sinclair, now Gallaway Cook Allan. Rugby was a passion and he described himself as "probably a slightly above average player'', playing club rugby for Alhambra-Union, Dunedin and for Otago B.
"I always wanted to be an All Black but I was too small at 65kg.''
It might have been an advantage that one of the firm's partners was a local rugby referee, although Alcock did not realise he was a lawyer.
"One day, after a game, I tried to explain the golden rule of legal interpretation. It was an amiable chat,'' he says, laughing, "he must have put a good word in for me.''
A foray into acting delayed the start to his legal career, when friend and playwright John Broughton talked him into acting in Te Hokinga Mai (The Return Home) which toured the South Island.
He also performed at the Wellington Arts Festival in Marae, another Broughton play and directed by renowned actor Jim Moriarty, and then at the Fortune Theatre in Dunedin in ANZAC, where a reviewer described his performance as "cheeky and delightful''.
"A few of my mates were into acting, like Jed Brophy who later acted in Lord of the Rings and played Nori in The Hobbit, so I guess I just got caught up in their momentum.
"Even though I took the job [at Gallaway Haggitt Sinclair], I kept having to ring them [and say] I can't come for another month, I've got a play to do. That went on for about six months. They kept the job open.
"Some staff here, when they remember it, laugh, as I was the guy that was always coming. I was always coming next month.''
He worked mostly in civil litigation for about 15 years, eventually becoming a partner. He stepped down when he was diagnosed with lymphoma in 2006, and joined talent management business Essentially Group, now CSM, full-time.
"When you get diagnosed with a cancerous condition, it does change your outlook. Ultimately you want to be doing things that you are passionate about,'' he said.
When Alcock began working in sport, a sports management industry in New Zealand did not really exist, particularly for rugby.
"It was not like you could go to a textbook and start reading about it or talk to some of the staff here [at Gallaway Cook Allan] and say, `What do we do in this situation?'. There was no-one to talk to. Even now, a lot of things we do are still new.
"You sit there and go, `How do we deal with this?'. And you just have to create an answer. Unlike law, it was a little bit lonely in that respect. You just didn't have people that you could lean on for advice.''
There were several lawyers, such as David Howman (later the director-general of the World Anti-Doping Agency) and David Jones (chairman of the Takeovers Panel) but they largely left the industry early to focus on other roles.
"Now I've been doing this 21 years, we've actually got an industry now ... to the point I have so many people contacting me wanting to get into it, wanting to know what subjects to take, how to get there. I have friends whose kids want to do what I do and theoretically they can now.''
In terms of representing players, there are very few opportunities. But there are greater opportunities in the sports industry, working for organisations such as New Zealand Rugby, World Rugby or companies like CSM. Opportunities are greater for those with a legal background. Apart from that, "you've just got to want to do it and have a few contacts''.
Initially, the business involved Alcock and friend Bart Campbell, now owner and chief executive of the Melbourne Storm, who introduced him to Lou Thompson.
"It was just the three of us. My focus has been on player management but, as we have developed, we have had to be innovative to create new areas of business to exist alongside player management which, to be fair, has been mostly Lou's role.
"I think if I've done anything well, it has been picking my business partners. The same applies to co-owning the Salt bar and restaurant at St Clair with Mark and Kirstin Scully, and Alex Aerakis,'' he says.
CSM's main New Zealand office is in Parnell, Auckland, where there are about 19 staff, although numbers will grow for the upcoming Lions series.
The firm employs about 800 people in 19 countries and has former Olympic 1500m gold medallist Lord Sebastian Coe as chairman.
Alcock is grateful to be able to work from Gallaway Cook Allan's Vogel St office, where he is still a consultant.
"I enjoy being here with the staff. It's pretty lonely doing what I do. I'm largely on my own in Dunedin [so] it's quite nice to pop around to talk to the staff, pop into someone else's office here and have a casual chat. They've always been very supportive.
"A lot of my players use them for legal services and, having practised law with most of them, I know how good they are at what they do.''
The collegiality he experiences with the legal fraternity is not something that transfers to the sports management industry.
"With fellow agents in the game, we don't get on. It's a pretty ugly game ... they are always trying to pinch players off you,'' he says.
While negotiations are part of Alcock's daily life, it is not just about the money; there is also a certain pastoral care element to the role.
"Some players rely on you more than others. You have broad-ranging conversations with some players around life and life after rugby.
"You're the everything person. Some players will ring you late at night because [they] just need someone to talk to. Often we can help, sometimes we can't.''
Alcock has just one non-sportsperson on his books; he manages Victoria Cross hero Willie Apiata. He initially turned down an approach, saying he was not confident taking on someone outside his field of expertise. But he did agree to meet him.
"We agreed to meet in a cafe in Pokeno and Willie roars up in his hot rod with his big beard and his hair everywhere ... looking like a cowboy. Once he started talking, I was spellbound by him.
"Walking away from that meeting, I just thought, `How can you say no to him?'. In the end, I said to Willie, `Let's try it but you have to be honest with me. At any stage if you get frustrated with me, you have to tell me. I'm making it clear I haven't been involved in the world you're in'.''
Alcock moved from dealing with the rugby union to talking to government ministers.
"For Willie, the awarding of the Victoria Cross changed his life overnight. He joined the most secretive part of the New Zealand Army, the SAS, only to become the most public face of it.
"The difference is rugby players enter into their field knowing that if they become a good All Black that notoriety comes with that. Willie was awarded the Victoria Cross and the spotlight came with it and suddenly his life was changed.''
"I get a phenomenal number of requests for Willie (more than McCaw) but for the most part my role is saying, `Sorry, he's not available'.
"Unfortunately, it's just not possible to fulfil all the requests. The central part of my role is to manage him to ensure that he has sufficient time for his family, to undertake his work commitments to have a livelihood, fulfil his selected charity roles and his ceremonial duties and then, after all that, he may have some time to do additional appearances but often there isn't time.
"Willie and I probably talk on average every second day and the relationship has worked well. I've learnt a lot from Willie, he is a pretty special bloke.''
Early on, Apiata took him to meet then Governor-General Sir Jerry Mateparae, about which Alcock was "quietly chuffed''.
It was an encounter he still chuckles about; when he said to Sir Jerry that he would provide some background on himself, the Governor-General interjected. He said: "I'll stop you there, I've googled you, I know exactly who you are and what you do. You don't need to tell me.''
"I remember going home to my wife and saying, `the Governor-General googled me'. That's pretty cool.''
Similarly, Alcock enjoys his dealings with rugby players: "99.9% of the players I deal with are very similar to me. We enjoy rugby and sport, we enjoy New Zealand and ... we enjoy a beer.
"Most of them are just good Kiwi blokes. I find them pretty down-to-earth. That's the side of them I see.
"I would describe Richie McCaw, Dan Carter, Kieran Read and most of them as very down-to-earth guys.''
Alcock, who negotiated McCaw's playing contracts, recalls their first meeting when McCaw was one or two years out of Otago Boys' High School. He was aware who he was, having coached Dunedin Mako Colts, which played Otago Boys' first XV.
"He had rung me about catching up ... He said he had a contract from Canterbury he'd been asked to sign and didn't know what to do.
"I gave him advice. We talked about how it worked. He wasn't the Richie McCaw of now, naturally, [but] you could tell he had a presence about him ... confident, bright and easy-going.
"You could have a discussion with him about different aspects of a contract and the surrounding issues and he clearly understood them and could engage in a good debate about those issues.
"I don't think anyone could have predicted he was going to be as good as he was, as legendary as he became.
"That is one of the mysteries of this industry, picking which players will convert good schoolboy form into becoming a professional rugby player.''
Carter is an example of that; when Alcock first met him, he was the second-choice No 10 in the New Zealand under-20 team.
"Our first meeting consisted of me and my colleague Lou doing all the talking. I think he said hello and goodbye ... he listened though.
"I have learnt with him over the years that he listens intently and he picks things up and, when he speaks, he confines himself to the issues.''
While reluctant to talk about recent headlines, such as Carter's drink-driving charge and Aaron Smith's Christchurch Airport incident, Alcock says he is "always in the player's corner'', whether in good or bad times.
"It's usually at these times they need you the most. The one thing I have found about our best players is that they are, despite their profile, still very grounded people and, yes, they too make mistakes like us all.''
A common theme is good players, such as McCaw and Carter, often have good family support and, for Alcock, the biggest highlight is meeting a young player with his parents for the first time.
"It's all new to them and they are anxious about what do they sign, who they sign with. You take them through that process.
"Two or three or four years [later], the next time you see them is at a test match where their son is representing the All Blacks.
"It's pretty special to meet them, they are just so proud. They can't stop smiling. That is one of the most rewarding experiences in our game for me, I get to experience that with them ... it's very unique.
"It's amazing when you help someone become an All Black. That's the biggest buzz you can get in this game.''
While much planning goes into setting up meetings with young prospects, sometimes chance plays its part.
One day, he needed to meet a young Carl Axtens - Axtens went on to captain Bay of Plenty and is now playing in France - and his family.
After flying to Auckland, he drove a rental car to their Reporoa home and, during the conversation, Axtens' father, Steve, told him he needed to meet "this boy up the road'' who turned out to be Sam Cane.
Steve Axtens picked up the phone, dialled Cane's father and, by the end of the conversation, Mr Alcock had been invited to meet the Cane family at their home over a lunch of soup and scones.
It is those sorts of interactions that are special, he says.
The job involves a lot of hard work, including being on-call 24 hours a day and being on the road - or in the air - much of the time.
Doing it from Dunedin is not easy, he candidly acknowledges. "There's absolutely no doubt that living in Dunedin, doing what I'm doing, is a massive disadvantage.
"The fact that I'm in a town where we have the most expensive flights, the least number of flight options and usually on small planes so that just means more time in the air, makes it extremely hard.
"I'm notoriously the guy who has to fly out on the 6.25am flight and get the last flight home at night.''
But Alcock is not complaining, saying it is the reality of doing business from Dunedin.
"Everyone faces the same issues, it's just about knowing those issues are real and dealing with them ... it's all part of business. The fact is we love living in Dunedin.''
As for Alcock's share of the deals he's involved in, he says it's not as simple as a certain percentage cut. Different deals require different amounts of work.
Outside of work, he enjoys hitting the trails with an Otago mountain-biking social club, watching his two teenage daughters doing lots of activities - "because you can in Dunedin'' - and having a beer with mates.
The Alcock family are also regular Glendhu Bay campers. "We have family in Wanaka and our kids still love camping ... it's hard to beat the lifestyle.
"These are the things why you stay in a place like Dunedin. I also really like the fact that Dunedin and Dunedinites punch above their weight in lots of different areas. I think that's one thing I love about the spirit of the city, we're always the underdog.
"We always punch above our weight, like the Highlanders and, like so many sportspeople, businesses and business people, that's something we can all be proud of. When you read about some of the businesses Dunedin has, I find these stories really inspirational.''