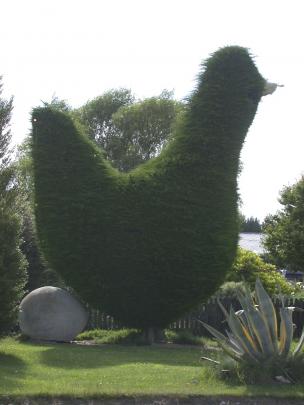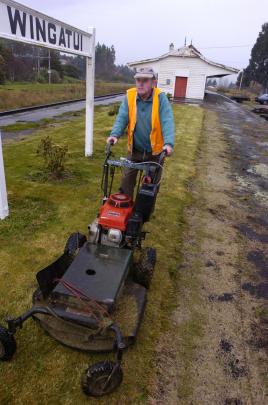 In the final of our ''Best of The Wash'' series, Dave Cannan hedges his bets on how love is best expressed.
One of the fun aspects of The Wash is that sometimes a topic proves so popular it creates a ''spin-off'' feature, which then develops a life of its own.
Such was the case in July when the column revealed the touching story behind the ''Warrington Love Hedge''. What then followed was a series dubbed ''hedge art'', in which the stories behind several well-manicured ''living works of art'' were told.
The Wash, 18/7/16
If I were to write a column about the power of true love and a long-lasting romance, I could borrow heavily from poet Elizabeth Barrett Browning and begin with the oft-quoted ''How do I love thee? Let me count the ways ...''
Or, I could just write about trimming a hedge.
Let's do that then and relate the touching story of the day some 15 years or so ago when Chris Skellett declared his everlasting love for wife Lois with his Stihl HSE 71 hedge trimmer (with a 700mm bar!)
The result is a Warrington landmark known as the ''Love Hedge'', a carefully sculptured living artwork bearing the simple but powerful message ''I love Lois''.
It is, says Chris modestly, ''Warrington's answer to the Taj Mahal'', an arboricultural affirmation of a loving relationship that has lasted 31 years, including 26 years of marriage.
The Wash featured a photo of the Love Hedge last Thursday in the hope we might get to the bottom of how it came to be and, acting on a tip-off, we contacted Chris, a well-known Dunedin psychologist and author who kindly agreed to spill the beans.
It began, he says, after he had procrastinated for several weeks about trimming the hedge outside his Warrington property. Eventually, ''things became critical'' and he ''reluctantly trudged out'' to do battle with it. Chris takes up the story:
''I stood there for a few minutes wondering how I could turn this into a good thing. The simple phrase 'I love you' kept bubbling up. And by the time it was finished, it was personalised.
''As I stepped back from my handiwork, two passing mothers pushing prams gushed enthusiastically, while the neighbour over the road leant out of his kitchen window to say 'it must have been one helluva argument!'.
''Lois didn't see the hedge for a couple of days, even though she drove past it each morning. One day the kids came home from school and said that Mum had to go outside and see. Slowly it dawned on Lois. She was then obliged to cope with a confusing cocktail of emotions: embarrassment, pride, outrage, affection and love . . . all spiced up with a good deal of laughter!
''As the word quickly spread, the hedge became an immovable fixture in our lives. Many overseas tourists in camper vans now stop on their way to Warrington Beach to take photos of it. The hedge clearly serves as an international beacon of hope for us all.''
Chris admits carving out the message was easy to do the first time - ''the real love has been in keeping up the maintenance over the subsequent years!''
Since it first appeared, the Love Hedge's fame has spread beyond the boundaries of the coastal hamlet, thanks in part to the power of the press - and social media. Chris explains:
''Some years ago, the Love Hedge was featured in a hospice fundraising scheme in North and South magazine. Any donation to the Otago Hospice would be acknowledged with a special card, personally signed by Lois, containing a photo of the Love Hedge and an actual clipping from the hedge. It was like receiving a piece of the Berlin Wall, only better!
''Two donations were received all the way from the Shetland Isles, citing their love of the smell of macrocarpa hedges and the quirky nature of Kiwis.
''There is a Facebook page to like, and the links for making a donation to the hospice are still there. Go to www.facebook.com/ thewarringtonlovehedge. Cite 'The Love Hedge' when making an internet payment. It's a love thing . . .''
Meanwhile, the Warrington locals use the hedge as a reference point when giving directions - ''If you see the Love Hedge, then you've gone too far!'' or ''Go past the Love Hedge and we're second on the left'' etc.
And it's also become a focal point of Christmas Eve. ''After carols at St Barnabas Church, a slow car train of parishioners drives down past the hedge, which is illuminated with fairy lights. It's wonderful to see the excited children's noses pressed to the car windows as they slowly drive past,'' says Chris.
Not forgetting Valentine's Day, when the hedge also becomes ''festooned with flowers''.
My thanks to Chris and Lois for sharing such a heartwarming story.
Then came the new series on ''hedge art'':
The Wash, 19/07/16
Inspired by the ''I Love Lois'' hedge display at Warrington, which featured in yesterday's column, I have decided to extend the search for similar living works of arboricultural art in our readership area.
Why? Because I'm hearing anecdotal reports of other examples of ''hedge art'' and I hope to flush them - and their background stories - out by continuing the theme.
And there's a second, almost altruistic reason for pursuing the topic. Yesterday, while doing some googling on topiary (yes, let's face it, that's the flash-Harry name for hedge art), I found not a single mention of New Zealand in Wikipedia's lengthy list of ''notable topiary displays''.
Europe, the UK, North America, Asia and yes, even Australia (gasp) all listed but, sadly, New Zealand did not rate a single syllable. Time then to make amends, so ''readers, show us your hedge art/topiary!''
Allow me to kick off that search today with the much-loved Waianakarua ''chook'', complete with a giant egg.
It's been some time since I last wrote about this well-known roadside attraction on State Highway 1 but back in January 2007, ''Prester John'' revealed how the sculptured hen was created in 1978 by poultry farmers Norman and Evelyn Clarke.
Actually, Mother Nature had a hand in it originally, when strong winds blew out the centre of the tree, the remnants looking for all the world like a giant chook, and with a little more judicious pruning by the Clarkes, voila, a poultry piece de resistance was born.
The Wash, 20/07/16
There was some interesting response to yesterday's column about topiary.
Sandra Scott-Harrison, of Ranfurly, emailed today's photo of a hedge she called ''Wilson'', which used to be a feature outside the hostel she ran in Christchurch ''until the earthquake and subsequent demolition of the property.'' She continues:
''I was trimming the hedge and couldn't reach the top, so I left it, stood back and had a look at it, and thought, 'Wilson!', then added the eyes and mouth. He was there for a good many years, and often photographed by my guests. Sometimes some 'jokers' would leave a beer can in his mouth.''
Wilson, incidentally, is the basketball from the 2000 movie Cast Away, starring Tom Hanks.
Our other topiary photo was supplied by Allan Steel and shows a landmark hedge outside a Naseby holiday home called Redlac, which is Calder spelled backwards.
Allan says the property was bought by George Calder, who developed the Northeast Valley quarry among many other achievements, in 1913 and for the past 103 years it has remained in the Calder family.
My inquiries led me to Calder Prescott (George Calder was his maternal great-grandfather), of Green Island, who says the house has been taken over by his son Mark.
The carefully-carved ''Redlac'' name on the hedge is not quite so clear these days (the photo was taken in the 1980s) as the hedge has been affected by roadworks and slumped at one end. But efforts were being made to grow the lettering back into its original shapes.
July 22
The latest reader offering in our search for more artful hedges/plants comes from Janine Thompson, from down south. She writes:
''Thought you might be interested in our caterpillar topiary. Though it is small in comparison to others published in your column, the scaled-down size befits its surroundings as part of Bug City - a town built from an insect's perspective.
''Bug City is a garden created as an educational tool for people to learn about the importance of insects and is part of our property, Earthlore, in the Catlins. My husband and I live here too, but we open up our place to school groups and the general public over the summer months.
''Thank you for such an enjoyable and eclectic column. It's so nice to read something in the paper that isn't bad news.''
The Wash, 29/07/16
One mystery down and at least two more to go today.
What I'd like to find out is, who is responsible for creating such eye-catching, living works of art?
The ''Wingatui'' hedge sign is beside the railway line in Gladstone Rd north (great photo by the ODT's Peter McIntosh, by the way) and the large ''hedge bird'' photo was sent in by Wash reader Joy Warrington.
She writes: ''Hi Dave. On the subject of topiary and hedges, here is a photo of a hedge in our area, on the corner of Mount and Shetland Sts in Wakari. The owner, who keeps it in trim, says that it belongs to everyone in the neighbourhood as it's facing the street. The bird adds interest to an otherwise very ordinary macrocarpa hedge, and there are also a musical note and a dolphin on the side round the corner.''
I appreciate Joy is probably keeping a confidence by not naming the hedge-clipping artist but hopefully the modest trimmer might come forward now and tell us a little more. If not, well, fair enough. At least we are all able to enjoy their artistry.
August 2
Last Friday, we published a photo of the ''Wingatui'' living art hedge beside the railway line on Gladstone Rd north and asked if anyone knew who was responsible for growing such an eye-catching feature.
Well, thanks to a phone call from Natalie, a Queenstown reader, we can now tell you the green-fingered artisan was Lester Harvey, of Mosgiel, one of the leading lights of the Mosgiel Rail Corridor Trust.
When we rang Lester yesterday he was happy to confirm he had created the hedge, having planted it back in 2007 from cuttings he had propagated.
He recalled seeing a chap in Mosgiel who had just cut his buxus hedge. Lester asked him what he intended to do with the clippings.
''They were going to the tip, so I asked him if I could have a sugar bag of them and he said 'no problem'.''
Lester took the cuttings home, planted them in his glasshouse and ''got a great strike''.
''From memory I planted 258 plants to make that word,'' he explained, having cleared a steepish bank beside the railway line for his ''Wingatui'' project.
In doing so, he hoped the word would be big enough to be seen from aircraft flying in and out of Momona, but, sadly, it didn't work out that way. However, Lester, now 85, admits he's pretty pleased with how the hedge worked out.
And if you think Lester's name sounds familiar, yes, well in 2008 he was named the Fonterra ''Environmentalist of the Year'' and in 2010 was awarded a QSM for services to the community.
He was also back in the news in March last year for less joyous reasons when a beautification project he was involved with on the rail corridor from Gordon Rd to Riccarton Rd was removed by KiwiRail.
August 4
Last Friday, we published Joy Warrington's photo of the ''hedge bird'', on the corner of Mount and Shetland Sts in Wakari, and asked if anyone knew who was responsible for such a lovely work of art.
Well, now we know. Here's the email from Nicola Findlay:
''Hi Dave. The large bird fashioned out of our very large macrocarpa hedge is the work of my husband Peter King. Pete is an artist and is set designer at the Fortune Theatre and has a healthy appreciation of anything topiary. He viewed the hedge, quite a dominant presence on the corner, as a blank canvas and I think relished the chance to create another sort of sculpture. This bird [and accompanying shapes] has been a feature of our hedge for at least 10 years and still creates interesting and usually enthusiastic responses from passers-by. Kind regards.''
Many thanks Nicola and deserved accolades to Peter's prowess with the hedge trimmers!
Footnote
In conclusion, Chris Skellett tells me the love hedge is being used as a ''geocaching'' site, with clues and directions suggesting where the cache is hidden.
''It's a very harmless, fun activity that encourages people to get out and about. We're getting cars pulling up at the Hedge, people jump out, rummage around, sign a small register in a container, take a photo and then drive away! All very strange ...''