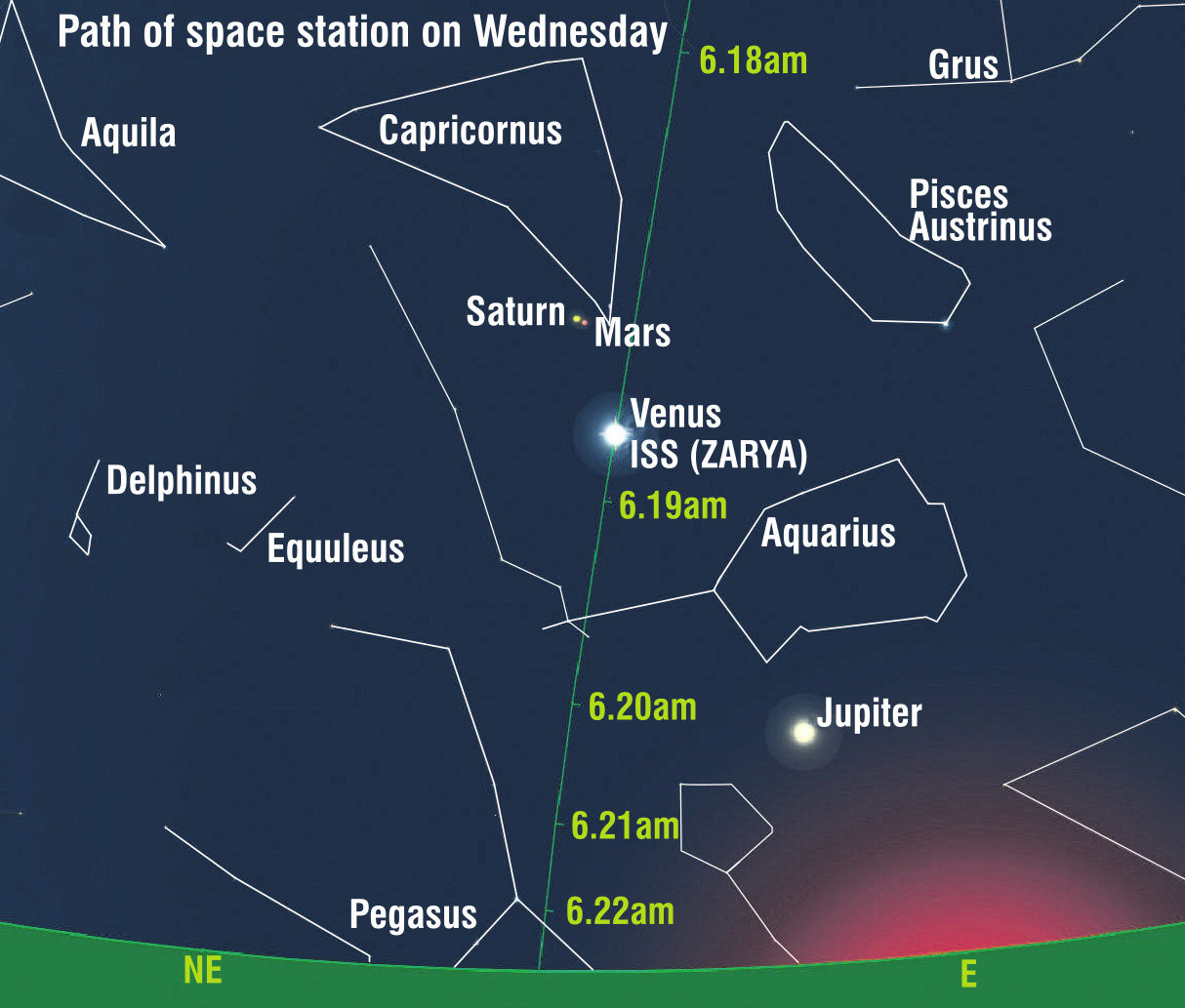 The clocks go back one hour tomorrow at 3am. As a result, for those of us who commute at the same time each day, mornings suddenly get lighter and evenings darker as a result of the time change.
As regular readers of this column will know, one of my favourite hobbies is trying to photograph the International Space Station. This massive orbiting structure, far larger than a rugby field, is often on view as an incredibly bright ''star'' slowly crossing the sky in the hours before dawn or after dusk. Home to seven astronauts, the ISS takes 93 minutes to orbit the earth at a height ranging from 415km to 421km.
Next Wednesday morning there's a particularly good chance to see the ISS from our part of the world, assuming of course that the sky stays clear. Rising in the WSW soon after 6.11am, the huge orbiting laboratory will pass nearly overhead at 6.18am, before setting in the ENE just before 6.22am.
To the unaided eye, if weather gods allow, this should be a lovely sight.
While overhead passes of the space station are always great to watch, they aren't really very rare. However, having done some calculations, I am extraordinarily excited about Wednesday morning's space station pass. That's because, at 6.18 and 46 seconds if you live near Dunedin, the ISS will appear very close to the planet Venus. By close, I mean they won't be able to be separated without optical aid. Stargazers are in for a real treat!
Better still, on a very narrow path that crosses the coast just south of Taieri Mouth, the space station will actually pass directly in front of the second planet from the sun. This is unusual enough to make sure I will be loading my telescope and cameras into a car and driving to this remote spot to record the event. Capturing the space station crossing the disk of a planet is a real technical challenge. Wish me luck!
 - Ian Griffin