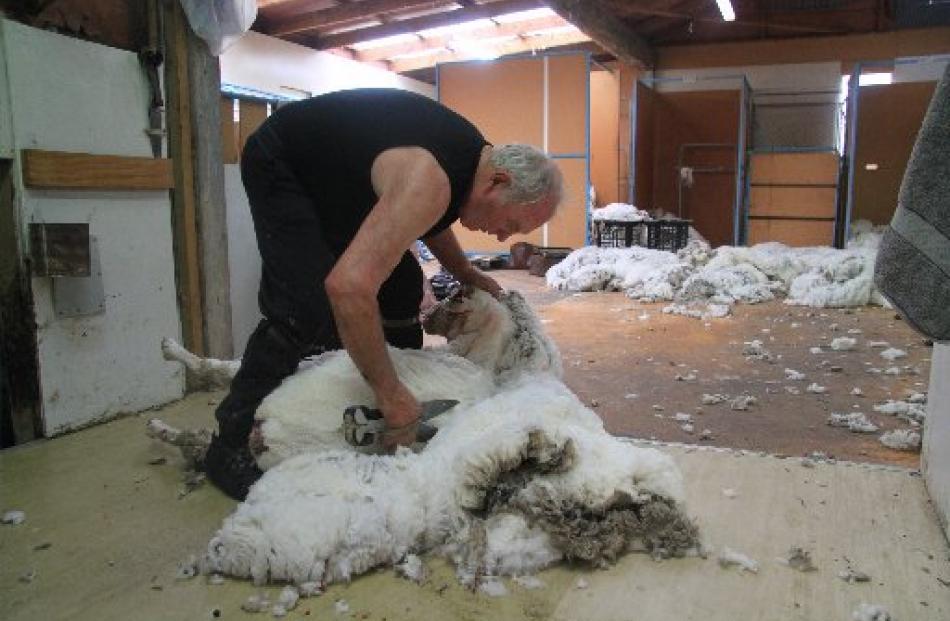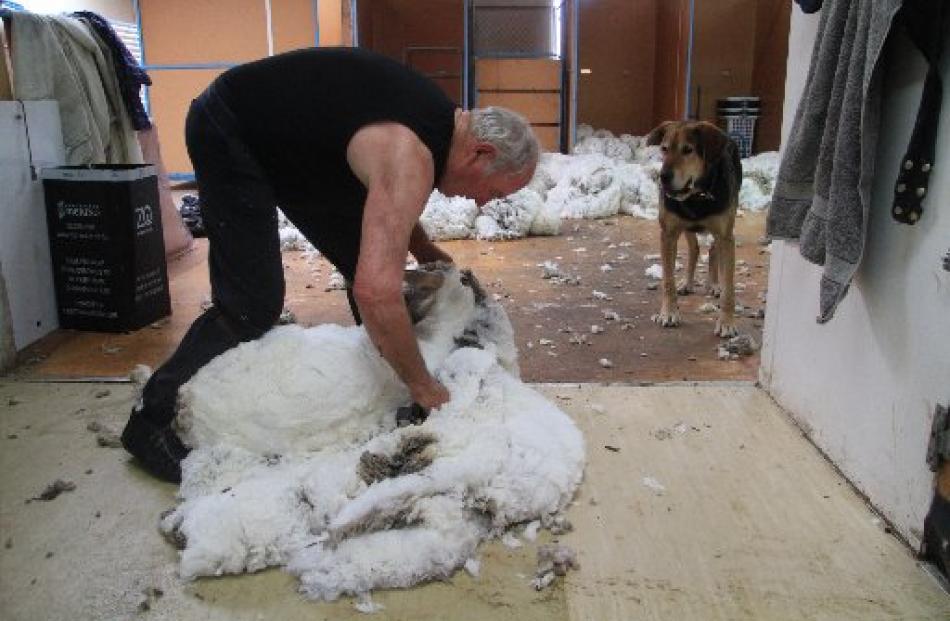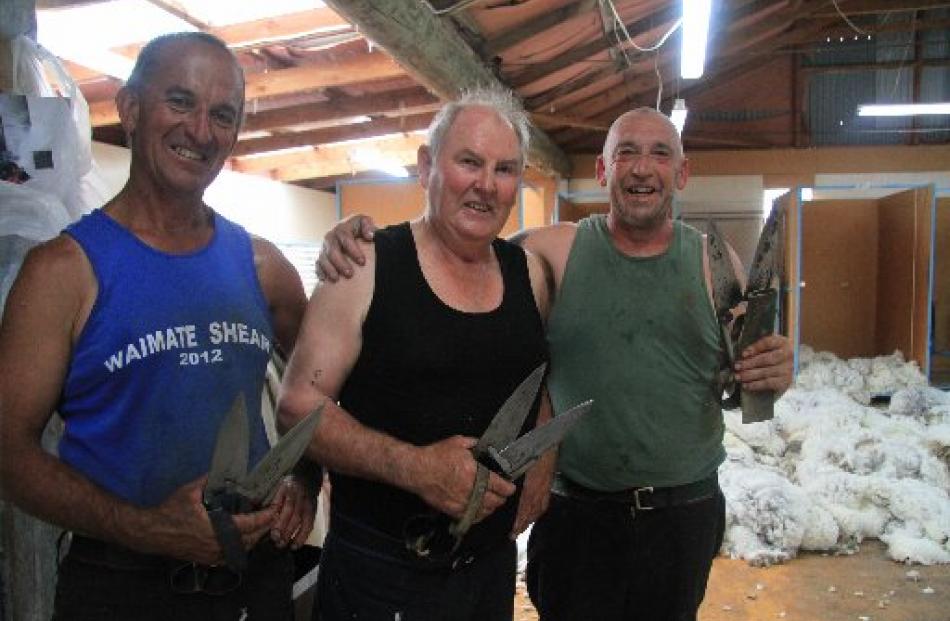 At the end of November, three blade shearers headed to Ben Omar station to work on some stragglers missed in the muster. Hamish MacLean caught up with them to learn about the job, the lifestyle and what is, they say, a dying art.
Peter Casserly, of Omarama, knows he is one of a dying breed. Nnow semi-retired, he has been blade shearing for more than 50 years.
Back when he began he was one of 200 blade shearers in the South Island. Now, he says, about 30 remain.
''We're cavemen. We use steel and rocks to sharpen our gear,'' Casserly says.
''We're a dying race. You can't turn the clock back. Technology takes over.''
The 68-year-old sits on the floor of the shearing shed at Ben Omar Station, drinking a Speight's about 3.45pm on a warm Wednesday at the end of November with his pals Steve Bool (50), of Twizel, and Ross Kelman (55), of Omarama.
The three men have just pushed out of the woolshed the last of the stragglers that missed the last muster on Ginger Anderson's 8500ha station in late November.
The 10mm of wool the blade shearers have left on the ewes will match nicely the growth on the rest of the sheep that were shorn down to pink earlier in the season.
Casserly runs his oil-stone over the blades of his shears, places a strand of freshly shorn merino wool over a blade and blows on it. The wool slices cleanly in half and drops off the blade on to the floor.
The shears are sharp. "Very sharp,'' Casserly says.
Just a quarter of an hour earlier the trio were working side by side in the shed, talking the Otago Daily Times through their work, ewes placidly submitting to the blows from the men's blades as birds could be heard chirping loudly outside.
The two younger men say blade shearing is less stressful for sheep and less taxing for shearers.
''No hot comb right on their skin,'' Bool says.
''No pulling of the wool. The sheep are so relaxed. The sheep just sit there. Look, they're not even kicking.''
Kelman says he enjoys the relaxed quiet of blade-shearing sheds, adding the noisy drone of the machines changes everything.
''When you're in the machine shed with five or six shearers going, you don't talk to anyone. Head down, you're all work.
''You don't talk to the fellow beside you. You can't, it's too noisy . . . the stereo's blasting and five or six machines are going.
''We can talk to everybody. We can talk to people on the wool table halfway down the board. We just turn the stereo down if we want to have a yarn to someone. That's the difference.''
Kelman started blade shearing in 1978.
''I enjoy it. It's a lifestyle,'' he says. ''And we're trying to keep it going as long as we can. That's why we're still doing it. We've got farmers out there that still want it, so we're doing it.''
But both he and Bool take machine-shearing jobs to help stretch out their shearing season.
Kelman's recollections of a recent machine-shearing job in Te Anau demonstrates the difference between the two disciplines.
''We had to crutch 800 a day. I did it; it's easy to crutch. But it's dragging these big cross-breds out, and I was only making the same money as if I was shearing 170 on the blades. And I had to drag 800 out. Unbelievable. I was stuffed at the end of the day.''
Bool says there is a freedom of motion for blade shearers, because it doesn't tie them to a machine.
''You sweat a lot more with machines, because you have to work with the machine and it drives you. You still have to work hard, but it doesn't drive you like a machine.
''It is an art. And keeping your shears sharp is how you shear more.''
Bool first worked for Casserly as a 13-year-old shed hand, his first stint comprising three weeks when he took a break from school.
''He ripped me off,'' Bool recalls.''I figured out what all the other shed hands were being paid. It was $4 an hour back then.
''He goes, 'Here you go son; here's $100 and an extra $20 for being such a good worker'. And I ran and I sweated my guts out for three weeks.''
Nevertheless, Bool stayed on. He got his first stand when he was 16.
Now though, he does not recommend blade shearing to the younger guys.
''I would say, 'You can do this, but you'd be better off picking up a hand piece','' Bool says. ''You can travel; you can go to Aussie or America.
''It's a shame, but it is a dying art and we are the last dinosaurs.''
Blade shearing is dying for a number of reasons, but tenure review, and fewer sheep in the high country are prime reasons.
Casserly says without sheep to keep back the vegetation, wilding pines, broom and gorse are taking over old high-country stations, but the real loss is for the blade shearers who have lost months off their already short season.
''June to the end of February, that used to be the blade shearing season. Now the season still begins in June and finishes about the end of October. By Labour weekend it's just about all over.''
There are strongholds where farmers still opt for blade shearers, where animals are ''out on the blocks and the only shelter they've got is the tussocks''.
But the winter comb, too, has had a big impact on blade shearing - the 10mm of wool that blade shearing leaves on a sheep is approximated by a winter comb's 5mm - and the use of helicopters or aeroplanes means the animals have better access to feed.
It is just traditionalist farmers, who believe the old ways are better for their animals, who still opt for blade shearers, Casserly says.
And most of their shearing work is with pre-lamb ewes.
''The only way to get a pre-lamb ewe is with the blades, properly,'' Casserly says. ''With 10mm of wool left on in cold, wet weather, the ewe will survive and have plenty of milk for its lamb.''
But blade shearers are slower and have always come at a higher price than machine shearers.
''Machine shearing is 20% cheaper than blades,'' Casserly says. ''A lot [of farmers] take the risk to shear with machines rather than pay the blades extra.''
Blade shearers don't work in gangs; they work in teams. Bool says working with Casserly taught him to respect farmers, and his elders.
He calls the man ''a legend'' and says he views him as an uncle.
''He was friends with my father. He bought me my first car.''
---
'Blade people' welcome
This Waitangi weekend, February 5-7, Omarama is hosting the Big Blade Shearers Jamboree 50-year Reunion.
Peter Casserly's teams, farmers, wool classers and other ''blade people'' are all welcome.
---