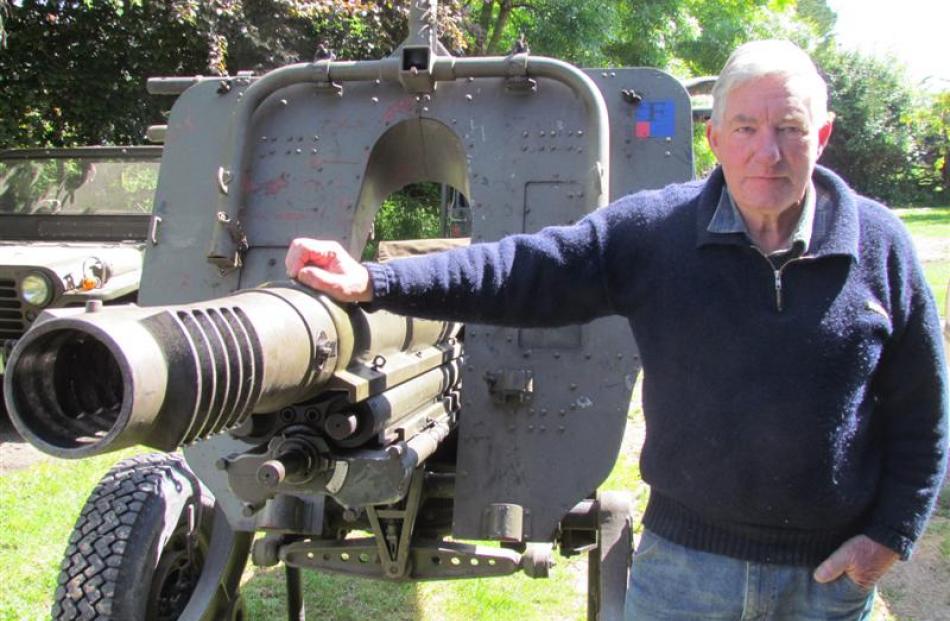 Military memorabilia collecting may seem like a bit of a macho pastime, but after 40 years collecting vehicles, uniforms and cannons from across New Zealand, Waimate collector Murray Dempster is adamant his extensive collection is more than just a bunch of ''guns 'n ammo''.
The 69-year-old retired builder started collecting militaria in the 1960s and has now collected six vehicles and artillery pieces, including two Pack Howitzers and more guns and rifles than he can count. But although his collection is now so vast that a large portion of it has been displayed at the Waimate Historical Museum, he said he never envisaged having so much.
''I started picking up little bits and pieces, and it's just grown from there and it just ended up being a hobby. If it was green I sort of collected it.''
However, his collection, which contains vehicles, weapons, uniforms and electronic equipment from conflicts dating back to World War 1, is now a valued community asset. The New Zealand Army regularly borrows his two Pack Howitzer artillery guns for Anzac Day parades, and clubs and organisation across the South Island regularly call Mr Dempster to put on a display at myriad special occasions.
He said he was happy to be able to give something back to the community, and in addition to holding a two-yearly Labour Day display in Waimate and using his vehicles for the Waimate Santa Parade, he has allowed a portion of his collection to be put on display at the local museum for the past six months.
''That's the other side of the collection that the public don't get to see because it is usually packed away.''
He said he had collected items from almost every national army in the world, but finding the items was never a problem.
''It's all out there and it just turns up. People find it and share it around. You can always find what you're looking for. You just never know where it is going to turn up.''
The biggest problem was getting things to work again, particularly with ex-military vehicles, he said.
''You can't just hop in them and turn the key. They need a bit of TLC to get them going. A lot of them have been chopped up and hacked up and put to farm use.
''Farmers normally chop everything off that they don't need, but you can normally pick up the last pieces. It's just a case of stripping them down and rebuilding them. Once you get them complete and find the missing parts they're not too bad - although they are very thirsty with petrol.''
He said his rarest find was a 1941 former Canadian Army Portee truck, which normally carries an anti-aircraft gun.
The gun was missing and it was being used for irrigation purposes by a farmer when he found it, he said.
''That's quite rare; there is only eight of those working in the country.''
But now he has such a large collection, he said he was no longer looking for new items, although he said he was happy to continue being ''just one of the boys'' in the HQ 44 South Military Collectors Club, as he had for the past seven years.
''I have got enough. It's got to the stage when you think how much do you really want.''