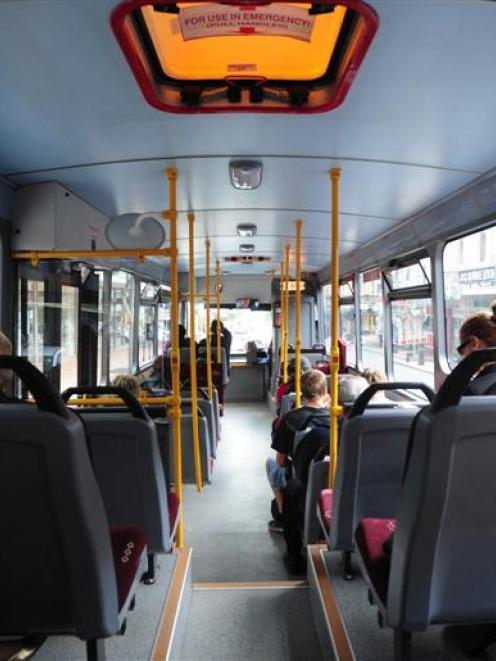 Is the Dunedin bus service as bad as some of us seem to think? Or is it a good service we simply like to 'talk down'? Mark Price looks at whether Dunedin's bus service is getting a fair go.


This is a story about Dunedin's bus service - which means about half of you will already be preparing to turn the page.
There is nothing like public transport, I have found, for causing eyes to glaze. And that particularly applies to the 50% of Dunedin residents who say they will never use it.
Those people, people like myself, will choose their car or their bike or their feet every time.
But, if you are one of that 50%, before you turn the page, consider this.
Maybe all the money we are spending on the bus service as ratepayers and taxpayers has made it better.
And, maybe what needs fixing now is our perception of it.
Associate Prof Susan Krumdieck is from the University of Canterbury's college of engineering.
Last year she was employed by the Dunedin City Council to produce a report on Dunedin's vulnerability to peak oil.
It was not part of her job to examine what people thought of the bus service, but she found herself unable to ignore the strength of feeling.
She reported to the council that while carrying out 169 in-depth interviews, her team found Dunedin people were "not happy" with the bus service and in her oral report she told the council "just about everything's wrong with it, apparently".
In an interview with the ODT recently, she said it was evident from the first day of the survey people "didn't like the bus system".
"So we started taking notes to say, 'OK, well it looks like there's really something going on here. Let's see if we can find it out'."
She said one man she interviewed, who could have taken the bus to work, considered it "too expensive" and he would "rather walk an hour and a-half than take the bus".
"That's really weird. We don't have that in Christchurch.
"We had quite a few people who had moved to Dunedin from Wellington and they said: 'I know what a good bus system is. They have it in Wellington. This one is so bad you just can't take it'."
Prof Krumdieck noted such complaints as:
• "the buses stop running quite early".
• "you don't have transfers".
• "the routes are very confusing".
• "it's very hard to figure out if you are actually going to go where you want to go".
• "it's too expensive".
"There wasn't really anybody who thought it was a fair deal," Prof Krumdieck says.
"It was just to have so many people telling us from so many different perspectives that there was something wrong with the bus system."
Fair or unfair, those were the perceptions Dunedin people provided to an academic visitor to the city. And, although far less scientific, the same points and more were made in response to a survey done by the ODT of 28 commuters using cars rather than buses.
Their main issue was bus fares being too expensive and some also considered buses too inconvenient and too uncomfortable.
After her survey, Prof Krumdieck came to a startling conclusion about Dunedin's bus service.
"I don't think you can fix the bus system you've got.
"People so distrust it and are so disgusted with it that actually a complete overhaul, like putting in a whole new system, would probably be the way to go."
The worst of it is, the Otago Regional Council has just spent four years giving the service a major makeover.
Dr Jane Turnbull is the council's transport manager. Her job is simply to make the bus system run efficiently and she has a paper mountain of facts and figures at her fingertips showing mostly it does.
She hands over a passenger satisfaction survey (see right) showing 25% rated the service "excellent" in 2010 (11% in 2009) and none, in either year, considered it "dreadful". And a PowerPoint slide shows 97.8% of users rate the service as "good, very good or excellent".
But, despite glowing passenger survey results, the service is losing patronage.
In 2009-10 it was used by 143,000 fewer than the previous year.
So concerned were regional councillors, that at their December meeting they called for staff to find ways to halt the decline.
Dr Turnbull says she was not at that meeting, but she is aware of a negativity in the community fuelled by people who "talk down" the Dunedin bus service.
"What I've seen in the last year is a lot of stories ... that it's fair game to run down the bus service and that may be completely unrelated to the quality of the bus service."
She offers a May 2010 report to the council's policy and resource planning committee.
It attributes "adverse public perception" of the bus service to [among other things] "events that trigger stories circulating in the community about the council, which may not necessarily be about bus services, but which are critical of council or put it in a poor light".
A graph in the report sets the "events featuring council" against the number of bus complaints (see last page).
"The graph" says the report, "suggests a correlation" between the events and the complaints received.
Dr Turnbull considered even by writing this story, the ODT could be adding to the problem.
"You are venturing into the very dominant story that is sort of circulating and is being propagated in certain quarters that is talking down the bus service.
"I would view [the dominant story], professionally, as sort of unfair in terms of its actual quality.
"It's a very topical thing to talk down the bus service."
Asked what the council was doing to counter that negativity, Dr Turnbull said just before Christmas it had advertised the Mosgiel express service in the Taieri Herald and there would soon be a letterbox drop in Mosgiel.
But she considered it was not the council's responsibility to market the bus service in a commercial way.
"That's a question for operators. They're the ones running the business."
Dr Turnbull said the council's role was to let the community know what services were available but it was also developing a plan to put more emphasis on customer care and service quality.
"So, though this doesn't appear to directly counter negative perceptions, it's about actually paying more attention to what customers want."
And while she believed bus operators were responsible for marketing she noted: "We don't see a lot of marketing coming from those operators at the moment".
Those operators include Dunedin Passenger Transport director Kayne Baas, who explained why they are disinclined to spend money promoting the service to tackle the problem of falling patronage.
In one of the complexities of the tendering/contracting system for bus services, bus operators benefit [through greater fare revenue] from increased patronage during a contract, but lose it when the contract ends.
"When we re-tender we lose that benefit and we just gift it to the ratepayers. Anything we have done to improve services and patronage they actually reap the rewards because they don't have to pay as much money in subsidy.
"It's a huge risk."
In mid-2008 fares went up by 25%. They went up by another 25% in mid-2009 and then last October came the GST increase.
Dr Turnbull considered it "impossible statistically" to measure the effect of fare increases, or other factors, on patronage.
"You can only speculate."
But, Mr Baas said he began seeing a decline in patronage when the second increase took effect, but believes the GST increase "broke the camel's back".
Mr Baas said operators could respond by cutting fares and paying for marketing, but it was "very hard to be able to get that message across to passengers you might have lost".
He believed it was the council that should make the tackle.
"The regional council, I think, fails to sometimes grasp the fact that increased patronage benefits long-term the ratepayer and the regional council and there is a very short-term benefit for the operator. But the operator is the one taking the risk."
Mr Baas believed the regional council was "more behind public transport" than they ever had been before".
It had spent "a lot of money and time and resources" trying to improve services - doubling the number of buses on some routes.
But he believed non-bus users were "ill informed" about what was available.
So, there lies the problem.
The ratepayers, the taxpayers and the passengers are paying for the upgraded service but no-one operating the service is keen to spend more money getting people to use it.
And in the meantime, bus passengers are drifting back to their cars, or their bicycles or their feet.
Dr Chris Brickell works as a senior lecturer in gender studies at the University of Otago but at other times he admits to being a "bus geek".
Formerly involved with Wellington's bus service, he considers Dunedin's service is at a "crossroads" and foresees a risk of the hard work done to improve the service being undone.
"It would appear the regional council is reluctant to make more improvements in terms of frequency in particular, unless patronage goes up.
"So you actually get into a spiral, potentially, where if the level of patronage isn't high enough . . . it makes it harder to improve public transport.
"You then start to spiral backwards again."
And backwards is in the direction of what he found when he arrived in Dunedin in 2001, a service he considered "hugely embarrassing".
---
THE NUMBERS
Otago Regional Council contracted bus services carried 1,503,789 passengers in 2009-10. That was 143,417 fewer than the 1,647,206 of 2008-09, but still ahead of the years prior to that.
The passengers contributed $3,163,389 in fares in 2009-10 and, all up, the council contributed a further $5.5 million of both operating and capital expenditure.
In contrast to the overwhelmingly negative anecdotal comments presented to the Otago Daily Times by commuters using their cars, regional council surveys showed those who actually used the buses were increasingly positive.
---
---
Timetable biggest bus grumble
"Bus geek" Dr Chris Brickell considers it is the Dunedin bus timetable that is most in need of attention.
He believes bus fares are "really quite high for a city of Dunedin's size" and frequency is "a bit patchy".
But the timetable:
"It's actually a bit of a mess, to be honest.
"You've got one route in there - Lookout Point to Pine Hill - which has about 20 different route numbers.
"The St Clair-Normanby timetable on a weekend is virtually unreadable because it's in a sort of a strange kind of format.
"If you go to page 52, where you've got the Bradford timetable, it says the departure time from the terminus but that's it.
"It doesn't tell you when it reaches points along the way; it doesn't tell you when it gets in at the other end.
"So there are issues around the presentation of the timetable that are not doing, perhaps, as good a job for the publicity of the service as they could be."
He is, however, complimentary about the "fantastic" timetables being erected at each of the city's bus stops and believes the service is "going in the right direction".
"But I think sometimes the information is not quite as good as it could be."
---
---