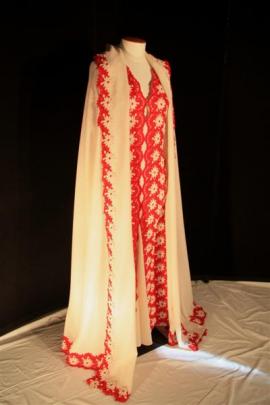 Away from the catwalk spotlights of this week's iD Fashion event, another range of garments has been the focus of plenty of talk. Shane Gilchrist stitches together the story of the late Eden Hore and his collection. 
The swathes of forest offer a quiet backdrop, but the hush of Naseby is occasionally broken by evidence of activity.
At the top of a rise on the main approach to the small Maniototo town, a half-acre or so of front garden basks in the morning light of a mid-autumn day.
There, just beyond the letterbox, John Steele sits astride a quad bike, delivering plants to various parts of his plot.
John not so much complains as points out, in a matter-of-fact manner befitting a former (long-time) Maniototo farmer, that when you purchase a bunch of shrubs you have to be mindful they need to go in the ground - and sooner rather than later.
Perhaps a future generation will come to admire those plants, perhaps not. Regardless, there's a wider implication to this musing, which is along the lines of: if something is deemed worth getting in the first place, it might be worth looking after.
Which brings us to the reason why John's horticultural drive has been interrupted. It has to do with his late uncle, Eden Hore, and a passion for fashion that, ultimately, has led to the Central Otago District Council taking possession of the largest private collection of 1970s haute couture in the southern hemisphere.
The CODC's purchase of the fashion collection late last year (at a price of $40,000, though it has since been insured for more than twice that) has prompted plenty of debate, both within and outside council, the objections ranging from concerns regarding ongoing maintenance and storage costs, to local government spending priorities, to public consultation processes.
As he and his wife, Margaret, settle at the dining-room table for a cuppa and chat, John acknowledges various opinions have been expressed: ''Look, I'd probably say the same things myself if I didn't know the story behind the collection.''
He is, of course, referring to the tales surrounding his interesting uncle. Yet before getting into that, the value of Eden Hore's collection (in socio-cultural terms at least) should be quantified.
Previously housed in a converted tractor shed complete with glass cabinets and elevated parade area at Glenshee Station, near Naseby, Hore's comprehensive though eclectic collection represents the beginnings of New Zealand's fashion industry, according to Dr Jane Malthus, honorary curator for dress at Otago Museum and a teacher of dress history at the Otago Polytechnic School of Fashion.
''It is a wonderful collection of New Zealand designer garments from the 1970s, in particular.
''With the range of garments Eden Hore collected, there are so many stories that can be told about what was happening at the time. There is just so much in there. So in the sense of New Zealand social history, it is also significant.''
Dr Malthus contributed to the 2007 book Looking Flash: clothing in Aotearoa New Zealand, writing a chapter titled ''One Man's Fantasy: the Eden Hore Collection of High and Exotic Fashion Garments''. In it, she notes the farmer cum fashionista was more interested in the fringe than the everyday.
''He preferred a certain flamboyance in the garments he collected, and he wanted uniqueness,'' she writes. Therefore, many of the garments are extravagant (one cost $3500 for materials alone).
Comprising more than 220 items, the collection features gowns Hore purchased in Europe, Australia and New Zealand, and includes a replica of Princess Anne's wedding dress. Significantly, a number of garments are made from wool, suede and leather, and reflect his fascination with how such materials were transformed from high country to high fashion.
Some of New Zealand's best-known fashion designers of the time, such as Colin Cole, Kevin Berkahn, Vinka Lucas and Barbara Herrick, are represented in an idiosyncratic collection that Hore began in 1970.
As Dr Malthus notes: ''Some designers prominent in New Zealand during the 1970s are hardly represented or completely missing from this collection. For instance, there is only one outfit from Michael Mattar, who worked from a workroom and shop in Taumarunui, opened an Auckland boutique in the refurbished Parnell houses in 1976, and had won every major New Zealand fashion award.
Still, the garments in Hore's collection are a testament to some key fashion influences of the late 1960s, 1970s and early 1980s.
''The flamboyances of colour, design and fabric are well-represented,'' Dr Malthus points out.
''Pattern and decoration such as sequins, Lurex, glitter, fringing, feathers, heat transfer prints, embroidered cottons, printed and sculptured velvets and metallised fabrics were all part of 1970s good- and bad-taste fashion.''
Dr Malthus believes the many garments in the collection would no longer exist were it not for Hore's magpie instincts.
''People would have cut them up; they would have gone to op-shops; they would have disappeared. The fact they still exist is of huge value.
''If the Central Otago District Council hadn't stepped in, the only realistic possibility is that the collection would have been split up and various museums would have picked the eyes out of it.
''Its strength is in the fact it remains in its entirety.''
Keeping the collection intact also keeps alive a key thread underpinning all this (excuse the puns). And that is the story of Eden Hore.
Born in 1919, Hore grew up at Kyeburn, working as a musterer and shepherd before serving in World War 2. Hore worked on his family's farm from 1945 and purchased nearby Glenshee Station in 1948, successfully developing it as a sheep and cattle-rearing and finishing farm.
He was also a musterer of no small ability, his nephew reflects.
''I've yet to see another person who could understand sheep and dogs like he did.''
Hospitalised twice with pneumonia during the war, his respiratory system compromised, Hore was nonetheless a heavy smoker. He also drank heavily for some time, John says after a brief pause.
''... I guess there's no harm in admitting that. When he came home from the war he was in a pretty bad way. He struggled for years, but he did get on top of it.
''He was married for a short while when he came home from the war but that never worked out. He wasn't that easy to live with.''
With his marriage over by 1960, Hore hired a housekeeper who was a part-time model. Remaining at Glenshee for 12 years, she introduced Hore to the world of fashion.
''Uncle got involved in fashion through his housekeeper, who was always mad-keen on fashion. He used to go down to modelling school in Dunedin,'' John explains.
''The thing that started him off was when he spotted a magnificent garment made of pure merino wool, even though he didn't farm merino sheep; his land didn't suit it; he farmed crossbreeds.''
Intersecting and informing fashion, the world of entertainment also provided Hore with a gateway to garments and glamour.
Enter Joe Brown, of the Peppermint Lounge in Dunedin and organiser of Dunedin's popular Town Hall dances. A promoter of fashion and music, and owner (between 1960-1973 and 1979-1986) of the franchise for the Miss New Zealand beauty pageants, Brown was born in Naseby in 1907 (although he had left the area before Hore was born).
In January 1963, as part of the centennial celebrations for the Naseby district, Brown staged a variety concert and a talent quest at which he discovered a country and western singer, John Hore (now John Grenell), and became his manager.
No relation to the musician, Eden Hore helped the young singer, accompanying him on tours (often held in conjunction with Brown's beauty pageants).
In finding backstage and administrative work to do, he was increasingly exposed to various fashion elements, from sumptuous evening dresses to the daywear contestants wore in parades. Hore also travelled the world extensively.
By Margaret and John's reckoning, he had visited 56 countries.
''Margaret and I got married in 1966 and uncle would take off and say, `you're in charge'. Well, the farm was a pretty big place - 20,000 acres or so.''
Margaret: ''Or he'd ring and tell us to shift the sheep from the back paddock. We'd ask, `where are you?' And he'd say, `oh, Singapore'.''
John: ''He'd bring all sorts of things home, including fabrics he'd ask [late Alexandra designer and seamstress] Pat Hewitt to work into something.''
According to Dr Malthus, the earliest items Hore purchased were hand-spun, hand-woven fashions, and leather and suede designs. However, the scope of his collection quickly broadened to include some of the more glamorous outfits worn by the Miss New Zealand contestants.
By 1975, the number of garments in his house had grown to the point where they demanded a separate space. Hore moved the collection into a large implement shed that previously housed, among others things, a tractor.
''The house was chocker with clothes,'' Margaret recalls.
''He had a mate, a local guy,  who converted the shed into a display area. It was well lined with a concrete floor, carpets and so on.''
Clothes weren't the only items Hore accumulated. Add to the list Jim Beam decanters, Franklin Mint dolls and teaspoons, as well as various examples of the farmer's beloved animals, including a yak, coyote, peacock and rabbits.
''Every animal that died would be mounted and displayed, including the yak,'' Margaret says with a grin.
''He had a love-hate relationship with (then) Minister of Agriculture Brian Talboys,'' John says.
''If Talboys told Eden he couldn't import a certain animal, then he did. Uncle went to the United States and imported miniature horses to New Zealand; he imported a Himalayan yak from Toronto Zoo ... hmm, what else? All sorts of things. A bison.''
Margaret: ''I think lions and tigers were on his list but he got talked out of that.''
In Looking Flash, Dr Malthus describes her impressions of Glenshee Station: ''An early proponent of rural diversification into tourism, he converted a tractor shed on his property into a display room, where visitors could see the `high and exotic fashion' and the whiskey bottles, then tour the yards and house paddocks, petting and feeding the birds and animals.
''At times, peacock feathers were procurable and visitors could be treated to the playing of the 21-jet fountain in his extensive and colourful garden. In 1976-77, Eden Hore apparently entertained more than 4000 visitors ... most of them from overseas.''
The Eden Hore collection became well known and was displayed in fashion shows both at Glenshee and at other locations. In 1976 and 1977, shows were held in Alexandra, Balclutha, Dunedin, Invercargill, Queenstown as well as in the North Island, the gate-takings going to a range of charities.
''He was a character,'' Dr Malthus reflects.
''One day we were up there he sat and talked to us pretty much the whole day except when he had to go feed his animals.
''He was a charming person in many ways, very idiosyncratic.''
That quirkiness prompted more than a few comments, not all of which were positive. Uncle Eden might have possessed a ''wicked'' sense of humour, yet he could also be hurt by the words of others, the Steeles recall.
John: ''I don't think he dwelled on it, but there were things said and done ... Some people struggled to understand what he was doing.
''There were some pretty sarcastic things said. He'd say, 'some of these buggers think I'm gay, but I love women'. But a fella collecting frocks ... well, he got a few sideways glances and comments.''
Margaret: ''Especially back then ... He just loved meeting people. He liked to dress up; he had a white suit and bow tie.''
Hore remained a bachelor through his later years.
''He was pretty independent,'' John says.
''My dear old mother would pop in and suggest tidying up in the kitchen and he'd say, 'I wish you'd just leave things alone; you come in and fiddle around and I can't find a damn thing'.''
Margaret: ''He got to the stage where he couldn't look after himself. But it had to be his decision to go into a rest-home.
''The day he went into one in Ranfurly, he rang them up and said `I'm coming in'. Well, they told him they didn't have a bed for him. He said, `I'm coming in anyway'.''
Hore died at Ranfurly in 1997, aged 78, bequeathing his collection to the Steeles, who looked after it until last year, when ill health prompted them to sell Glenshee.
That 17-year museum tenure shouldn't be overlooked, Dr Malthus says.
''Nothing really changed in the display room while Margaret and John were in charge of it and that was a plus.''
Even in Hore's last days, fashion was never far from his mind, though whether that was by choice is a matter of debate.
John: ''When uncle went into care, he got a letter from one designer and, on his deathbed, he said, 'what does she want?'.
''We told him she had asked him to buy something of hers.
''He said, 'tell her to get stuffed'.''