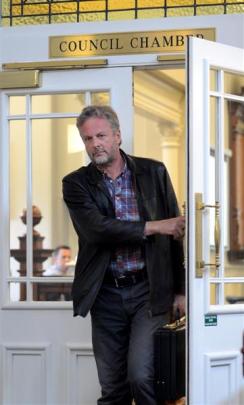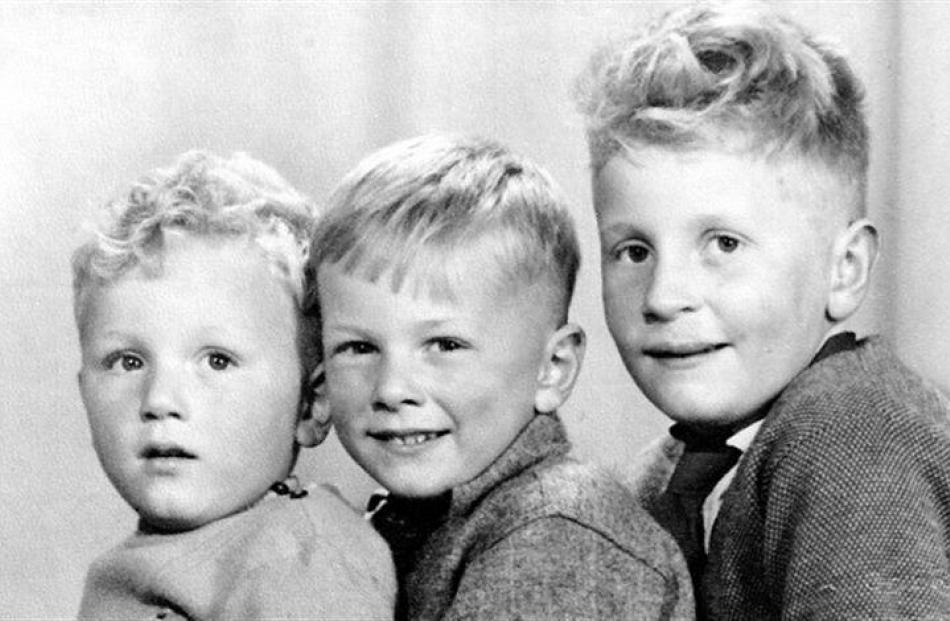 Lee Vandervis knows that people either love him or loathe him and he doesn't care. Kim Dungey finds out what drives Dunedin's most controversial city councillor.
Lee Vandervis has never shied away from explosive situations.
As a boy, he attempted to make solid rocket fuel, set alight a tyre that he had doused in petrol, and mowed lawns to earn enough money to buy the chemicals required for gunpowder.
The 11-year-old had furtively carried sulphur, saltpetre, powdered charcoal and Condy's crystals to his hut and begun mixing them together when he heard the worried voice of his mother: ''I've had a ring from the chemist. He says you've bought these chemicals that could make a very large explosion.''
''Then she took them off me,'' he laughs, ''and despite me clawing and screaming, she flushed the whole damn lot down the loo.''
More recently, the maverick city councillor has been fanning the flames at city hall, opposing a $602,000 spend on the Exchange area, a $1 million contribution to cricket ground floodlights and the council's high debt levels, claiming the council's financial situation is ''terminal'' and stifling development.
Earlier this month, he was temporarily stripped of some voting rights after a code of conduct hearing found him guilty of bullying, aggressive and misleading behaviour.
This included shouting and swearing at council chief executive Dr Sue Bidrose and misleading a subcommittee by suggesting police were not investigating the full breadth of the Citifleet fraud in which more than 150 fleet vehicles were sold without the council receiving any money.
In 2011, he famously demanded council staff ''call the DCC dogs off'', in reference to parking wardens ticketing snowbound vehicles, and gatecrashed a meeting in Mayor Dave Cull's office, claiming it was illegal because some councillors were excluded.
He has also walked out of meetings, or been thrown out, and repeatedly attacked the council's financial management.
Big in stature and personality, Vandervis is a polarising figure who hogs headlines and public opinion columns.
Supporters describe him as an intelligent, passionate man who is a campaigner for accountability and trying hard to do what he believes to be right.
Critics complain of his rudeness and his unwillingness to work through council processes, adding that he is often outvoted by large margins because he is unable to take other people with him.
His relationship with the mayor is particularly acrimonious.
Vandervis says Cull is focused on looking good instead of doing good.
The mayor, who initially agreed to be interviewed for this story and then changed his mind, has previously labelled Vandervis' record as shonky and his policies as nutty and extreme.
An independent adjudicator subsequently rapped both men over the knuckles for their inability to see past their differences.
Cr Richard Thomson recently suggested his colleague's approach is counterproductive and his talents wasted, describing the 188cm, 100kg councillor as ''a big brain on a big body''.
Vandervis is unrepentant: ''He missed the essential physical attribute actually. I've got big balls.''
Sometimes the feeling that he ''can't fix things at council'' leaves him feeling depressed for days on end but he ''invariably bounces back''.
Almost 18 months out from the next election, he has already decided to stand again for the city council and is eyeing up a seat on the Southern District Health Board.
''I crack 60 this year and I'm much more comfortable with myself than I ever thought was possible. I don't have to justify myself to anybody ... I sleep well, I'm very happy with what I'm doing and I can put up with a whole lot more shit now than I ever could because what happens to me isn't what matters. It's what I do with it.
''I certainly haven't been as effective as I'd like to be. But the reason I continue is because there are a whole lot of things that I can do and if I only have one or two people voting with me on council, so be it.''
The third-term councillor claims that historically it has been not committees, but individuals going against the tide who have achieved real change - ''getting others onside is highly overrated'' - and ''flatters'' himself into thinking that many of the changes that have occurred in council would not have happened if he had not been driving them.
His biggest achievements, he says, include helping to ''see off a whole lot of dysfunctional council managers'', creating an atmosphere of responsibility by pointing out that anything the council spends is borrowed money and drawing public attention to issues others want swept under the carpet, among them the Citifleet fraud and property speculation by Delta.
Others are likely to dispute his claim to some of that.
In response to those who say he spends a lot of time complaining and less time offering solutions, he also lists some ''positive suggestions'' he has made.
These include allowing helicopter flights from Port Chalmers wharf to service the cruise ship industry, dedicating eastern footpaths as cycleways, using ''safer, cheaper'' roundabouts instead of more traffic lights; having movable, cost-effective video surveillance in the north end to counter vandalism, and redirecting money spent on council communications and marketing to co-ordinated marketing of the city's many small arts, design, film and computer images industries.
What drives him, ''in a nutshell'', is the belief ''that a clean-out of the largely dysfunctional DCC would make a better Dunedin for everybody, rather than just greater profits for the well-connected few''.
• Frustration with the council's contracting system was the main reason the former sound engineer first stood for the council in 2004.
Vandervis alleges that after years of not being able to secure contracts, he eventually got to put in a sound system and was asked by a council manager to pay a 10% backhander.
A decade on, he is still fighting for changes to the tendering system that he says would result in ''real competition'' and lower costs for a range of services.
For more than two hours he barely stops to draw breath as he lists all that he sees is wrong with the council, from the 600-plus employees and the ''unbearable green-wash'' to the millions of dollars spent on the town hall redevelopment and Forsyth Barr Stadium.
But it is the claim that he misled the council's audit and risk subcommittee about the scope of the Citifleet investigation that most seems to rankle.
Convinced there has been a concerted effort to cover up most of what happened, he leans forward in his seat and becomes noticeably louder.
''Me misleading them? Me misleading them? You look at the facts. Look at what's actually going on there and ask yourself who's been doing the misleading? It bloody well isn't me, I can tell you that for sure.''
Later, he dismisses any suggestion of him having anger problems: ''A lot of people say, 'Why can't you just tone yourself down and be a bit more moderate?' They don't realise that I am already toning myself down and being a bit more moderate. I'd be in jail if I did what I really wanted to do sometimes at meetings.''
He works hard at being inflammatory because unless he uses colourful language, it isn't reported and nothing changes: ''People wonder why I get a bit loud publicly and why I use language that upsets people. I used to do things by the book, in non-public meetings, and nothing ever happened.''
Cr Kate Wilson, one of three councillors who lodged code of conduct complaints against Vandervis, says his ''bullying behaviour'' is unacceptable and starting statements with personal attacks means he struggles to get buy-in from other councillors for his ideas.
''He's often right. It's just the way he does it that's wrong and it becomes really difficult to support him.''
His job as a councillor is not to care about himself but to help ''move the ship'' to where it needs to be, she says.
''He excuses his anger [saying it is] because he doesn't get his way. He wasn't elected to get his own way. He was elected to be part of a team working together ... I do find sometimes he wants to be the lone wolf ...''
Cr Thomson believes Vandervis has an inquiring mind and raises valid questions but would be more effective if he were not so aggressive.
''He sees it as dogged pursuit of the truth and there are many people who support him in the community who take that interpretation. I think you can doggedly pursue the truth in a way that's more likely to result in the truth being uncovered than Lee does.''
''I think the other problem is that he makes so many assertions and is so often reluctant to provide the evidence of those at the same time he makes the assertions, that you can easily get into the situation of 'the little boy who cried wolf'.''
However, he did not want to be only negative about his colleague because there were positives and that was ''part of the mystery that is Lee'': ''I find him very likeable as person. I enjoy his company and if I had to be stuck with somebody on a desert island, I would be perfectly happy for it to be [him].''
Cr Hilary Calvert says stripping Vandervis of his voting rights took away the voice of those who voted for him and the apology the council asked him to make was ''a greater apology than somebody in front of the parole board trying to get out of prison would have to make to look willing''.
Legislation which allows the mayor to choose committee chairs has created an A team and a B team on council, she believes.
Despite being one of the most experienced councillors, Vandervis was given no positions of responsibility and is not privy to the information that some others are.
''On the one hand it's 'why don't you all play as good team players?' On the other hand, what does that mean when half the council doesn't know what's going on and doesn't get appointed to a lot of committees? ...
''Some days it feels like the 'in' crowd have no time for him and no interest in his views ...''
Lund South owner Russell Lund faced some ''direct, quite aggressive'' questioning by Vandervis at a resource consent hearing last year but was unconcerned.
Being on council is not a politeness or popularity contest as some seem to think, he says.
''There should be robust debate and so what if tempers flare? That's what [happens] when committed individuals are trying to solve something or are really passionate about something.''
Elizabeth Kerr, who owns the What if? Dunedin site on which Vandervis regularly airs his views, says one of his strengths is spotting things that should be documented for investigative reasons.
The Citifleet fraud was one example but there were others that would come to light as it was deemed appropriate to ''delve into them publicly''.
''He's ever vigilant and that's what's needed. Time will tell how far he will go, with what results, but he's his own work engine and ... while he's in council, he's going to keep at it.''
• It's late on a Thursday night and Lee Vandervis, in checked shirt and jeans, is looking through photos of his family, his farm and his many half-finished projects.
In the kitchen are the remains of dinner: his signature dish of pancakes filled with pineapple curry, made the way his mother taught him.
At his feet lies a giant of a dog called Lola. Juliette (17), flits in and out while 10-year-old Lukas sleeps upstairs.
Wife Antonie, who teaches languages and culture at the University of Otago, joins her husband on the sofa.
Originally from Germany, 48-year-old Antonie says Vandervis is strong-willed but has a ''soft core'' and is quite a different man at home from his public persona.
Often he focuses so much on a task that the world around him disappears.
Several times he has forgotten to pick up the children from school.
Today, he has been up since 7.30am, replacing the leaf springs on his often-overloaded Landcruiser and reading council-related emails and TradeMe listings over his usual breakfast of three different types of muesli.
He avoids processed food, has never had a cigarette and, despite spending much of his former career in hotels, has never drunk alcohol.
Three of his fifth-form classmates were killed in drink-driving crashes.
Though he jokes that he is ''pure as the driven snow'', he also volunteers that he was convicted of inconsiderate driving about 30 years ago for ''passing 12 cars in a row, one of them driven by an ex-traffic cop''.
A few years ago he accumulated enough speeding demerit points to lose his licence for three months and he once leaned out of a window at his former home with a .22 rifle, threatening students he claimed were smashing the leadlight windows.
Today, ''home'' is a 20-room Roslyn mansion, built in the 1890s for the first dean of the Otago Medical School, and a 22ha farm at Pigeon Flat where he spends a couple of days a week.
Having sold a profitable sound and lighting business before being elected to council, he is now on a lower salary of about $50,000 but not complaining.
''Where I [end up] in the future depends on how much change Dunedin people want and are prepared to promote but I see myself either still working for the city, or working on the farm and other projects 'til I die.''
Away from politics, he listens to Bach and Jethro Tull, plays the piano, violin and cello, and enjoys reading (his favourite book, Cryptonomicon, is set in World War 2 and the internet age and described by one critic as the ultimate geek novel).
Vandervis adds that he has been ''seeing shrinks'' since his first marriage ended in 2000 - ''you can never get enough relationship training'' - and had lower back pain for most of his adult life.
But he proudly notes that he is fitter than some 18-year-olds and wakes up every morning with his ''wheels spinning'': ''For some reason, I've got enormous amounts of energy. I thought it would reduce as I got older. In fact, as you might have noticed, I'm probably getting a bit louder.''
A frequent visitor to demolition and scrap-metal yards, he spends much of his spare time restoring old lights, musical instruments and buildings.
At his farm, he's put in roads, workshops and woodlots; fitted a turbo motor to an 11-tonne digger and modified 12 trailers.
He has also invented a wheel which he says will make cars more stable, reduce drag and clean roads all at the same time.
Friend Blair Smith remembers arriving at the Vandervis home one winter's night to find him up a ladder with searchlights on doing maintenance in the snow.
''He fells huge macrocarpas on his own, mills them into great big beams, then extends the house and builds a barn. It's tiring just to look at.''
''I love getting stuck into things ...'' Vandervis explains, ''and I love coming up with imaginative solutions to problems. That's the reason I love the DCC. It's absolutely full of problems.''
However, one thing he cannot change is the fact that the youngest of his eight children is severely autistic, has few words, cannot dress himself and sometimes appears to be completely absent from what is going on around him.
''It cuts me to the quick. It's something you can't fix. But it's also good in a way because he makes me realise what's important. Code of conduct? People messing around down at the DCC? Even million-dollar fraud? Compared to family and the value that a person has at their heart, they're not biggies.''
Vandervis' own family were Dutch immigrants and he mentions two things from his childhood that have shaped him.
One was the influence of his late father Bill, an idealistic man who he admired greatly for sticking to what he knew to be right: ''What's the point of having high ideals if you are not stubborn about them?''
The other was the feeling of being an outsider.
Though his father was a builder and in 1950s New Zealand anyone with a trade was welcome, there were signs of intolerance.
''Van Der Piss'' was once painted on one of his father's safety hoardings and classmates laughed in a derisory way when, following his father's example, he pronounced some words incorrectly.
It didn't help that no-one could spell his Christian name, Lieuwe, which he later changed by deed poll.
As the only Dutch boy in his class, he quickly learned he would never be part of the 'in' crowd because he was ''just too different''.
''I hated it at the time ... but it forced me to find out who I really was, what I really want and what I really have to offer. And it's only by being on the outside that you can discover those things.''
''Having a successful life involves finding your own voice,'' he says.
''Running with a herd wastes your potential.''
---
Lee Vandervis
• Age: 59
• Born in Balclutha, the second of three sons.
• His parents - a builder and a botanical analyst - left Holland after World War 2 to settle first in Dunedin and then in Balclutha. The family returned to Dunedin when he was 15.
• Attended Rosebank School (where he was dux), South Otago High School and Kaikorai Valley High School.
• Gained a BA in philosophy at the University of Otago.
• After five years in London working as an acoustic engineer and building mixing consoles for the likes of Stevie Wonder and Pink Floyd, he returned to Dunedin in 1981 and set up his own sound and lighting business.
• In 1984, dissatisfied with then Prime Minister Robert Muldoon, he stood for Bob Jones' New Zealand Party in the Dunedin North electorate and polled third.
• First elected to the Dunedin City Council in 2004.
• Defeated by a margin of four votes in the 2007 election, after forming the Open Democracy team to oppose Forsyth Barr Stadium.
• Re-elected to council in 2010 and 2013 (polling third in the central ward at the last election).
• Has stood unsuccessfully for mayor four times.
• In general elections, has voted for both major parties and more recently, the Greens.
---