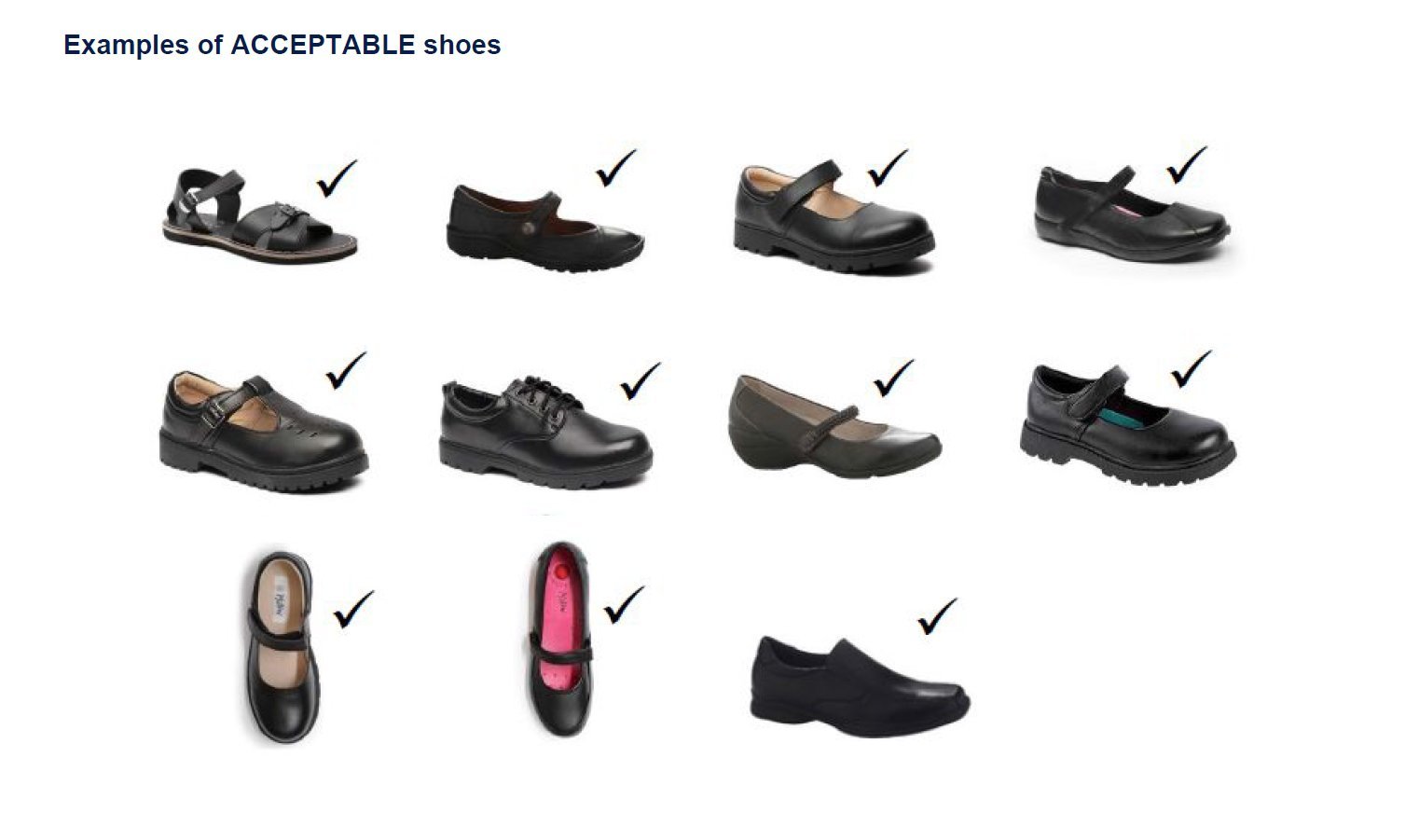 I was planning to write about the train. I had an excellent time on the train. Everyone, IMHO, should take a Sunday trip on the Seasider and nobody should open their emails afterwards. And they definitely, especially, shouldn't click on the email about the shoes, writes Liz Breslin.
Luckily for me I am part of a joyless coven of disaffected feminist parents. So when I received the email about the shoes I was able to reach out and lean into other joyless disaffected feminists to check that they were as incredulous as me about the email about the shoes.
The email about the shoes contained the news that all students in uniform at Mt Aspiring College are to wear black leather shoes. It then went on to specify 11 kinds of shoes that would be ACCEPTABLE. For emphasis, there are ticks by these shoes. We of the coven discussed these neat little ticks. We also discussed the UNACCEPTABLE shoes that have both crosses and descriptors and are: all leather sneakers, sneakers, skate shoes, ankle boots, ballet shoes with no straps and, very specifically, black leather converse sneakers (rubber toe).
What is this new obsession with policing students' footwear? Have the people setting these rules ever tried to buy school shoes in Wanaka? Do they know/care how much a pair of leather shoes cost? Are they blinded by privilege? Are they blind to the fashion considerations of the average teenager? And who is going to make sure that these rules are adhered to? Do teachers not already have way too much responsibility heaped on them for things that are not actually teaching?

These are just some of the questions we discussed in our joyless disaffected feminist tones and believe me I would much rather be not talking about this and not writing about this and instead filling this space with the joys of the Seasider (on which lots of people wore lots of different footwear and everyone was fine), but we of the joyless disaffected feminist coven have been trying since 2018 to have a discussion with the school's board and senior management about the discriminatory aspects of their uniform and mufti policies. Just really simple, easy things, like not shaming people for facial hair or not suggesting that one person's shoulders/midriff/breasts/upper thighs are responsible for another person's supposed objectifications/predicted behaviours. Rape culture is absolutely based on this premise. Your honour, what was she wearing?
I know. I know. It's easy to say it's only shoes. Actually, though, it's not only shoes. The demonisation of the upper thighs, midriffs, shoulders and breasts has now officially been enshrined in the mufti section of the uniform policy. It's easy to get distracted by the fact that mufti and uniform are kind of oxymoronic anyway. It's easy to say there are more important things to be feministly disaffected about. And I guess, especially if you have the resources, it's easy to go along with the rules instead of getting het up about why, why why, in 2021, we are absolutely aping the dress code of the patriarchy, of control and shame.
It might be a different matter if black leather shoes actually contained some extrinsic educational benefits. Being curious, serious and research-based as well as disaffected and covenly, I decided to do some investigative work into the specific professional powers of black leather shoes that have ticks by them.
In the first iteration, I met a director, an adviser, a librarian, a poet, a retailer or three, a driver, two teachers and a doctor and eight of them had lace up shoes and two of them had slip on shoes with no strap and five of them had comfy sneaker type things and two of them boots and one of them had Converses but not black. And I didn't think it was polite to ask them as to whether the shoes were leather or not. So I could not, in this instance, give out even one single footwear tick to one single person in this group of professionally able and personable people.
I didn't mean to revisit the investigation that evening. I meant, at the party, to talk about the train. But then I got there, in my blue leather Docs, and the sign on the door said please remove your shoes. And the pile of shoes at the door was more Docs, walking boots, sneakers, and the people who'd left them there, we were the same people in shoes or not. And one of them shook their head and said ''I had rules like that when I was at school and I turned out OK''. Mostly, we decided, it is the wrong century by far for this kind of education. And then someone else asked, ''How was the train?''