Newspaper photographers are in a privileged position, says Stephen Jaquiery, whose career  is the focus of a new book. Kim Dungey talks to the award-winning photographer and some of the subjects of his most memorable assignments.
Angry protesters, naked rugby players, exhausted farmers and tiny newborns - these are just some of the many people captured by photographer Stephen Jaquiery in 40 years at the Otago Daily Times.
Launched this weekend, Focused: A Life Behind The Lens, is a retrospective of Jaquiery's long career documenting life in Otago.
Now illustrations editor, he joined the paper as a teenager in 1979 when film was still processed with hand-mixed chemicals in a dark room.
Jaquiery says the book is not about the famous people he has photographed.
"The Queen is not in it, nor Princess Diana or the Pope, Bill Clinton or even Sir Edmund Hillary, whom I met several times and hold in the highest regard. Instead, I have chosen photographs from my career which appeal to me and have an interesting back-story.''
One example was capturing the startled expression on Prince Charles' face as a proud mother thrust her 5-month-old son towards him during a royal walkabout in Twizel in 1981. In a letter written to a friend about this time, the prince described his touring duties as "nonsensical rubbish'', saying if one more New Zealand child asked him what it was like to be a prince, he would "go demented''.
Another highlight was making a hermit sheep famous around the world "and then dodging authorities to take him 100km off the coast to be shorn on an iceberg''.
Mr Jaquiery grew up in Wanaka and had no plans to work in Dunedin. But a few months after leaving school, he was in the city for an interview with TVNZ and, without an appointment, called into the Otago Daily Times to ask if there were any vacancies.
At that stage, his photography experience was limited to taking candid photos of holidaymakers on the beach in summer to sell in his father's camera shop. It was a job he hated but it gave him a chance to drive around in the family car.
Taken on for four months to cover for a staff member who was on holiday, he was kept on as a junior photographer for the new Star community papers. By 1981, he was working for the Otago Daily Times full-time.
"It was a steep learning curve right from the start,'' he recalls. "My camera didn't have a light meter so I quickly had to learn to gauge the exposure required in different light conditions and to be careful about my choice of backgrounds. One grey-haired fellow photographed against a cloudy sky appeared to have no head above his eyes ... as grey merged into grey on the printing press of the day.''
He also learned to be observant, which he says is the most important skill a newspaper staffer can have.
"Imagine having to come up with ... pictures for the front page, pages 2, 3, 4 and 5, the court page, any number of back pages, the sports pages, the features pages and the business pages as well as helping to fill the regional pages with photographs.
"Having that hanging over your head, six days a week, year in, year out, is the biggest challenge of the job and really hones your observation skills.''
Despite the demands, Mr Jaquiery clearly enjoys his work and is not ready to "let the battery go flat any time soon''.
Newspaper photographers, more than any other profession, get to share people's triumphs, tragedies and firsts, he says.
"You have the privilege of dropping in on members of the community at the best and worst moments of their lives.''

PHOTOGRAPHY ON THE EDGE
It's a year since she clung to a windswept ledge high above the sea but Johanna Langner still finds it difficult to look at this photo.
"There's so much shock and pain in it,'' the German woman explains.
Ms Langner was visiting Dunedin's Tunnel Beach on November 1 last year when she slipped on uneven ground, tumbled down a rock face and stopped her slide just in time to prevent what could have been a fatal fall to the ocean below.
The 25-year-old remembers hearing the loud snap of her right leg breaking as she slid to within 50cm of the cliff's edge.
"I had the abyss before my eyes and was about to lose my balance. But my whole body did everything to get out of the situation and that's why I twisted my leg so much that it broke. `Luckily,' is all I can say. I have a giant guardian angel.''
Friend Anna Weinfurter, hearing a scream, looked around to find her marooned on a ledge 30m above the pounding sea. With no cellphone coverage in the area, she had to scramble up a steep 1km track to the car park to contact emergency services.
As firefighters used harnesses and ropes to lower themselves to Ms Langner and place her into a stokes basket, a paramedic administered pain relief.
It wasn't until a few days after the accident that she realised it could easily have been fatal.
"I would like to say a heartfelt thank you to the people who saved me ... These people have done so much good and I am sure that good will come back to them.''
After having surgery at Dunedin Hospital, Ms Langner had to remain in bed for 10 days with an external fixator on her right leg. A second operation saw the leg flattened, screwed and wrapped in a cast.
The doctors, nurses and social workers took great care of her and after news of the rescue appeared in the Otago Daily Times, she was touched that many people contacted her to offer help.
One of those was a German woman - a research assistant at the University of Otago - who visited her daily and took her out in a wheelchair. The woman had since returned to Germany and the pair had become good friends.
An occupational therapist in Munich, Ms Langner spent a lengthy period on crutches and has not yet been able to return to work. She still cannot go jogging or be on her feet for long periods. However, she is hopeful that the plates and screws in her leg will be removed soon.
She and Ms Weinfurter were only two weeks into a two-month New Zealand holiday when disaster struck and cancelling the trip was heartbreaking.
"I fell so in love with the country ... nature, animals and people. It was so incredibly beautiful,'' she says.
"A big wish of mine is to come back to New Zealand again - continue where I left off and experience this beautiful country to the end.
"But this is not so easy because the flights are insanely expensive ...''
In the meantime, her attitude has become more positive and she looks for opportunities to repay the kindness she was shown.
"I've learned a lot from all that's happened. I am more grateful, more attentive and I keep my eyes open to give something back to people ...''

FOLLOWING CURRENT AFFAIRS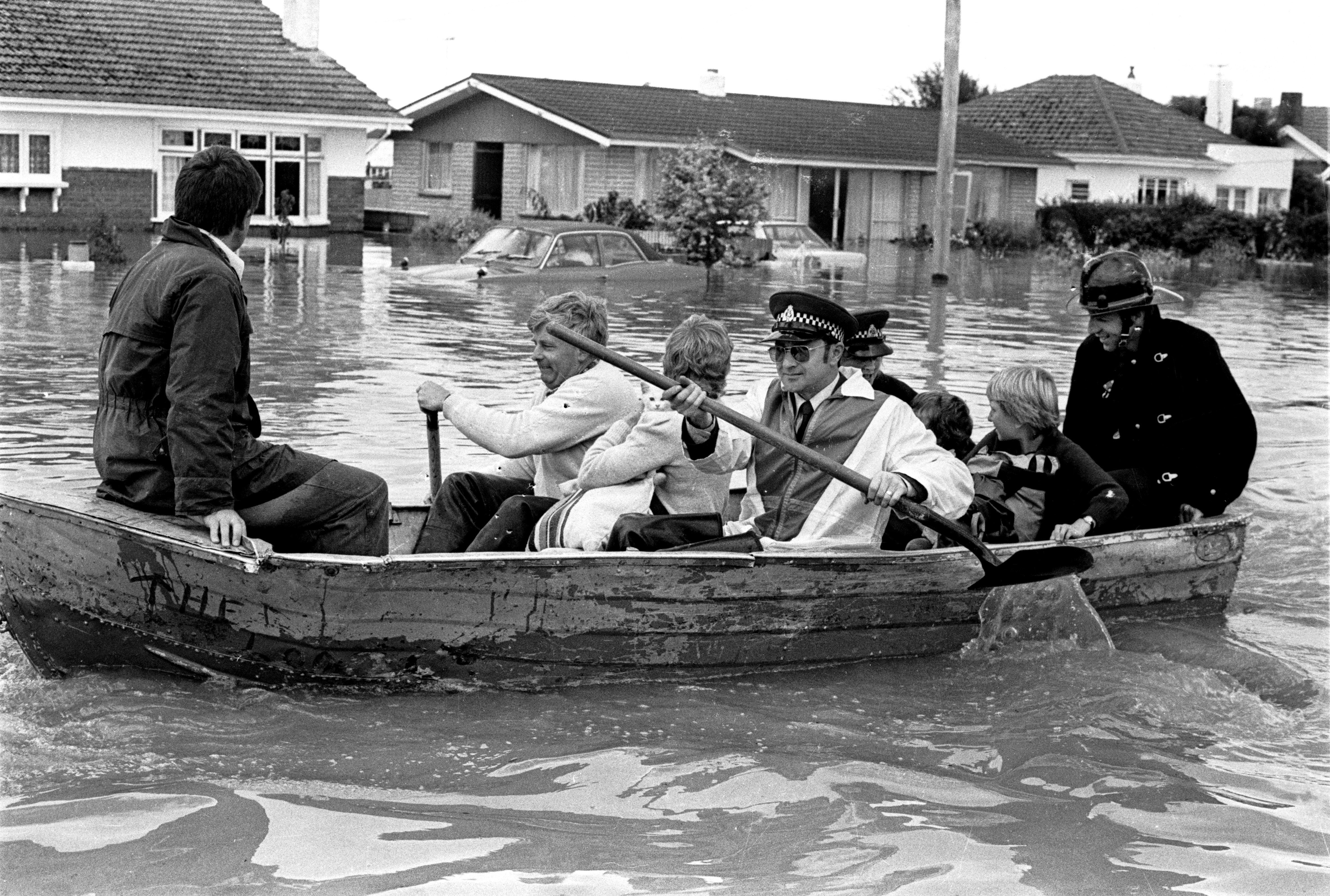 The calm demeanour of the policeman paddling this dinghy with a shovel belies the very real danger faced by thousands of residents during the Invercargill flood of 1984.
Heavy rain on January 26 and 27 caused such widespread flooding that 4000 people were forced to leave their homes. No-one died but more than 12,000 stock were lost and about $55 million was paid out in insurance claims.
Police detective Bruce Smart spent the night of January 26 getting people out of their houses and helping them to lift furniture.
"The next day we were at the end of Rockdale Rd and the roads that run alongside the Otepuni Stream,'' the 81-year-old retiree recalls. "We'd knocked off and gone back to the station for lunch, thinking we were on top of it all. But then [the Waihopai River stopbank] went and that's when things really got to be a problem.''
Former colleagues believe it is Mr Smart pictured paddling on the far side of the dinghy, dressed in a light top and dark trousers. He has no recollection of that particular rescue but does remember traversing the submerged streets in a jet boat.
Events he describes are both surreal and slightly humorous: jet boating over the roof of a conservatory so a homeowner could get in a second-storey window to rescue his cat, coming across a bus almost entirely under water with its windscreen wipers still going, and stripping down to his underpants to drag two ewes from a flooded paddock.
"Sheep full of water are b***** heavy.''
At one stage, he was at the Bay Rd railway crossing and got out of the jet boat to stand on the asphalt. His colleague got out the other side and was submerged in water almost up to his neck, he says laughing. "There was nothing under him.''
A couple rowed past in a dinghy, towing their freezer behind them. A police sergeant told how he could only "stand and salute'' as his parked patrol car floated away. And a man he woke early in the morning by knocking on his door and identifying himself as a policeman greeted him with an expletive.
"He wasn't pleased to have the police there but when I pointed out his car was about to go under, it was a different story altogether.''
Mr Smart, who still lives in Invercargill, says if the Waihopai River had burst its banks at night, lives would undoubtedly have been lost.
"The flood was certainly tragic for the people who had their houses washed out but fortunately no-one died in it and that was amazing.''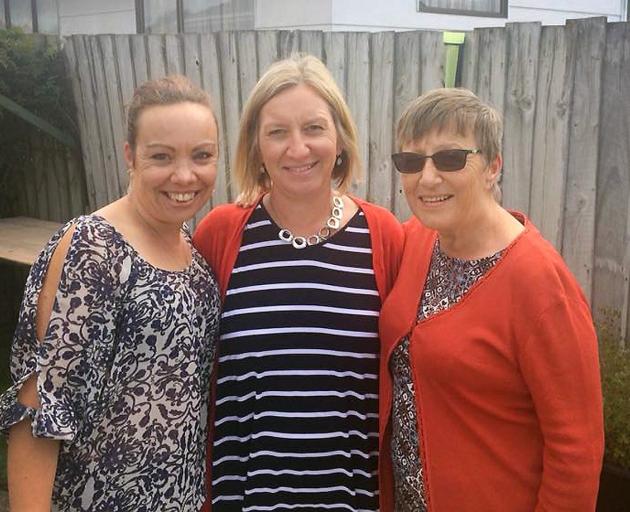 Also caught up in Invercargill's worst natural disaster was Judith Smart (then Judith Thomas), who is seated in the middle of the boat, holding her white cat and anxiously looking back at her two daughters.
Moments before, they had watched a torrent of murky water advance down Bullar St and knock down the concrete block wall at the front of their property.
Having moved her car to higher ground, Mrs Smart grabbed her jewellery box - "not that there was a lot of jewellery in it'' - her wallet and some underwear. Five-year-old daughter Maree frantically took lots of shoes, later discovering there was only one from each pair, while older daughter Julie (11) deliberately left on the floor some brown leather sandals that she hated.
Stephen Jaquiery, standing in waist-deep water, photographed the trio as they were taken by boat to an army truck at the end of the street. Billeted by a local family, they returned a week later to soggy mattresses and books, ruined couches and an overturned freezer.
Mrs Smart (65) and now living in Ashburton, says they were happy to be given a vacant NZ Aluminium Smelter staff house rent-free until they could move back six months later. Their house and contents were insured but their frightened cat disappeared and never returned.
Stopbanks around Southland were raised after the flood and the family remained in their Grasmere home until 1991 when Mrs Smart (no relation to Bruce Smart) married.
Many years later older daughter Julie experienced flooding again but this time in Dunedin. She and her family had to move out of their Plunket St villa for more than three months in 2015 and lost many of their possessions.
BUTTERFLY EFFECT
Lambs, calves and dogs are usually the stars of A&P Show pet parades. Winged insects, not so much.
But that didn't stop 6-year-old Abbi Ayre taking a butterfly to the 2000 Wanaka A&P Show.
"My parents had a whole tunnel house full of monarch butterflies at the time and that one - for whatever reason - couldn't fly,'' she explains.
As a veteran of pet parades, Otago Daily Times photographer Stephen Jaquiery quickly spotted the unconventional pet and asked the Hawea Flat School pupil to pose with it for a photo. The judges later awarded it the prize for most unusual pet but it was not the first time Ms Ayre had surprised them. Another year, she took a praying mantis.
The 26-year-old now farms with her husband near Ashburton, milking 1200 cows. The pets on the property include dogs, a cat and a horse but no insects, she says with a laugh during the busy calving season. "They might require a little too much upkeep from me at the moment.''
Hanging on a wall of their home, this photo reminds her of "all the happy times'' she had as a child as well as the odd sensation of the butterfly on her face, she adds. "I remember its feet being very ticklish on my nose.''
COVERING THE ROLLING STONES
Nikki Rhodes does not like thinking about what might have happened had her family been at home on February 22, 2011.
That's the day boulders the size of SUVs tore through her Rapaki house, smashing holes in the walls and leaving a mangled mess in their wake.
Mrs Rhodes says she and husband Peter were at work, their two daughters at school and university, when she got a call to say the house they had spent years renovating was "spread'' down the hill.
"Driving home was a bit surreal because everything looked normal,'' she recalls. "There were just a couple of rocks on the road. Then I came across a council guy who said I'd better be careful because a lamp post had come down and a house had been completely trashed.''
When she reached her property, she found a motorbike in bits, live wires across the drive and gaping holes in the walls - all the result of a magnitude 6.3 earthquake that had its epicentre near Lyttelton.
The boulders had "blasted out the front'' of Te Poho o Tamatea, the peak above the marae-based community midway between Governor's Bay and Lyttelton.
A long gash in the lawn marked the spot where one had bounced on to the grass, before rebounding on to the roof of the house, down into daughter Olivia's bedroom and out the bathroom. A second boulder smashed through another bedroom and left the house through the kitchen.
The worst part was having to wait at the property on her own for two hours until her husband could collect their children and join her, she says, fighting back tears.
Mrs Rhodes does not know the man who is standing on the lawn in this photo and assumes he was one of many "random'' people who turned up in the days after the quake. Daughter Olivia, then 15, has her back to the camera and is looking into what had been her bedroom.
Five months earlier when another earthquake struck in the middle of the night, the family had sheltered under the door frame in this room.
After the earthquake, she and her husband "put a silver lining on it'' and got on with life for the sake of their children.
"A lot of people ended up so much worse off than us - the people who weren't homeowners, who didn't have insurance, who couldn't get rentals and lived in garages ... Families split up and people lost loved ones. We just talked about material things not being important.''

RISING LIKE LAZARUS 
"Dead man walking. That's what they called me,'' Chris Kroon says, as he looks at a photo of himself caked in cement dust.
The way the Christchurch truck driver tells it, May 4, 2006, might have been an "interesting'' day but being buried alive in a pitch black cement silo was no big deal.
Mr Kroon had been working for Contract Resources for 18 months when he volunteered to inspect the inside of the near-empty silo at Holcim Cement in Fryatt St, Dunedin, ahead of a routine cleaning procedure.
When he first abseiled into the 27m-tall silo, he wore only a harness and a face mask but soon after, he decided to climb out, get an air compressor going and hook up his breathing apparatus - a decision that almost certainly saved his life.
A few minutes after entering the silo for the second time, he was walking around at the bottom when he lost his balance and brought the shovel he had been carrying down to the ground at his side to support himself.
"Next thing, there was 400 tonnes of cement - pwaaah,'' the 58-year-old says, imitating the sound and swirling action of compacted cement sliding off the walls and caving in on him.
"It was creeping up my body so I put my hands over my head and flexed every muscle that I could.''
Clasping his head protected his breathing apparatus and flexing his muscles created breathing space. But by the time the deluge stopped, cement covered his entire body: "I couldn't move; couldn't see anything.''
When Mr Kroon's colleague at the top of the silo saw no movement in his line and could not reach him by cellphone, emergency services were called.
Retired fireman Lindsay Rae remembers the call did not come through the normal 111 channel, though - Mr Rae was at the central fire station when a caller on an external line asked if someone trapped in a silo would be the kind of thing firefighters would be "interested'' in.
Rescuers were prepared for the worst when Rae's smallest man, Blair Homan, abseiled inside, following the air line attached to Mr Kroon's breathing equipment. With no visibility, he was forced to use thermal imaging equipment and to locate him by touch.
"About three-quarters of the way down I could hear him, but I couldn't see him,'' Mr Homan said after the rescue. "When I got close, he gripped my hand like nothing else.''
Trapped for more than two hours, Mr Kroon always had faith that his workmates would do what was needed.
"I did have one thought though: geez, I hope they keep an eye on the fuel in the compressor. Because if that shut off, I would have been right in the poo.''
One of the worst parts was that he was "dying for a fag''.
As a former peacekeeper during the Bosnian War, he had been in worse situations.
"It brought back a lot of shit memories from when I was working in war zones - bits and pieces I've seen. It sort of played with the head a wee bit.
"But you get over these things.''
Lowered to the ground by an aerial unit, Mr Kroon walked to an waiting ambulance and spent the next two hours in Dunedin Hospital. He didn't buy a lotto ticket, figuring he had used all his luck and can't recall if he rang his wife.
"When they finally kicked me out of hospital, I went straight to a bar,'' he says, with a grin. "I was thirsty. She's dry stuff.''
The weight of the cement on his raised left leg caused muscle weakness for a few days and he had to return to hospital to have the very fine cement dust cleaned out of his ears. But remarkably he suffered no injuries and a week later, when work resumed on site, he had no qualms about being there.
"The boss asked if I wanted to go home and I said, `What for? I've still got a job to do'. I was the first one back in the hole.''
THE BEST THINGS...
Born more than three months early and weighing just 590 grams, Kinley Wintrup was given only a 50% chance of survival.
Thirty-one years later, the Dunedin woman says she has looked at this photo a few times but still finds it hard to comprehend just how small she was.
"It's quite crazy ...''
"I haven't thought too much about it, to be honest, but I suppose I'm a little bit lucky to have survived and to have turned out all right,'' she says, laughing.
Born 27 weeks into what should have been a 40-week pregnancy, Miss Wintrup was delivered by emergency Caesarean section in November 1988. Doctors had detected a number of problems, which included her being a month behind in her growth. At that stage, she was the smallest baby in Dunedin to have survived.
Mother Jillian Collins remembers her head was the size of a "biggish egg'' and her body not as wide as her hand. It was more than six months before she fitted into newborn size clothing. Covered in wires and tubes, she required a ventilator to keep her lungs working and battled numerous infections.
"She started on a quarter of a millilitre of milk - literally a couple of drops - and was fed through a tube either down through her nose or down through her throat.''
Mrs Collins still has a photo of her taken at nearly two months old, after she was carefully placed in the pocket of a nurse's uniform for a bit of fun.
This picture was taken in the neonatal intensive care unit as Queen Mary Maternity Hospital held a reunion of former premature babies.
Kinley transferred to Timaru Hospital in mid-January but two weeks later, when she was still only 1.6kg, her mother told staff she had had enough and was taking her home to Oamaru.
"They told me in her first year to expect her to be in hospital more than she wouldn't be. Well, we didn't go once ... She didn't look back.''
A year later the pair moved to Waimate and Kinley continued to have regular check-ups with a paediatrician until she was 12. While some others have ongoing health issues as a result of their early birth, Miss Wintrup reached all her milestones and does not remember anything out of the norm, other than always being shorter than her peers. Her own pregnancy was trouble-free, her small but healthy daughter being born two and a-half weeks early.
About eight years ago Miss Wintrup moved to Dunedin, where she works for an after-school care programme. With a bachelor of social services and a graduate diploma in mental health, she would eventually like to move into counselling and addiction treatment.
Coincidentally, her partner was a premature baby, too.
"She was also born at 27 weeks and was pretty much the same weight as I was so we've compared stories ... Our baby photos look very much the same.''