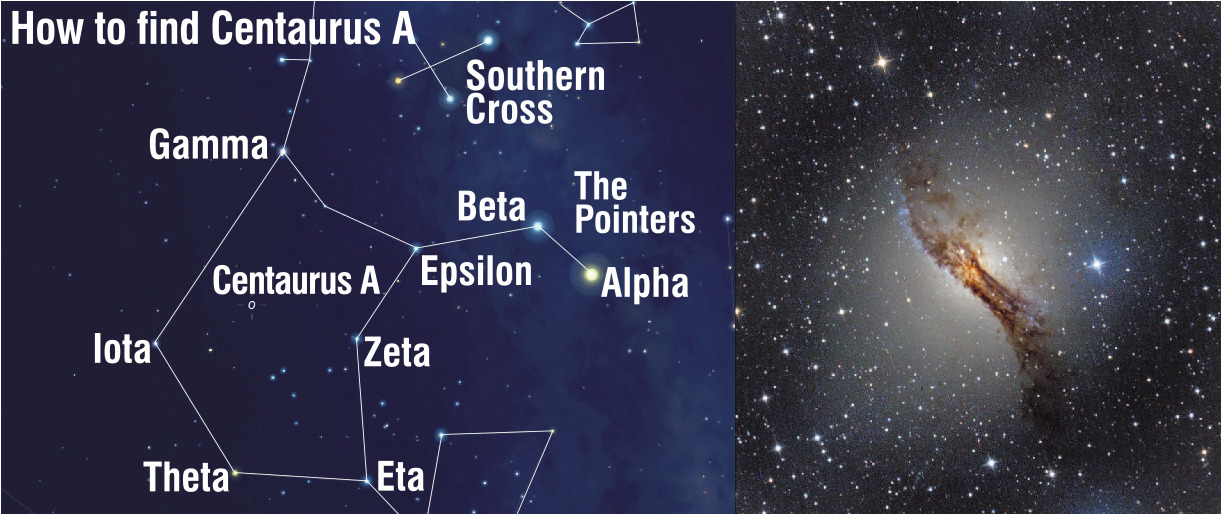 This week I would like to encourage you to hunt for a remarkable object which has fascinated stargazers since it was first observed on April 29, 1826, by the astronomer James Dunlop, writes Ian Griffin.
Dunlop's discovery is officially known by its catalogue number NGC 5128. This dull number does nothing to indicate the unusual nature of the fifth brightest galaxy in the entire sky, which can just be glimpsed with the naked eye on a dark moonless night.
Our celestial quarry is in the constellation Centaurus and is high overhead at midnight this time of year. Centaurus is named to honour the half-human, half-horse beasts of legend. The constellation teems with bright stars, the most prominent of which are the so-called pointers, Alpha and Beta Centauri.
NGC 5128 can be found roughly one-third of the way along a line drawn between the stars iota and epsilon Centauri.
While those with keen eyesight should just be able to see it, binoculars or, better still, a telescope are needed to reveal the dark dust lane which divides the galaxy in half and makes it one of the most spectacular objects in the heavens.
Long exposure pictures of NGC 5128 show the intricate filamentary nature of the dust lane together with the extensive yellow glow from myriad unresolved stars.
They are unresolved because of the galaxy's huge distance. NGC 5128 is thought to be somewhere between 10million and 16 million light-years away.
The light you see when looking at this galaxy began its journey to your eyes during the Miocene era, at about the same time the first apes evolved!
Astronomers believe there is an enormous black hole 55million times the mass of the inside NGC 5128. The black hole is wreaking havoc upon its environs.
Born from a collision between two galaxies, the black hole sprays out material in a high-speed jet. This generates enormous amounts of energy across the electromagnetic spectrum, making NGC 5128 one of the most studied objects in the heavens.
April's full moon occurs tomorrow morning at 6.58am just under an hour after it disappears below the western horizon.