Liz Breslin loves a good old debate.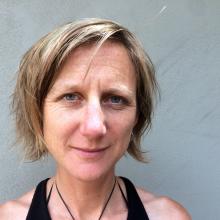 Good afternoon honourable adjudicators, chairpeople, timekeepers and members of the opposing team. Thank you for listening to me today. My name is Liz and I will be the first speaker for the affirmative team. I would like to affirm that there has been a lot of debating going on in our house this week. Mostly due to the fact that it contains teenagers and rules in close proximity. But also because they're learning debating. And oh, it is good.
I love debating. Discussing. Chewing ideas. Some of the subjects are quite a meaty chew, too. And any excuse to use the word moot with a straight face. I love a good moot. I love the word moot. How about these moots? Social media should be banned for under-18s. Umm ... well ... Mandatory cross-country running is a human rights violation. Well ... umm ... It should be compulsory for all students to learn te reo Maori up to the end of year 10. Well. Durr. Yeah. Absolutely. I mean it's compulsory to learn another one of our national languages up to year 12. So, like. Durr.
I know that answer isn't going to get me up to the required amount of minutes with the requisite amount of coherence, so I'll try to dig a little deeper into my thoughts. Bear with, honourable adjudicators. Thanks.
I've been studying tikanga and te reo over the past term and a bit, with some work colleagues and on my own at home. It's been years since I've done any language studies. But I'm reminded that what a language teaches you is so much more than words. I know more of the actual words than I thought I knew, thanks to the media I listen to and that stint at Mainly Music as Cowgirl Lil and all the songs we sung. But the tapestry that the words and the stories and the studies make is like another map over the same territory. A different way of seeing.
Cultures are like onions, as someone once told me back when I was trying to get to grips with Japan. You can peel back a layer and say yes, here, here it is. So smooth and fine and oh, now I understand. Except there's more. And you can't help but peel. And the same thing happens as you get through to the next layer, and the next. And each time there is a sphere of understanding. And each time there is more inside.
In a few weeks' time it is Maori Language Week (September 10-16). ``Hundreds of people,'' says the Maori Language Commission's website, ``now celebrate September as Mahuru Maori, in which they dedicate themselves to speaking only Maori''. I would have a very quiet and fragmented September if I was among them, since I am still on colours, place names, concepts, protocols, body parts and a tentative mihi. I feel pretty embarrassed to admit that it has taken me this long to do this learning. I would like to think we're building a future where nobody else can get away with being as lame as me. I mean, imagine the difference if, when I'd come here all those years ago, there was a te reo requirement for citizenship as well as an English language payment/test? Imagine if we all had another language and another way?
Honourable adjudicators, I have no doubt that the opposition will come up with some quibbles about Timetables and Options and Resources and moot points and world views. I will respond with NEGs and NAGs and stuff and I would like to be able to slay the opposers with a pertinent phrase or an apt te reo proverb. But I don't quite feel like I have the right, or the language, or the right language. But I'm ... what's that? Time's up? The debate's over? Noooooo ...