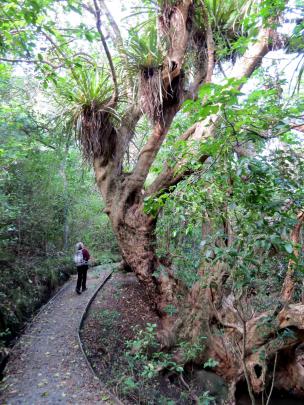 New Zealand now has a range of protected areas for indigenous wildlife and forest. Orokonui Ecosanctuary volunteer Alyth Grant reports on recent visits to several of them.
Do we do it best? As an Orokonui aficionado I am passionate about our ecosanctuary. Our successes in restoring our local ecosystem through plantings and translocations of rare birds back to their former Dunedin home make me proud.
But a winter visit to other parts of the country offered the chance to look at what others are doing.
In Auckland, Rotorua, Wellington and Nelson I saw  wonderful  projects, each with its own character.
Aucklanders are fortunate in the Auckland Regional Authority, which has established regional parks for the recreation of city-dwellers. Shakespear Regional Park and Tawharanui Regional Park are located on peninsulas about an hour's drive north of the city, enhanced by that magnificent coastline. On both, a predator-deterrent fence has been built across a neck of land and the predators removed, allowing birdlife and regenerating forest to thrive.
They are open sanctuaries: open to visits by boaties, fishermen, walkers and picnickers. Drivers are asked to check their vehicles for pests before entering through the self-opening gates. There is therefore always a risk of reinvasion by pests, but volunteer support groups keep monitoring for them, just as they do at Orokonui. The land use is shared: adjacent to Shakespear is New Zealand Defence Force  land, and on Tawharanui, tracks lead across farmland grazed by imperturbable cattle, while to the north is an extensive marine reserve.
Each park has lovely beaches. The brochure for Shakespear shows Okoromai Bay crowded with families at play.  On a sunny winter's day there were no people, only numerous dotterels skittering around on the water's edge, evidence that humans and native species can co-exist.
At Tawharanui, reintroduction of several bird species has been carried out (robin, saddleback, whitehead, bellbird) but for some, such as kaka and kakariki, that hasn't been necessary, as the birds just fly across the water from nearby Tiritiri Matangi Island in the Hauraki Gulf, treating these sanctuaries as an extension of their home turf.
Bellbirds aren't as numerous as here in the South, and the North Island robin not as pretty, but oh, the saddlebacks! We sat down, reluctant to leave a beautiful patch of bush on Tawharanui, and suddenly, there was that distinctive call. Next moment five or six saddlebacks were darting around us in the undergrowth, feeding, and we watched one flutter in bursts up a tree trunk, poking its beak behind the bark in search of invertebrates, just as our rifleman do. A couple of weeks later I passed by a tree in Zealandia and saw it had little tears in the bark about 30cm apart in a vertical line up the trunk. I instantly knew what had caused it, for Zealandia, too, has a large population of saddlebacks.
What was most striking for me was the very different character of the bush in the north. Used to our mixed kanuka, broadleaf and podocarp forest, I gloried in the large-leaved species of that warmer zone: old puriri (vitex lucens), with massive trunk and root systems spreading out across a watercourse and even in winter still bearing a few pink flowers; kohekohe (dysoxylum spectabile), with occasional vestiges of its fragrant summer flowering still protruding here and there from its trunk; and the aromatic, heart-shaped leaves of kawakawa (macropiper excelsum), full of holes munched by the Looper moth caterpillar. 
Visiting Zealandia again was like a halfway house back to Dunedin. The bush is more familiar, but includes some unfamiliar species,  such as kawakawa and the large-leafed whau (
entelea arborescens
) with its prickly looking fruit capsules in winter. Zealandia's birdlife is rich: while following the track around the upper lake looking for hihi I followed calls and found, not hihi, but a flock of whitehead, then saddleback, and suddenly a flight of kakariki, all at once! Evening there brings other pleasures. That is when the takahe and the eels are fed, and at dark patches along the tracks glow-worms twinkle. I was not lucky enough to see kiwi, but heard numerous calls. Even as I unlocked the car in the  car park another called a farewell to me. How amazing is that, so close to the heart of the city!
Just across the harbour, reachable by ferry, lies Matiu-Somes Island, another predator-free island sanctuary; home to tuatara. After years of use as a quarantine station, it has been returned to its original Maori owners, but is managed for them by a resident Department of Conservation ranger. Careful inspection of bags and shoes is carried out on arrival.
Over  the  years Forest & Bird members have replanted much of the island and red-fronted kakariki are now abundant in the regenerating bush. These colourful parrots were constantly in evidence, flying up out of the bushes or off the track in front of me.
Each of these sanctuaries is unique to its region and offers insights into the diversity of our land. All are driven by people passionate about regaining what we once had everywhere. Some, like the new Brook-Waimarama project by Nelson, are on a large scale; others, like a remarkable riparian planting scheme I visited in Rotorua, are driven by just a few visionary individuals.
Sometimes I envied what other sanctuaries have to offer, yet as I walked Orokonui's valley track alongside the rushing stream after the big rain recently, I was happy to be back in our own lush bush with its big rimu, its tiny, filmy ferns, and wet pongas sparkling in the sunlight filtering down through the trees. After all, conservation is not a competition: it is a necessity.
- Alyth Grant is a volunteer and former trustee at Orokonui Ecosanctuary.