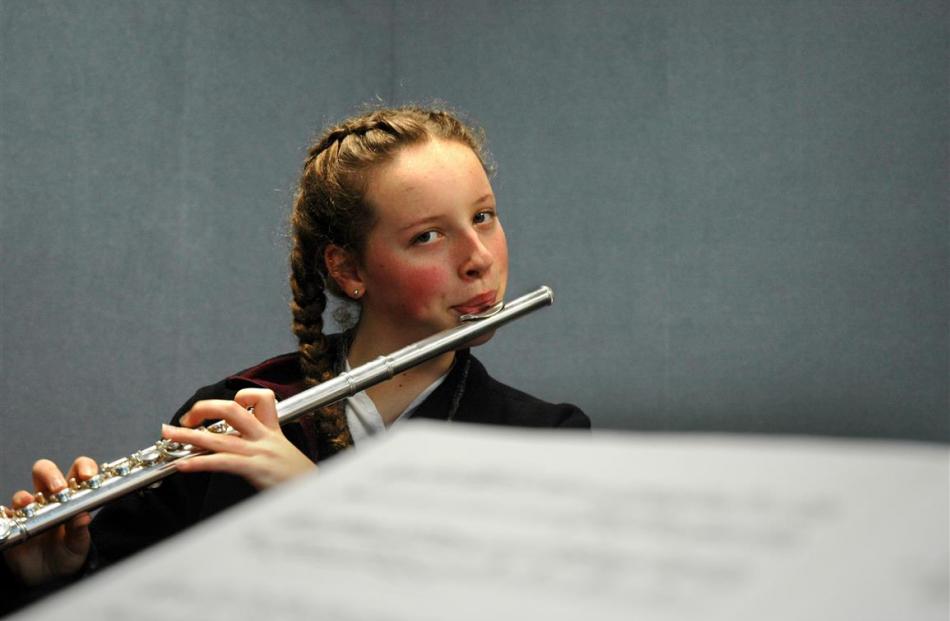 Mix teenagers, talent and teamwork and, hey presto, it's chamber music magic, writes Shane Gilchrist. 
A Saturday afternoon in Dunedin. As last-minute preparations are made for the evening's Otago regional final of the Smokefreerockquest, where the concept of cool often comes packaged in the crash-bang crescendoes of electric guitars and drums, there are teenagers experiencing musical catharsis of another kind.
They sit quietly at Marama Hall, in the heart of the University of Otago, watching and waiting as their secondary school peers walk on to a wooden stage as polished as some of the repertoires at the Otago district round of the New Zealand Community Trust Chamber Music Contest.
The regional heat has attracted 32 groups (about 120 pupils), all of whom have been honing techniques and rehearsing furiously as the weekend has loomed ever larger.
The oldest secondary school music competition in New Zealand (it marked its 50th anniversary last year), the event is well known as a nurturing, yet challenging environment for young musicians who have gone on to successful careers.
Internationally acclaimed New Zealand pianist Michael Houstoun competed in the event when he was a school pupil in Timaru and 27-year-old violinist Amalia Hall was a contest winner in 2003 and 2004.
(Hall recently won the overall prize at the 2016 Tunbridge Wells International Young Concert Artists Competition and was also the Overseas Award Winner in the 2016 ROSL Annual Music Competition in Chelsea.)
In more humble surrounds, Otago's young musicians are accompanied by an assortment of fidgety siblings, teachers, grandparents, mums and dads, who sometimes raise an eyebrow to others, an unspoken acknowledgment of the many hours of work put in by the performers, some of whom share an awkward glance when intonation is not as it should be.
A few days earlier, the long corridors of the King Edward Technical College building in the centre of Dunedin echo with a range of sounds, some of which are sweeter on the ear than others.
Turn one way and there is the patter of small feet performing ballet steps; turn another and there is the rudimentary snap of stick on snare drum. Occasionally, a break in all these after-school rhythms allows another timbre to settle on the senses.
A hefty wooden door cannot halt the soft soundwaves of flute quartet Senior Ties, who are putting the final delicate flourishes to pieces by Girolamo Frescobaldo and Franz Schubert as music tutor Justine Pierre implores them to be both bold and restrained, ''to communicate''.
As Sunday brings the second day of chamber music competition to Marama Hall, Senior Ties members Rachel Wilson (St Hilda's), Sophelia Hook (Kavanagh College), Katie Cooper (St Hilda's) and Romany McLaren (St Hilda's) embrace the nuances demanded by their tutor, flashes of light dancing off their instruments as they subtly turn to engage with one another.
''The idea is to provide them with music they can play well,'' Pierre explains.
You don't want them to embarrass themselves on stage by trying too hard.
That means they might be playing a piece that's at, say, grade 4 or grade 5 level when they have actually reached grade 6.
''It depends on the group. For a beginner group - not these guys - my job is to teach them the notes, to start and finish together and to stick together in the middle.
''However, for more advanced groups, who can play all the notes and understand all the dots and squiggles on the page, my job is more about coaching the ensemble playing, the togetherness.''
Introduced by their pianist Kayla Muirhead, Kaikorai Valley College quartet The Call of the Bright Ones traverse the twin realms of classical music and video games.
Cellist Campbell Ward taps a slow beat on his instrument as the musicians open their repertoire with a piece by Jeremy Soule, whose Call of Magic (from the fantasy series Elder Scrolls) is among more than 60 game themes composed by the American.
The group, which also includes Cody Hickling (flute) and Rebecca Kingswell (violin) also perform Mike Carr's famous film theme Bright Eyes, albeit a version tweaked by their Kaikorai Valley College music teacher, Kathy Thompson, who says it's important to select material familiar to less experienced musicians.
''I knew Becky really loved the music from the video game. And this is the first group these pupils have been in. So it's a real challenge for them to look up from their music and communicate. Not only do they have to learn their parts, they have to learn how to perform as a group.
''Next time they are in a group it will be much easier for them. It is so lovely to see them grow. They are progressing on so many levels.
Kayla agrees: ''When you first get the music and start playing it by yourself, you might think it's interesting. But it's when you all come together that it sounds so much better.''
John Dodd, Logan Park High School head of music, has found a role as roadie, moving stands, chairs and assorted bric-a-brac here and there throughout the weekend.
Still, even he tires of lugging stuff around.
Take the wooden harp, large but silent, which has appeared on stage for one session.
Having had enough of hefting it to and from one group's rehearsals, Dodd successfully convinced a pupil's parents to allow it space in their lounge in the build-up to the competition.
In a recurring motif not limited to Dodd, the teacher is an accomplished musician (his forte is double bass and electric bass); he has also been mentoring several groups in the build-up to the event.
Among them is Logan Park High School trio Sunken Waltz, comprising Grace Cunningham (flute), Rosa Miller (cello) and Cameron Monteath (piano).
Cameron, who says he finds modern pop and rock music ''to be a bit boring'', gets his musical thrills via Mozart (''of course''), among others.
He is in good company.
Rosa says she enjoys the challenges classical music presents; Grace, whose main instrument is the piano but also plays accordion and saxophone, confesses she can get ''quite hyper'' when she's rehearsing and/or performing music, particularly if it's something ''really fast''.
Cameron (14) has written his own composition for the competition, which includes a separate section for composers.
His Trio for Flute, Cello and Piano in Eb Major is the only original work to feature at the Otago event.
Dodd says he put the challenge to Cameron just before the September school holidays last year.
He expected his pupil to work on it for some time.
Cameron returned from the break with a finished piece, which the trio performed at the end-of-year prizegiving.
''Then Cameron announced it was only the first of three movements. He went and wrote the other two movements over the summer holidays. However, we haven't been able to get the third movement together because there are quite a few technical challenges in it.''
Rosa offers another reflection: ''When we played it at prizegiving last year, people said to me, 'oh, I don't really like classical music but you guys were really good'.''
Cameron is on stage, quietly explaining the genesis of his piece to the Marama Hall audience before he and his Logan Park peers embark on the two movements of Trio for Flute, Cello and Piano in Eb Major.
It is a little quicker than the version they explored during a midweek after-school rehearsal (despite Dodd imploring them not to perform it too quickly), yet it remains ethereal, light, a tad melancholic.
As Cameron exits the stage, he casts a look back over his shoulder, towards his mum and dad.
His granddad is there, too. He shakes Cameron's hand as the young composer takes a seat back among the audience.
The gesture clearly means a lot to the teenager.
His frequent open smile breaks into an oh-so-brief downward movement (let's call it a semi-quaver), a look that is part modesty, but also part pride.
In a world of pizzicato and polish, there's a doof-doof party happening in a young man's chest.