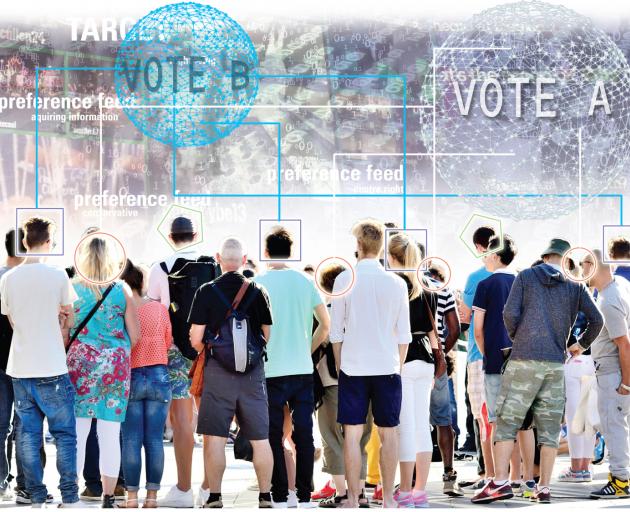 An insidious new form of propaganda could be used during this year's general elections, writes Bruce Munro. Political parties deny it or won't talk about it. But what's the likelihood they can all resist the temptation?
''We'd probably rather stay out of it,'' says the voice on the phone.
It's 9.20 on a workday morning. Last evening, someone at the office of this New Zealand data analysis and marketing company said they were sure the boss would be happy to chat about new technology and political campaigning.
Today, the boss is much less sure.
''We'd love to talk to you about exactly that,'' Mr Brown [not his real name] says.
"But when you put the political lens across it, we're not keen. Given the recent publicity, we don't want to be associated with anything about the political use of this technology and these tools.''
Mr Brown is talking about international claims that data technology, psychology and social media are being combined in a powerful new way to sway opinions and win elections without people's knowledge. In essence, that in some quarters a new, subliminal propaganda war is being waged against citizens by those who wield power and those who want to.
The allegations, being levelled by some authoritative voices, are that political strategists are helping politicians emotionally manipulate voters in largely unseen ways.
The talk is of large amounts of personal data being scooped up from social media and then analysed for people's emotional triggers. This allows advertisements to be tailored to specific demographics. These targeted adverts, kitted out with tracking software, can then follow people around the internet, repeatedly popping up with messages. Not that the person would know it, however, because the adverts automatically change depending on how the person interacts with them.
Late last year, Dr Martin Moore, director of the Centre for the Study of Media, Communication and Power at King's College, London, spoke of one prominent analytics and messaging company, Cambridge Analytica, which he said was making extensive use of  tracker ads.
''They were using 40-50,000 different variants of an ad every day that were continuously measuring responses and then adapting and evolving based on that response,'' Dr Moore told The Observer.
And then there are the 'bots: pieces of software that are programmed to act like real people. They join online conversations to turn the discussion in particular directions. The aim is twofold: to influence people's thinking and to manipulate reality. Say something often enough online and not only might people believe you, but it will become the top trending topic; it will be the version of ''the truth'' that people are presented with first each time they search that topic online.
Journalist Carole Cadwalladr, writing in The Observer, said one third of all traffic on Twitter before the Brexit referendum was 'bots. And they were all urging a ''leave'' vote. Before the United States presidential election, the 'bots were five-to-one in favour of Donald Trump, she said.
Jonathan Albright, an assistant professor of communications at Elon University, in North Carolina, told Cadwalladr he was ''dumbfounded'' by what he had discovered about the use of 'bots on the internet.
''This is a propaganda machine. It's targeting people individually to recruit them to an idea,'' Prof Albright said.
''It's a level of social engineering that I've never seen before. They're capturing people and then keeping them on an emotional leash and never letting them go.''
The claim on behalf of these technologies and their new applications is that they are delivering results.
Cambridge Analytica assisted the Brexit Leave campaign and the Trump presidential campaign; the eventual and surprise winners in both cases.
The Russian Government, which preferred a Trump-led US to a Clinton one, is being investigated by the US Government for interference in the elections.
Late last week, Democrat senator Mark Warner said, ''The Russians used thousands of paid internet trolls and botnets [private computers controlled by a third party without the owners' knowledge] to ... flood social media with misinformation ... to reach and potentially influence millions of Americans.''
A week ago, the London School of Economics called for an urgent review of British electoral laws. The school warns technology-driven, online campaigning has ''disrupted British politics'' to the point that current laws are ''unable to ensure free and fair elections''.
But that is over there. Could it happen here?
The technology and the expertise exist in New Zealand, say those in the know.
Assoc Prof Donald Matheson, who is a media and communications specialist at the University of Canterbury, says know-how is the key.
''You don't need to have particularly big data sets, but [you need] the nous to use market research that you can buy from Google, Facebook and all the rest through their market research partners,'' Prof Matheson says.
''You use that to build profiles of that particular filter group and then to target them directly through social media.''
Devin Deen teaches Bigger Data for Smarter Decisions, at Auckland University of Technology, and is director of data and analytics at Enterprise IT. He says that in the non-political sphere the marketing industry in New Zealand is already making use of this technology.
''It certainly does. You just have to put it together. The type of solutions my team build, for example, collect information from people. This has been going on for a long time ... But with big data and advanced analytics technologies today, you can do a lot more and a lot faster.''
Its prevalence is confirmed by the publicity-shy Mr Brown, whose Kiwi company helps clients profile and target customers.
''This has been used by virtually every large organisation. It is standard marketing practice,'' he says.
''You can say to Facebook, I've got this message which I think is going to resonate with this demographic, and then you can basically buy that audience from Facebook. And likewise with Google and any organisation that has a good set of data about who is using it.
''For example, I'm looking to sell Cola to 30-year-olds ... in this particular demographic. You pay them to put your ad in front of that demographic. And you also get to see who has responded to that with a `click through' or other response.
''It is not beyond the budget of political parties, Mr Brown believes.
''It's a competitive market. They [online marketers] are competing against ... other mediums. It is no more expensive than how effective it is.''
Mr Brown says 'bots are on their way here too.
They will be sought after for ''their ability to `surface' something up to somebody in a much more natural way'', he says.
But being able to do something is not the same as doing it effectively.
Some believe the jury is still out on whether the technology, fine-tuned with psychological insight, can really be used to shape people's ideas, values and actions. Others point to studies that suggest it can.
Prof Matheson says there is research showing that lonely people are more suggestible, and that those who use lots of social media are likely to be more lonely.
''So, targeted ads could be a powerful lever,'' he says.
Johan Bollen, associate professor at Indiana University School of Informatics and Computing has been reported saying there are several studies showing constant repetition of a message can cause people involuntarily to begin to believe it.
''That could be leveraged, or weaponised for propaganda,'' Assoc Prof Bollen was reported saying.
Mr Deen says the technology has the potential to ensnare people in an information bubble.
''That's the danger. Then you can actually start swaying opinion. Because if you're not exposed to people ... [who are] trying to put a balanced view out there, if you're only being exposed to one angle and you're being swayed, that can shape your thinking. It's propaganda isn't it? If you let it be pervasive, it will be pervasive.''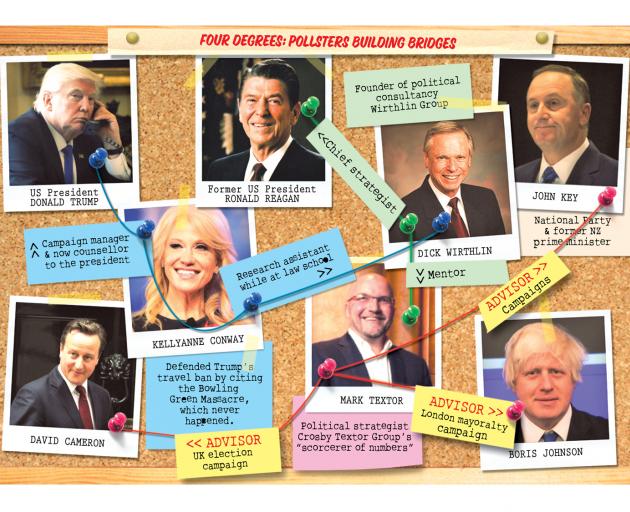 The 2016 US presidential campaign saw big data and social media brought together to play a decisive role in the outcome of the election. After Trump gained his unexpected victory, leading US pollster Frank Luntz said, ''They figured out how to win. There are no longer any experts except Cambridge Analytica''.
It appears something similar has occurred in the UK with the Brexit vote. That is not the end of it. Last week, it was reported that Cambridge Analytica had set up office in Sydney and was due this week to meet representatives of Australia's ruling Liberal Party. Reuters said the expansion underscored Cambridge Analytica's efforts to ''enlarge its footprint in established Western democracies''.
Is a new insidious brand of propaganda headed for New Zealand in 2017?
Gavin Ellis, former editor in chief of the New Zealand Herald, is so concerned by the prospect of New Zealand political parties trying these tricks, he is organising a public workshop on the topic, in Auckland, on June 8.
''It was a realisation that New Zealand could not, and would not, be immune from the use of these emotive forces,'' Mr Ellis says.
''Because that's what they are: appeals to the emotion over rationality.''
And a belief that we should be talking about them in the public interest before the election, so that people can be made aware of the dangers inherent in it.
''Mr Brown has not heard of any political parties seeking help to carry out such a campaign.
''It may well be, but I'm not aware of it,'' he says.
Prof Matheson says the approach would have some appeal to New Zealand politicians and their strategists.
Here, politics is less about polarisation and more about claiming to speak for the ordinary person, he says.
''The middle ground is quite important in New Zealand public life. And being able to inhabit the middle ground is more powerful than shouting others down.''
So, shaping the discourse remotely and employing subtle emotional triggers to shift that middle ground towards your own views could be seen as a good fit with the New Zealand political landscape.
But the backlash, if such a strategy was used and uncovered, would be large, he warns.
New Zealand political parties are certainly spending money on building databases as well as on trying to understand and influence various voter groups. But, asked what strategists and strategies they would be employing for this year's general election, most of the country's political parties either did not reply or said the information was private.
A spokesman for Gareth Morgan's The Opportunity Party said it would not be using voter profiling, tracker ads or chat 'bots.
A spokeswoman for the Green Party said it would be using tracker ads ''a little'' to gauge ''what messages are resonating with people and to see how effective they've been''.
Everything produced by the Green Party would be clearly labelled as such, she said.
The response by an Act Party spokesman was typical of others: ''Details of our campaign strategy are sensitive so we will decline to answer these,'' he said.
Labour added that it would not be using chat 'bots.
The most high-profile political strategists with a foot in New Zealand are the Crosby Textor Group.
An Australian-based outfit, it is credited with playing lead roles in the successful election campaigns of a swathe of conservative politicians, from John Howard, in Australia, to David Cameron, in the United Kingdom.
One of Crosby Textor's founders is Mark Textor. Mr Textor was mentored by the late Richard Wirthlin, a pollster who was chief strategist to US President Ronald Reagan. Someone else with past connections to  the Wirthlin Group is Kellyanne Conway, President Trump's election campaign manager and now counsellor to the president.
Mr Textor has been described as ''one of the most influential political strategists and pollsters to walk the planet''. Boris Johnson, who Mr Textor advised during his successful London mayoralty campaigns, has dubbed him a ''sorcerer of numbers''.
Mr Textor was also the pollster and electoral strategist to New Zealand's National Party and the country's former Prime Minister John Key.
The Crosby Textor website says he ''remains a trusted adviser''.
Mr Textor's Sydney-based personal assistant said that unfortunately Mr Textor would be too busy to answer questions about what role psychometric data and social media tools were playing in  elections.
In February, Steven Joyce, who is National's campaign manager, told a journalist he did not plan to use Cambridge Analytica this election.
Last week, in an emailed response to questions, Mr Joyce said National works ''with a range of different contractors at each election''.
''Like all major political parties around the world, we use a range of advertising and marketing tools to get our message out to voters, including conventional media, social media, and advertising,'' he said.
The technology exists, but does that mean political parties should be using it to subtly manipulate opinion?
''Just because you could, doesn't mean you should,'' says Carmen Vicelich, founder and chief executive of Auckland-based company Data Insight.
For example, it is possible to target ''single female'' data from Facebook, use readily available software to identify where those people are, and then launch an app titled ''Meet single blondes out tonight''.
''Is it legal? No-one has said you shouldn't do that,'' Ms Vicelich says.
''Is that OK? No, I don't think so; I have three daughters.''
Ms Vicelich believes anybody who uses data should be transparent about how they are going to use it; be they marketing company, multinational or political party.
Mr Deen thinks New Zealanders are independently minded. But he thinks there is a good chance, gazing at the tempting array of manipulative technological tools on offer, some politicians will find ways to justify its use, at least to themselves.
''All the parties will do what they can to get elected. They do what they do because they think they are representing the constituents in a better way. 
''I think the politicians, given money, wherever they can get the advantage, they will. This is getting cheaper to do and easier to do. ''