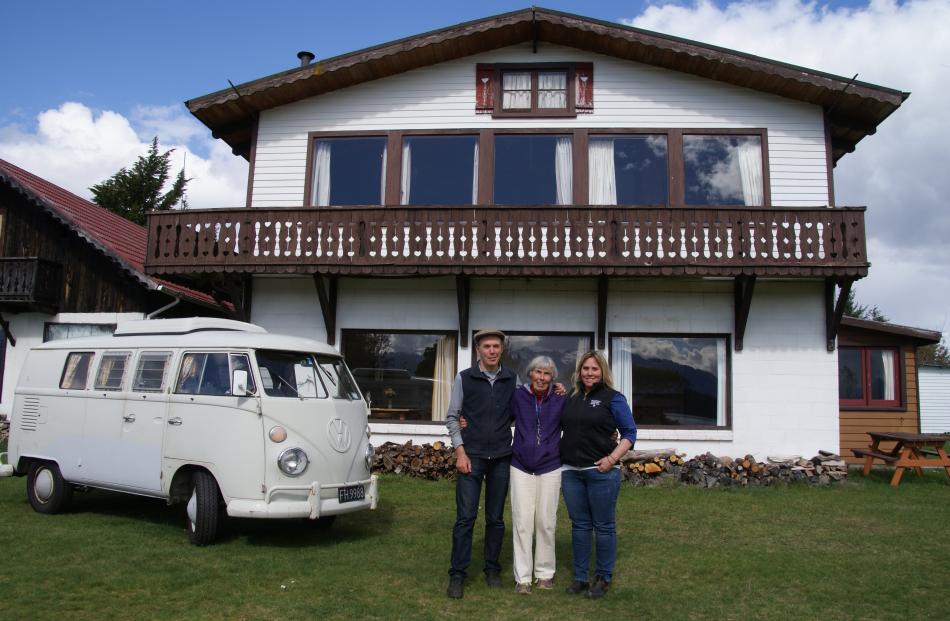 Manapouri Motels and Holiday Park is celebrating its 45th anniversary under the management of the Nicholson family, who came to New Zealand from the United States. Alina Suchanski talks to matriarch Joelle Nicholson about survival through changing times.
In 1970, the United States was in the throes of the Vietnam War. Joelle Nicholson and husband Carl were opposed to their country's involvement in that war and expressed their feelings through protests, marches and writing letters to newspaper public opinion columns and congressmen. Eventually, tired of trying to turn the tide, they decided to leave.
Enticed to come to New Zealand after meeting somebody who had worked on the Manapouri hydro-power project, they packed up their household and arrived here in November 1970 with their three children, Inger (4), Aaron (12) and Erik (15).
Tempted by tales of a lovely climate, they initially planned to buy 20 acres and settle in the Bay of Islands, but in those days new residents could buy a house in New Zealand but not land, until they had been here for two years. As Christmas approached, they decided to take a holiday and see what the rest of New Zealand looked like.
''We headed south in a Volkswagen camper van, which we still have,'' Joelle says.
''That Volkswagen camper van 1966 had travelled through 14 countries in Europe, across the United States and got shipped over here. When we came to Queenstown we fell in love with those remarkable mountains, so we ended up buying a house looking out on them.''
But their Queenstown residency lasted only nine months as they grappled with how they could make a living there. Joelle was a nurse and her husband used to be a park ranger but it appeared that Queenstown had need for neither.
''And then we saw this place in Manapouri advertised in a paper. We paid about $12,000 for the business, which had eight cabins and 12 powered sites on 10 acres of land. Eventually, we bought the land, too,'' Joelle said.
''Manapouri appeared as if it had been just carved out of wilderness. And this was the appeal of it - that it was a natural town, surrounded by bush.''
The Nicholsons' early clients were mostly Southlanders, people from Invercargill, Dunedin, and the Gore Boat Club. Most of the business seemed to come on Saturdays and Sundays when people came up for the weekend. Overseas tourists were few and far between.
After her husband's death in 1977, Joelle ran the business on her own until, in 1984, she met a Dutchman, Simon Vogel, who worked as a skipper on a boat. The pair were together for 28 years before Mr Vogel died..
With eight grandchildren and one great grandchild, Joelle is still going strong and actively running the business with the help of her two sons, Erik and Aaron, while daughter, Inger, runs the Manapouri Lakeview Motor Inn next door.
Joelle said all her children had contributed to the holiday park, which today boasts 41 powered sites, 18 cabins and 10 motel rooms.
''Aaron and Erik made this camp what it is today. They put a stamp on it; Erik with the architecture - he's the one who built the two-storey motel and the other two-storey cabin which gets a lot of praise - and Aaron has made the place interesting with his collection of old uniforms, old cars, old pinball machines, carvings and cartoons. And he's planted the trees.''
Over the years Joelle has witnessed many social changes.
''People have become more affluent. A lot of our customers who used to come here bought holiday houses in Manapouri, and they arrive towing motor boats and jet skis. We used to put on movies for kids in summertime. We had games, pinball machines, bikes. Anything that was different - they just thought it was wonderful. But now kids have cellphones and computers. They are not interested in our old games.''
Weekend trading, introduced in the 1980s, resulted in fewer family outings. Teenage children often had jobs on Saturdays and Sundays, and parents went shopping at weekends.
Such changes have taken their toll on the holiday park - most noticeably the lack of weekend stays by Otago and Southland families.
The business has survived because of overseas visitors. However, after the Rugby World Cup was held in New Zealand in 2011, there was a noticeable increase in the number of tourists travelling in camper vans and expecting not to pay for their accommodation.
''People now have apps on their cellphones that tell them where to find free camps,'' Joelle said.
Even the New Zealand-wide growth in tourism has had little effect on Manapouri accommodation providers, according to Joelle.
''I think Manapouri is the most beautiful lake in New Zealand,'' she said.
''It's the islands and the mountains, the inlet and the different geology. But the tourists don't always appreciate this. They just drive past it.''