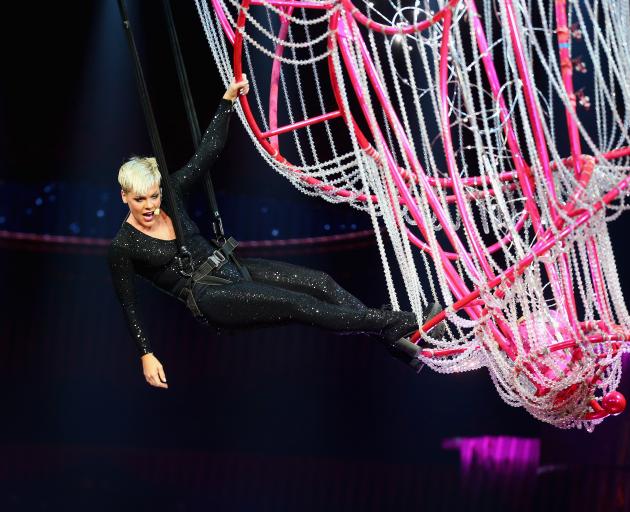 Jodie and Jared are Pink superfans. Mandie, Lesley and Sharon have beaten bullying, breast cancer and a marriage break-up with the help of her music. 
Turns out, they probably couldn't have picked a better celebrity to go all "fanboy'' and "fangirl'' over, writes Bruce Munro.
It is a special sort of fan who flies overseas to catch their pop idol's concert and then coughs up to do it all over again back in their home town. But builder Jared Potter and hair salon owner Jodie Seaton are those fans, and then some.
Tonight, they will be in the thick of it - in the standing-room-only section at Forsyth Barr Stadium, in Dunedin - for the first New Zealand concert of United States pop star Pink's The Beautiful Trauma World Tour.
It's the same spot they had, for the same concert, as part of the same world tour, only in Melbourne, in July. Which bothers them, not a bit.
"Hell no,'' says Jodie (36).
"We don't even talk to each other,'' Jared (33) adds. "We just stand there, mesmerised. It's weird.''
Weird, maybe, but not surprising. The couple have been Pink fans since before they were a couple.
"Let's get the party started was the first song of hers that I fell in love with,'' Jodie says of the 2001 dance floor anthem that was hailed as "near perfection'' and went to number one in many countries, including New Zealand.
When Jared and Jodie got married in 2013, Pink's Love song played as they signed the marriage licence. They then went on honeymoon, to Melbourne, to catch Pink's Truth About Love tour. They have all her music, of course; they follow her on Twitter, Instagram and Facebook; Jodie has had a Pinkesque haircut for several years; and last year Jared got himself a life-sized tattoo of Pink's face ... on the front of his right thigh.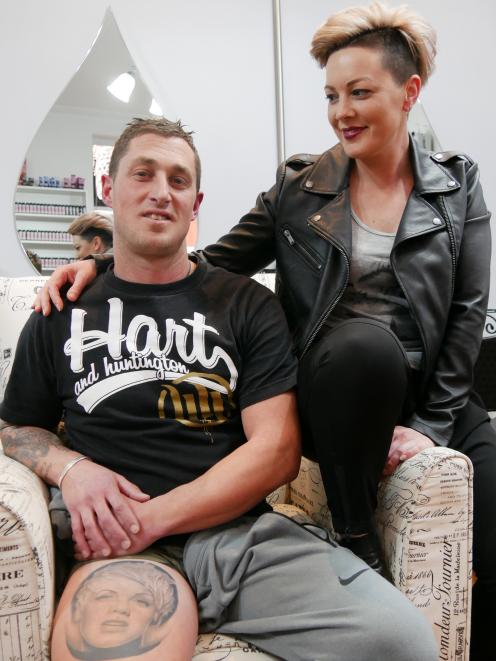 "Her music and her attitude; it's cool - crazy and funny,'' Jared says.
"I've got a lot of her music on my phone. When I'm having a crap day at work, I just slam that on. She gives you a pick-me-up.''
Those who know about the fan phenomenon, however, warn about the dangers of getting too immersed in fan culture. They say celebrities' social media presence can exacerbate the risk. But they add that the degree of danger depends as much on the idol as on those who worship the ground they walk on.
Mandie Watson says she has only noticed positive effects.
The 31-year-old Dunedin jewellery store manager has been a Pink fan as long as she can remember and credits the singer with helping her deal with bullying and loneliness.
"I was bullied a lot at high school. It was something I really, really struggled with,'' Mandie says.
"I just used to sit in my room a lot and study while listening to music.''
Missundaztood was Pink's second album, released in 2001. It was the first album Mandie ever bought. It was also the name of Pink's world concert tour that touched down in Dunedin, in late-November, 2002, and the word that defined much of how Mandie felt about herself.
The Otago Daily Times photographed Mandie in the front row of that Dunedin Town Hall concert; 15 years old, wearing a black singlet with the words "Pink'' and "Missundaztood'' emblazoned across it in homemade, iron-on lettering. She was there with her brother who felt sorry for her going on her own.
At one point, Pink walked down the stage steps and approached the barrier separating her from the screaming fans. She grabbed Mandie's hand and gave it a squeeze while pointing at her printed singlet.
"It was so loud, I never heard what she said. But I think she was trying to say it was awesome I had done that.''
Mandie is now married with three kids and a career. She has never been much of a modern music fan, but has kept following Pink.
"She seems funny and down-to-earth, family oriented - that was always the impression I got.
"She has been an important role model in my life. I can't wait to see her again.''
TONIGHT'S concert is part of the seventh international concert tour for the edgy pop star who has ridden a steady stream of successful albums and No 1 hits.
It didn't start so smoothly.
Born Alecia Beth Moore, on September 9, 1979, in Doylestown, Philadelphia, her parents divorced when she was about 10. She became the aggressive, drunken kid that other parents did not want their teenagers hanging out with. She also wrote songs expressing her anger and pain.
While still 14, she began performing in Philadelphia clubs. The stagename Pink was adopted around this time.
An R&B girl group that Pink formed was signed to an Atlanta record label. But in 1998, Pink was told "go solo or go home''.
Her debut single, There You Go, was released in February, 2000, and her first album, Can't Take Me Home, came out in April.
Refusing to be forced into the music machine mould, Pink took control of her sound and look on her second album, Missundaztood. It remains her best-selling record with more than 13 million copies sold worldwide.
Although always just outside megastar status, and a little too strong and earthy for the glamour set, Pink has established a niche that has been described as "a populist stalwart known for her self-esteem anthems ... and modern power ballads'', "a progressive truth-teller'', and "the mainstream's favorite [sic] nonconformist''.
In a United Kingdom-published interview, last year, she said her father, a Vietnam war veteran, taught her to stand up for what's right.
"Sometimes you have to stand alone for what you believe in and you have to stick up for the little guy. I'm very Rocky Balboa; I'm from Philadelphia, I have a fighter mentality.''
It is a mentality she worked into the lyrics of Conversations With My 13 Year Old Self, from her 2006 album I'm Not Dead - lyrics Lesley Eaton (51) now has tattooed on her forearm.
Five years ago, Lesley was in the middle of a battle with breast cancer. The practice manager at Mercy Hospital, Dunedin, had been a Pink fan for "a long time''. But the health scare, and reflecting on difficult teenage years, made that particular song stand out to her.
To mark the end of treatment and to celebrate life, she chose to get a tattoo - a coloured butterfly with pink ribbons on its wings flying above a ribbon bearing a crucial line from the song: "Don't lose your passion or the fighter that's inside''.
PINK says her music is all about that - helping her fans.
She has been one of the most consistently successful musicians of this century. She has sold more than 50 million albums and 95 million singles. She has had multiple MTV, Grammy and Billboard awards. She is estimated to have a monetary net worth of $NZ262 million.
But Pink - who is married, has two kids and turns 39 the day after her fourth Auckland concert - says that is all beside the point.
"I didn't care about winning awards or being on the cover of magazines or people liking me ... That was never what moved my needle,'' the singer-songwriter told the Guardian, in October.
"I started to realise that when I am the most uncomfortable and the most vulnerable and saying the most honest, shameful shit, that's what's getting to somebody else. And I'm basically having therapy and somebody else is getting something from it. That's the only thing that was meaningful to me.''
Sharon McCraw says amen to that.
"I can relate to a lot of her lyrics,'' the middle-aged Abbotsford, Dunedin, resident says.
She likes to "blast'' Pink on her stereo on Friday nights.
"I've been through a really bad marriage split-up. I often put her music on. It hits some bones, but it makes you feel good.
"She's given me comfort in times when I've been down.''
Associate Prof Maree Thyne says more study of music celebrity fandom needs to be done. But research on sports fans shows there are some dangers.
"There's something called para-social phenomena,'' Prof Thyne, who is acting head of department at the Otago Business School, says.
"The idea that you, as a fan, believe that the celebrity does know you and that they have made a difference to you. But also that you've made a difference to them, through the idea that you idolise and support them and that that has had an impact on them.''
This experience and belief can be heightened through social media, "because we feel they are with us all the time''.
There are two types of celebrities when it comes to their use of social media, Leanne Ross says.
Those who want an unedited voice and those who see it as another marketing opportunity, the University of Otago lecturer, who has 12 years industry experience in digital marketing, says.
Taylor Swift, she says, has built a reputation on connecting with her fans. But her social media platforms go deathly quiet in the run up to a new album release.
"That's very tactical and strategic,'' the professional practice fellow says.
"Making us hungry for the connection with you, you disappear off the face of the earth for a few weeks.
"It almost seems ... abusive.''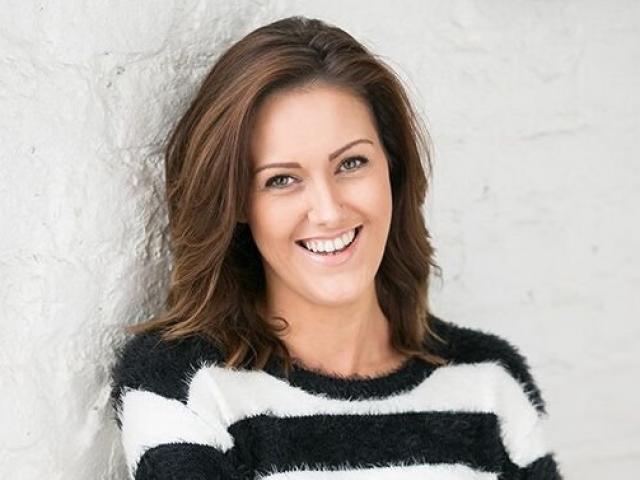 Pink on the other hand, although active on social media, does not seem to engage with her fans for monetary gain, Ross says.
"She seems to be one of the most authentic in her industry.
"That's been part of her rise from her early rebellious days, wanting to make her own music, control her own image.
"I think that comes across in her social media, and I think it is part of why she has maintained her fanbase for so long.''
By their fruit you will know them, someone once said.
It is hard to really know someone, no matter how many of their concerts you attend or tweets and posts you read.
But Jared and Jodie's actions suggest they believe they are superfans of a devoted and generous pop idol.
Several weeks ago, through a radio station competition, they won tickets to tonight's Pink concert. When, however, they discovered the tickets were for allocated seating, they went out and bought two more tickets - to the standing section, closer to the stage. And then gave the other tickets away.