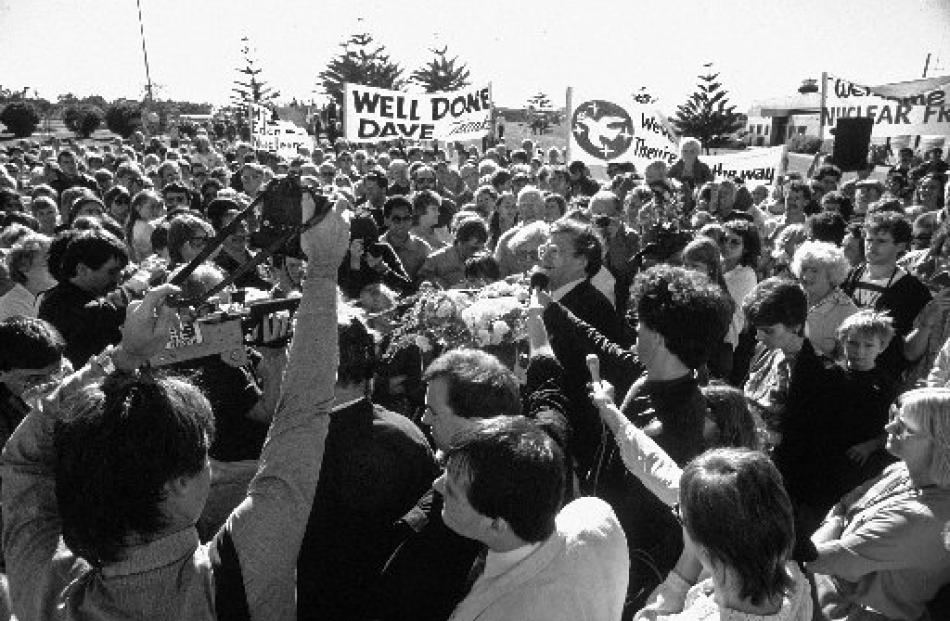 Anti-nuclear activist and author Maire Leadbeater says her book, Peace, Power & Politics, is a celebration of how the little people can effect big change, writes Shane Gilchrist.
''They achieved what in the most traditional of seafaring tactics was always worth a few points. They boarded the enemy.''
So wrote a Sunday Times journalist of the events of January 19, 1979, when protester Stephen Sherie leapt on to the deck of submarine USS Haddo on its visit to Waitemata Harbour on January 19, 1979.
Sherie might have been subsequently convicted on the charge of ''being unlawfully on board a boat'' and fined $275, but his actions ensured the Haddo protest held a special place in the annals of peace activism in New Zealand.
And though that episode is captured in a rather striking photograph, it is just one of many examples of defiance, protest and perseverance in Maire Leadbeater's book, Peace, Power & Politics: How New Zealand became nuclear free.
As spokeswoman for the Auckland branch of the Campaign for Nuclear Disarmament (CND) in the 1980s, Leadbeater had a close-up view of the mass movement that advocated for a nuclear-free New Zealand, which occurred in 1987 when the New Zealand Nuclear Free Zone, Disarmament and Arms Control Act became law on June 8.
The daughter of peace historian Elsie Locke, who wrote Peace People, a document of New Zealand's peace movement up to 1975, Leadbeater grew up in Christchurch and became involved in anti-war protests as a Linwood High School pupil in the 1960s.
A retired social worker, Leadbeater now lives in Auckland where she has campaigned for a range of causes, including East Timor, about which she penned Negligent Neighbour: New Zealand's complicity in the invasion and occupation of Timor Leste in 2006. She holds an Amnesty International New Zealand lifetime award for her work in human rights.
Speaking from Christchurch, where she was visiting relatives after the Dunedin launch of Peace, Power & Politics, published by Otago University Press, Leadbeater discloses she spent the past five years working on her latest book.
She jokes that help for her research came from an unlikely source, New Zealand's Security Intelligence Service, which several years ago allowed access to data it had collected on her.
''My file was quite random. Some events were recorded, while others weren't ... I mentioned at the Dunedin book launch that Warren Tucker, head of the SIS, had helped with my research as I didn't keep a detailed diary of my activities.''
Ironic quirks aside, Leadbeater agrees with the assertion her book is both a celebration of the power of the public to enact political change and a caution, a timely reminder that not all threats are of the nuclear variety.
''Yes, we made a significant and wonderful achievement in being able to legislate to be completely unambiguous in regards not having any nuclear weapons-capable warship visits.
"But at the same time, we did stick to less obvious alliances and arrangements.
''Another way in which governments assert their power is by snooping on us.
"That is an erosion of our democratic freedom and it's vital we fight that,'' Leadbeater says in reference to the recent Government Communications Security Bureau and Related Legislation Amendment Bill, which became law in August, as well as the GCSB's role within the United States National Security Agency's ''Five Eyes'' partnership, which also includes Canada, Britain and Australia.
Peace, Power & Politics might range from 1975 to the present day, but much focus is on the mid-1970s to late-1980s.
Leadbeater emphasises that while she tried to be fair to all groups, ''the peace movement was so extensive so there will be aspects that have been left out''.
With deep roots in a strong pacifist tradition going back to World War 1, as well as in campaigns against New Zealand's involvement in specific wars - notably the Vietnam War - the peace movement encompassed a diverse range of people. That was its strength, she asserts.
''It didn't matter if you were a conservative person or someone from the far left; anyone against the visit of nuclear ships marched.''
And not all protest action happened on the water, Leadbeater notes, pointing to the establishment in 1981 of Peace Movement New Zealand, which had a Dunedin office dedicated to networking and information sharing and from which it produced the national newsletter, Peacelink.
''There is a place for everything in the peace movement, I think. For some, it is about activism, jumping in front of ships, going on marches, those sorts of things ... there is also the role of peace researchers and lobbyists.''
Politicians, obviously, are the subject of much focus for Leadbeater, and none more so than Robert Muldoon and David Lange, albeit for markedly different reasons.
In 1975, it did not take long for incoming Prime Minister Muldoon, leader of the National Party, to make his position clear. New Zealand's ties to the United States, the conservative Prime Minister believed, were a ''bulwark against the threat of communist advance'', Leadbeater states in her book, adding: ''In his view, being part of Anzus meant accepting the visits of nuclear-powered warships.''
In November 1977, Muldoon visited the US and told Secretary of Defence Harold Brown that he would like to keep the visits of warships going and receive ''a mix of ships'', so that the visits would come to be treated as normal events.
According to Muldoon's biographer, Barry Gustafson, Muldoon also raised the issue with Admiral Maurice Weisner, US Commander in Chief, Pacific.
New Zealand Secretary of Foreign Affairs Frank Corner recalled that Muldoon said to the admiral unexpectedly, '''I want you to send nuclear ships to New Zealand'. The admiral was taken aback and replied: 'But I have no plans at present for sending any ships to New Zealand'. 'Send them,' said Muldoon, 'I want them'.''
That request was promptly granted. On December 23, 1977, Muldoon announced that a nuclear-powered submarine, the USS Pintado, would visit Auckland on January 16, 1978.
''It is very hard to pin down precisely whether Muldoon actively invited such warships, but having read many sources, I think he encouraged them,'' Leadbeater reflects.
''And the timing seemed provocative. Sometimes, they came in the middle of the holidays and we wondered how we might mobilise.''
The 1984 snap election of David Lange as prime minister, the newly installed leader of the opposition Labour Party, is held as the beginning of a major turning point in New Zealand's stand on nuclear warship visits.
Yet at the time, Lange seemed to be looking for a compromise, Leadbeater notes.
He wondered whether nuclear-powered - but not nuclear-armed - warships should be allowed to visit under a Labour administration and expressed optimism that the US would be willing to advise host governments whether or not visiting vessels were carrying nuclear weaponry.
However, peace activists were dismayed that Lange seemed unaware of the US's ''neither confirm nor deny'' policy in regards the presence of nuclear weapons on its ships.
Leadbeater puts forward the question: ''Did he not know that nuclear-powered warships were also nuclear weapons capable?''
Then she provides an answer: ''Lange's justification for his stance was that the question of nuclear propulsion was a side-issue compared with the importance of 'opposition to nuclear weapons and our wish to see the Pacific a nuclear-weapon-free zone'.''
Lange later restated his position: ''If nuclear-propelled warships are nuclear armed, as authorities assert, they will be banned from New Zealand waters.''
Lange said he was not changing his stance because he still considered that if strict environmental conditions were met and an assurance given that the vessel was not nuclear armed, then a nuclear-propelled ship could be given permission to visit.
However, by this time the anti-nuclear tide was such a strong force in Labour's activist base that Lange did not have much room to manoeuvre, Leadbeater believes.
Arguably, the watershed year in the anti-nuclear/peace movement was1985: The July 10 sinking of the Greenpeace vessel Rainbow Warrior in Auckland, tragic as it was, led to a surge of interest in the protest group; and earlier the same year, Lange had given his now-famous Oxford Union speech, during which he told a young interrogator he could ''smell the uranium on his breath''.
Yet even more significant - according to Leadbeater - was Lange's announcement after a cabinet meeting on February 4 that the US application for the warship Buchanan to visit had been formally declined, a move that prompted the US to suspend its Anzus Treaty obligations with New Zealand*.
''In some ways I think the rejecting of the Buchanan was of more significance than the June 1987 legislation,'' Leadbeater says.
''It was a crucial moment.''
There has been a lot of water under the bow of US warships since then, though not much in the seas around New Zealand. Yet the relationship between the two countries has not stood still.
In June last year, the US and New Zealand signed the Washington Declaration, establishing a framework for strengthening defence co-operation.
The declaration is not a treaty and therefore not binding, but it does reflect an ongoing strengthening of relations between the nations.
Read it
Peace, Power & Politics: How New Zealand became nuclear free, by Maire Leadbeater, is published by Otago University Press ($55).
Your copy
The Otago Daily Times has five copies of Peace, Power & Politics to give away. To go in the draw, email your name, address and contact phone number to playtime@odt.co.nz, with Peace in the subject line.