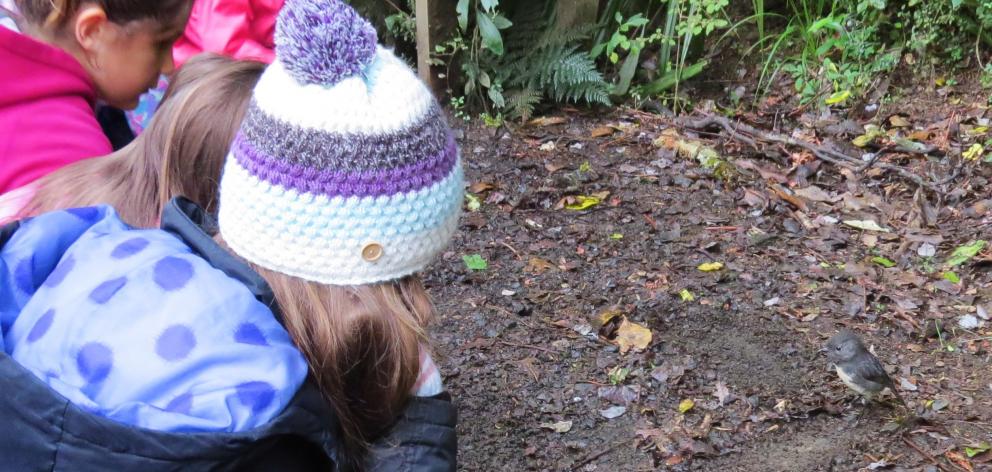 "Ko ahau te kaiarahi mo tenei ra. I am your guide for the day." These words are part of the mihi with which Orokonui guides greet their guests.
So who are the guides? Alyth Grant has asked her fellow guides what motivates them. 
"I hope the birds will show themselves today" is the slightly nervous thought in the mind of every guide setting out to lead a guided walk of Orokonui. "It's not a zoo," we remind ourselves and visitors, nevertheless hoping the takahe will turn up reliably at 11am and that it will be sunny enough to bring out the skinks and tuatara.
Our guides are mostly volunteers who are passionate about the ecosanctuary and want to share it with others. Coming from a variety of backgrounds that do not necessarily include the sciences most obviously connected with conservation, most have had to learn on the job. But the love of the outdoors and wildlife is a good basis for building the necessary knowledge and ex-teachers never lose the love of communicating.
Chief guide Sue Hensley credits walking through the proposed sanctuary with co-founder Ralph Allen "and being able to pepper him with questions for which he always had an answer", as the source of much of her own knowledge, as well as volunteering on ornithologist Derek Onley's bird survey team, several years before the sanctuary was set up.
Sue has since planned the tours and trained the guides, and Joanne speaks for all when she says: "I was trained by wonderful Sue, whose enthusiasm I think has rubbed off on to all the guides, and I've just kept picking up useful facts and stories ever since."
In time the problem becomes having too many stories to share in the time available with visitors.
Enthusiasm is catching, and guides are well rewarded when those they are with are infected by it. Maree loves it "when visitors ask questions and there's a two-way conversation", while Joanne sums up the ultimate reward: "The big kick I get out of guiding and what keeps me doing it is the relaxed, happy looks that I get to see spreading across faces after only a short time inside the fence.
"I've never known anyone leave grumpy, sad or unhappy. They always smile."
The delight people feel when a robin approaches them looking for food at their feet, or they watch takahe mum Paku feeding her young beak-to-beak is written all over their faces. Mr Roto, our former star kaka, had the habit of landing on people and grooming their hair, which used to be the source of much hilarity, especially the day a party of visitors from Shanghai was visiting. No kaka had been seen until almost the end of their tour when, suddenly, Mr Roto flew out of the trees and landed on the head of the party leader - as if to say "I know who is boss here!".
However familiar one has become with the ecosanctuary, there are always new ways to deepen ones' appreciation. We can learn different ways of approaching the forest experience. After a recent tour with Japanese guide Hagino, trialling a new concept of "forest bathing", receptionist Sharee described her reaction.
"By taking the time to slow down and quiet the mind, I found I quickly relaxed into the moment and took joy in the little details of what was around me. Experiencing everything on a deeper level, with a playful attitude of discovery was a joyful experience, and I left feeling calm, relaxed and peaceful."
Hagino explains the technique, akin to what is often called mindfulness, aims to reduce stress and improve physical and mental health through gentle walking, sitting and breathing in the forest setting.
Another way of experiencing the bush anew is as night falls. University of Otago student Taylor explains: "At night we are forced to listen, we hear noises that are new, unusual. Some are there all along but we only experience them in the tranquillity of night. What we can see in the reduced light is often closer to us, and we notice the small things."
Volunteer Noelene spoke of her delight in the dusk experience.
"Taylor expertly found tiny spiders in holes in tree trunks. Apparently they are easy to find - not by us, though - and almost guaranteed to be in the same place.
"They seemed almost tame when handled, but raced back to their holes as soon as they were placed on the bark again."
The spiders were not the only creatures of habit.
"As we walked along the track, Taylor pointed out some white droppings on ground. `Look up', he said, and sure enough there were two kereru above us, sleeping in their favourite tree."
Expanding one's horizons like this is one of the rewards of guiding. Each translocation - kaka, robins, skinks, tuatara, and the visits of Sirocco the kakapo - has led to a new area of expertise.
We were all amateurs at the start, but ongoing learning has contributed to the professionalism of the service provided. In Dunedin's competitive tourist environment that is important.
For me, it has also been a way into Maori culture, whether through learning a mihi, reading about the medicinal uses Maori found for many native plants and trees, or learning about the uses of flax, in order to talk about the pa harakeke.
Sitting in the midst of the pa, watching German cruise ship visitors, all fingers and thumbs, learning to make their own souvenir, a putiputi (flax flower), is an amusing way for visitors and guides to cross the language divide and to ensure those relaxed, happy looks on guests' faces at the end of an ecosanctuary tour.
Alyth Grant is a volunteer guide at Orokonui Ecosanctuary.