Teachers play a vital role in peoples' lives. With the new school year approaching, some prominent New Zealanders tell Bruce Munro about the positive impact teachers had in their lives. 
DEAN HALL
CREATOR OF ZOMBIE APOCALYPSE PC GAME `DAYZ' AND FOUNDER OF VIDEO GAME STUDIO ROCKETWERKZ
At the start of secondary school, I was in what would be called remedial maths. I was quite bad at maths.
But I wanted to join the Air Force. And to get in you had to get a B-Bursary and be pretty good at maths.
The head of maths at Waitaki Boys' High School was Alan Caldwell. He was a really interesting guy.
He started fostering my interest in maths.
He spoke to me during my fourth form year and told me he didn't think I needed to be in remedial maths and that I should move out of that class.
It wasn't that I was actually bad at maths - I could understand maths concepts - it was just that I couldn't remember my times tables. In those days, that was a big deal.
I went from doing remedial maths through to doing several maths subjects in my last year at high school. And then on to doing video games.
I believe he actually nominated me as a prefect. I think he saw through my poor attention span. It really had a profound impact on me.
I had him for maths in sixth and seventh form.
In the seventh form, I did maths with statistics, maths with calculus, physics, graphics and English.
There was a statistics assignment. We had to come up with a statistical model. Mine was that sound disrupts your thinking.
He could tell I was interested in computers, so he encouraged me to write a computer programme for it.
I wrote a programme that would get you to type in random characters it put up on the screen. Every now and then it would include one while the computer was making a very irritating sound.
I had an interest in computers up to that point, but hadn't really gotten into it like I did from then on.
He died about six years ago ... in a motor vehicle accident.
He was a pretty amazing guy. He walked to the beat of his own drum.
Mr Caldwell very much was the sort of guy who lived his life and did his own thing, and did good in it.
JEREMY ELWOOD
COMEDIAN
I wasn't a fan of high school. The structure, tradition and priorities of an all-boys institution didn't sit well with me, and I'm sure that has played a part in my resistance to choosing anything like an ``ordinary'' occupation ever since.
However, there were several teachers along the way who offered an escape from the drudgery and encouragement in my own endeavours.
From a shortlist of half a-dozen, I've had to pick two here, for quite different reasons. Their influence affected me profoundly at the time, and continues to this day. Apologies to those I have omitted, I hope you know who you are.
George Kay was my form teacher at first and history teacher towards the end of my time at high school. History was one of the few subjects I genuinely enjoyed. A large part of that was his way of making it seem relevant, without being too reverential towards it. George played a large part in my arriving at university with a history scholarship to my name.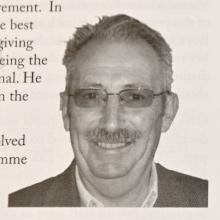 Although I quickly diverted into other courses, I continue to look at the world through a prism of what has come before, especially when it comes to writing comedy.
More importantly, though, he also ran the record club. His love of music was palpable and he opened my ears to genres and artists that I have on repeat to this day. My well-worn copy of Copper Blue, by Sugar, is still one of my go-to albums for the kitchen or the car. Many years later, I saw the band's frontman Bob Mould play at the sadly now-gone Kings Arms in Auckland. While we waited for him to take the stage, a bloke approached me and said he remembered me from school. ``Mr Kay's record club?'' he asked. We both nodded and got back to enjoying the gig.
The second teacher's influence has a more direct line to what I do now. Allan West was in charge of the Theatresports programme, which was my apprenticeship for performing live comedy. The skills and confidence he instilled in me are the backbone of my career. Many of the other performers I met during Improv competitions share stages and TV desks with me still. Allan (I hope he won't mind me saying) was an outlier himself; just odd enough to be interesting and a daily reminder that you didn't have to be part of the system to survive it.
So to George, Allan, and all the other teachers who helped shaped me, thank you.
JACINDA ARDERN
PRIME MINISTER
I've spoken often about the teachers who have made a mark on me.
There have been many.
From the primary school teacher I stood with during the Edgecumbe earthquake and the intermediate teacher who taught me how to problem solve, to the maths teacher who told me I wouldn't pass (just to make sure I studied harder).
And then there was my history teacher. Mr Fountain was a brand-new graduate when he arrived at Morrinsville College. He taught me about MMP, the New Zealand Wars and the Treaty. But more than that, he taught me how to question everything, including my own opinions.
Teachers make a huge difference.
They say it takes just one who cares enough to change everything.
I know that was certainly the case for me.
SUPERINTENDENT PAUL BASHAM
POLICE SOUTHERN DISTRICT COMMANDER
I grew up in South Auckland. My parents separated when I was young and Mum decided she wanted to send my two brothers and me to De La Salle College, in Mangere, Auckland, a single sex, Catholic school where we would be surrounded by positive male role models in the form of the De La Salle Brothers and other members of the teaching faculty there.
It was one of the best things Mum did for us.
The school motto, Bonum Certamen Certa, translates broadly to ''fight the good fight'' which has been an enduring reference point for me throughout my life, particularly in terms of my chosen vocation in the New Zealand Police.
The De La Salle Brothers were originally a French order founded by St Jean Baptiste De La Salle, a man from a wealthy French family who established the order to provide education to the poor.
All of the teaching brothers at the school were great. All had a positive influence on my brothers and me during our time at the school.
Brother David, Brother Bede, Brother Mathew, Brother Kevin and Brother Stephen come to mind, as does Mr Martin, so it is hard to single one of them out. However, their collective impact and influence is best represented by Brother Sir Pat Lynch who took over as principal in my second year at the school and remained in that role throughout my time there.
Br Pat was an educationalist through and through who led the school through state integration.
He understood boys. He was fair, patient, determined and kind. He knew every boy at that school by their first name and he epitomised the tradition of the De La Salle Brothers and our school motto.
As a teenager, I didn't think too deeply on these things, but in later life the impact of Br Pat, and the other brothers, has been huge. They taught us that the school values of faith, service, community and excellence are universal and enduring and that we should all ''fight the good fight'' every day in all aspects our lives.
PROFESSOR JACINTA RURU
LECTURER IN THE LAW FACULTY, UNIVERSITY OF OTAGO, AND CO-DIRECTOR OF NGA PAE O TE MARAMATANGA, NEW ZEALAND'S MAORI CENTRE OF RESEARCH EXCELLENCE
My father grew up in his father's tribal lands of Raukawa, next door to the humble family Paparamu Marae, bookended by his mother's iwi of Ngati Ranginui and Ngati Maniapoto. My Pakeha mother grew up to the west of my dad, in her beloved city, New Plymouth.
Together they moved south. My first memories are of growing up in Glenorchy at the foot of the majestic Mt Earnslaw, the braided waters of the Dart River, surrounded by protected lands in the renowned Fiordland and Mt Aspiring national parks.
Something seemed terribly amiss and remiss. Wasn't I also living in the lands of Ngai Tahu, at the head of a sleeping giant, on the boat that Maui used to catch the big fish that the Europeans named the North Island? Wasn't I living near to the trails of the most precious traded resource in the Maori economy: pounamu, a place deep with centuries of Maori history and knowledge? But none of this was visually evident in the mostly overlaid English place names of my home.
And, it wasn't just the lands around me that had been Anglicised. I grew up in an entirely Pakeha-dominated world.
In Te Wai Pounamu, I had a mix of teachers at the three primary and three secondary schools I went to (Glenorchy, Riverton, Cromwell Primary and Cromwell College, Wakatipu High, Burnside High).
A handful really inspired me.
One was certainly my Wakatipu High School fifth-form (year 11) English teacher who gave to us short stories by Witi Ihimaera, who wrote about being Maori and the racism in this country. It was the first time I had read a Maori author in school. I loved it.
And my sixth-form history teacher, who didn't shy away from New Zealand race-relations history. I appreciated this.
But it is Mr (Ross) Paniora that I single out here because in all those schools I went to, he was the only Maori teacher I came across (as I remember now).
More than that, he was a teacher who embodied whanaungatanga and manaakitanga.
He taught me te reo Maori and PE at Cromwell College in third form. He gathered us Maori kids together, and gave us responsibilities as Maori. We had a school hangi. He showed me it was OK to be Maori at school, in the education system.
I needed to see and know this.
Mr P (as we all called him) was an inspiring teacher and I was lucky to be in his classroom.