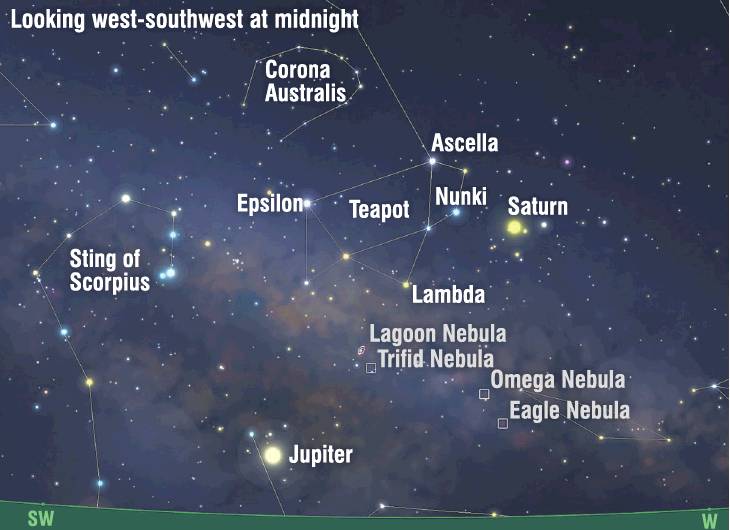 The moon reached last quarter yesterday and will be new on October 28. For the next couple of weeks, we are entering the period astronomers call ''dark of the moon'', writes Ian Griffin.
When the sun has set, moonlight doesn't interfere with your view of the sky, which makes it a great time to stargaze.
This week I'd like to invite you to explore a fascinating region of the sky centred on Sagittarius. As well as being part of the zodiac, Sagittarius also contains the galactic core, the centre of the Milky Way.
Sagittarius is Latin for ''archer''. According to tradition, the constellation represents a bow-wielding centaur. To more modern eyes, its brightest stars resemble something significantly more useful than a half-human half-horse warrior. It's now often called the teapot.
Whatever imaginary star pattern you pick out, Saturn is at present moving through Sagittarius, providing a handy jumping-off point for our tour.
The chart is drawn for midnight, by which time our target is roughly 20deg above the west-southwest horizon. Don't let the relatively low altitude put you off, though. If you can find a dark viewing spot with an unobstructed view, you will enjoy the magnificent sight of the centre of our home galaxy descending towards the horizon.
There's so much to see in this part of the sky. One thing I do when gazing at the teapot is take a moment to enjoy the colours on display amongst its stars. For example, Nunki is a blue-white colour while Lambda (sometimes called Kaus Borealis) is distinctly yellow-orange.
The stars have disparate tones because they have different surface temperatures. Nunki is more than 220 light-years away and has a surface temperature which exceeds 20,000 degrees. Lambda is significantly cooler. Astronomers estimate the star's surface layer is cooler than 5000 degrees. At a distance of just 78 light-years, Lambda is much closer than Nunki.
If you have a pair of binoculars, use them to sweep the sky below Sagittarius. There are some spectacular objects which certainly reward close attention. In particular, try to spot the Lagoon and Trifid nebulae, they are quite beautiful.