If the Wi-Fi was down (unthinkable) and the postal service obsolete (inevitable) - how would I ever make my deadline, wonders Liz Breslin.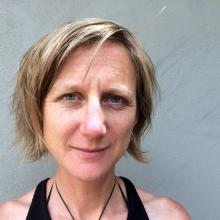 In the old and glamorous days of travelling writers abroad, said writers inhaled alternately on cocktail straws, cigarettes and their pens before bundling up sheaves of manuscripts with hemp string and mailing them across continents in brown manila envelopes.
Of course, they made copies of the work by hand beforehand, using unthinkably archaic things like ink and blotters. Even the envelopes had an air of exotic otherworldliness, being made from the fibres of a kind of Philippine plantain. Exotic. Those were the days.
These days, a correspondent can type out text on a tiny weeny screen and send it across the world in seconds. I am allowed graceful got automatic. Sorry, that should read "I am also grateful for autocorrect." Even with all the technology in the world, there is no substitute for proofing your stuff.
My sent email notification sound is, very gratifyingly, of a paper aeroplane swish. As if this is somehow the way of the transaction. An actual paper aeroplane, according to the world record, would only go 69.14m. Which in my case would leave this week's column in jungle or sea. Which got me thinking ... if the Wi-Fi was down (unthinkable) and the postal service obsolete (inevitable) - how would I ever make my deadline? Here's five creative ideas I came up with while sucking on cold beverages and a pen ...
PIGEON
This is not as far-fetched as it sounds. Pigeons, after all, can fetch far. The world's first pigeongram service was started in New Zealand, after the people of Great Barrier Island realised there was no way to let the Union Steam Ship Company know about the wreck of their vessel, the Wairarapa. Waiting for the next boat was the only option. Locals were determined to find another way, so pigeons were trained to fly the route to and from the mainland with up to five letters festooning their necks - grocery lists, emergency requests, important news and orders for spare parts winged their way across the waters from 1894-1908. It wasn't exactly failsafe though; there's at least one story of a grocery list that made it to its destination via Sydney when the pigeon carrying it decided to alight on a ship for a rest. A long wait for the pantry staples.
MESSAGE IN A BOTTLE
There are more accurate ways of sending an SOS to the world or a column to your editors than by message in a bottle, though people have tried to send all sorts this way. It is mostly the hopeful, the lovelorn and the drowning, or ships trying to work out the drift of things. Though there are true-life stories of holy water from the Titanic finding its way back to the shores of the family home, and of a marriage being forged from follow-up letters to a chance bottled message, this is very unlikely to help your communication fly straight as an email arrow.
DOG
Balto is the poster-child for amazing feats of dogness - leading a pack of sled dogs taking magic serum across Alaska to save everyone in this place called Nome from a diphtheria epidemic. The way the stories tell it, Balto pretty much single-pawedly saved the day, but as it turns out, there was another dog-leader called Togo, who was equally brilliant.
Having seen them en masse up at the Snow Farm, I'm firmly convinced that it would be epic to be able to deliver a manuscript via a pack of sled dogs. Favourite word transport option by far, so far. Until there's a sea between us.
MORSE CODE
.. .... .- ...- . -.-. .-. .- -- .--. .. -. -- -.-- ..-. .. -. --. . .-. .-.-.- Translation: I have cramp in my finger. The telegraphing of telegrams is long-dead, although technically you can still send an iTelegram, of course, but only to people in selected hotels, and you need to be online to do the sending, so it's not really the same.
I like the story about Oscar Wilde contacting his publisher by telegram to see how his latest book was going. His telegram read like this: "?". His publisher's reply: "!". Oh, those were the days. Utterly romantic. (If you ignore or bracket the bit about being imprisoned for so called gross indecency and dying destitute in your 40s.)
TELEPATHY
Coming soon to a brain near you. It's not quite as fast as broadband, having taken 70 minutes for experimental meddlers in Spain to send a single four-letter word. And since there's roughly 700 words here, it would take around 34 days for me to think a column across the miles. I'd best get started - less mojito, more transcranial magnetic electroencephalographs.
Yeah right. That'll be the day.