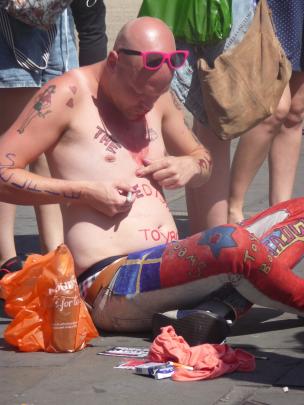 Pam Jones rediscovers vibrant, edgy Camden Town while mulling over music and Mohawks on the pavements of London. 
As open air concerts go, it had some quirks. Red double-decker buses kept driving past, and a skinhead wearing pink sunglasses was writing ''Swedish toyboy'' on his body in bright marker pen.
Out front, a homeless man dressed as a woman was swaying unevenly to the music, a half-drunk bottle of liquor in his/her hand. Propped against the lead singer's microphone stand was a square piece of cardboard inscribed thus: ''The Likks. Pennies, smokes and dancing welcome''.
This is Camden, where it makes perfect sense for a rising rock band to be amping it up on a pavement stage and a revolving audience includes American tourists, London locals and lost souls.
The four-piece band - obviously rising stars when you investigate them on Facebook - occupied centre stage on a five-way intersection as I reacquainted myself with the Camden Town I used to visit at weekends when I lived in London 20 years ago.
Its gritty, edgy feel had remained, the only thing that seemed to have changed was the extra people. The area is flooded with tourists at the weekend and, as the shops and most of the markets are open during the rest of the week, it's worth considering a different day for a more relaxed visit (especially if there are a few of you. It will help with transport as well, as re-entry to the Camden underground station is restricted on Saturdays and Sundays).
But the markets are wonderful, an almost bewildering blend of artisan, second-hand and touristy goods, as well as an exercise in juxtaposition. Indian food sits next to Lebanese, baby clothes next to cannabis-scented incense. My teenage son bought a sweatshirt that said ''Normal people scare me'' right next to a stall selling '50s-style heels and a Mohawked man hawking piercings. Cigarette papers and elaborate bongs abound. A heady fragrance comes from a variety of substances.
When it comes to fashion, anything goes. Many seem to be honouring Camden local Amy Winehouse's ode Back to Black, and dark, gothic styles are common. But so are bright pink hairdos, polka dot dresses, cut-off shorts and leather. Boots - the heavier the better - are the favoured footwear.
Camden Town (part of the wider Camden borough) has been a residential area since the 1790s, but it was the arrival of canals and railways that transformed the region into a bustling part of London. With a postcode of NW1 it's close to central London and today visitors and locals flock to soak up its hip art, drinks, cuisine, music and theatre scene.
This is where pop stars and poets cut their teeth on dirty pavements. Winehouse's throaty, addictive music echoed the raw edge of Camden's backstreets; hard-drinking poet Dylan Thomas spoke of his ''house of horror'' years living in Camden.
Their legendary legacy is celebrated by Camden locals and cause surely for more than the odd toast in Camden bars. We do ours in The Elephant Head in Camden's High St, cradling genuine pint glasses surrounded by curious tourists and girls with Amy Winehouse eyes.
Further down the street, the Camden Lock is the centrepiece of a sprawling collection of solid barges, market stalls and food and drink from around the world. Shops draped in curling dragons or ''dark angels'' lead visitors into lairs of Doc Martens, pinched-waist dresses and old LPs.
There's great shopping to be had, and despite the crowds, Camden still has much of its original flavour; a jumbled melting pot that makes its own rules and welcomes those who are up for anything.
It's fun, and we leave with a new imprint of memories and a feel-good vibe from a revisited, vibrant place. After all these years, it's nice to know Camden still delivers.
When contemplating travel options, it's nice to know what you're in for, and if you want perfect, peaceful and pretty then Camden is not for you. It's real, almost an acquired taste for some, and hasn't the orderly rank and file nature of many of London's main attractions.
But if you want something a bit more edgy and exciting in that ''watch your wallet'' kind of way, Camden's your place.
Although there seems to be less Cockney banter in the markets than there used to be, it's still busy, and colourful, and in your face and you never really know what you'll see next. (If you want to add a little more tang, go after the tourists have gone home, or head down some side streets to find cutting-edge bars and raw talent: some hard rock or harmonica in an upstairs bar; streetwise barmen practised at serving drinks or patrons of any flavour).
Wordsmith Oscar Wilde famously declared that when a man is tired of London, he is tired of life.
For sure, because the pace and grime of a big city is in fact a thing of beauty when it comes to intellectual stimulation, night lights, vigour, choice and opportunity. Don't think about the traffic and pollution, consider the belching exhausts of London buses almost a breath of fresh air when it comes to culture, career and feeling alive.
I'm with Wilde, and don't think I could ever tire of Camden. It was nice to once more be one of the devoted masses who ambled the streets of the suburb, remembering its roguish charm.
---
---
GETTING THERE BY TUBE
• There are two underground stations at which to get off: Camden Town and Chalk Farm Road, both of which are on the Northern Line (black).
---
---