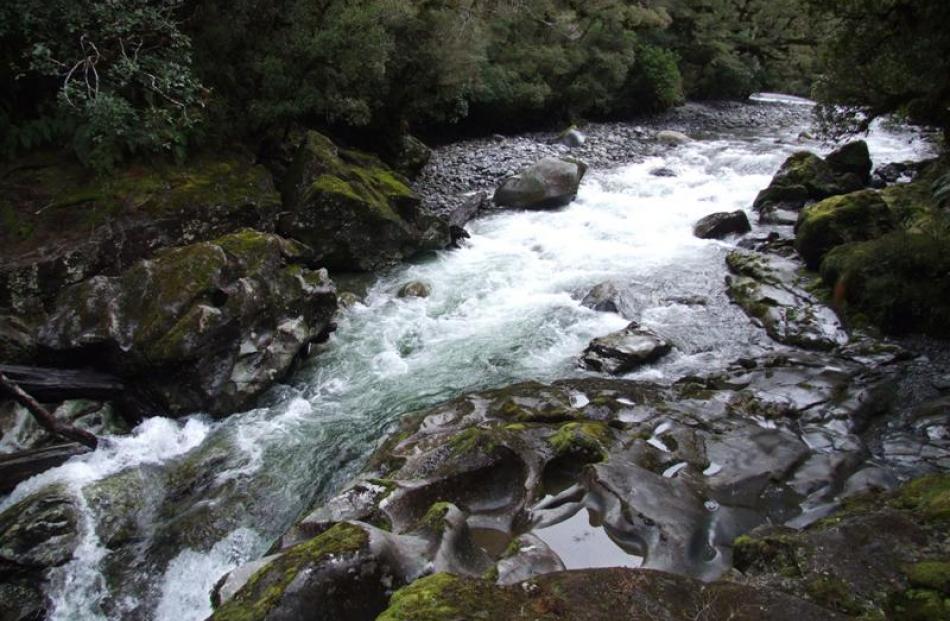 Big sky country. It seems that we have it in spades in the South. But, as Bruce Munro discovered, some sky is better than others.
I can't tell you how to get to Fiordland, only that you must.
Getting packed and on the road after work on Friday afternoon had been a fraught family affair - hurried, harried, and close to an hour late.
So now it is dark outside, mirroring the mood inside our vehicle. But at least we are on our way.
This is supposed to be a much-anticipated family holiday exploring the reputed natural magnificence of New Zealand's southwest corner. A short, bonding break together as we experience, and hopefully appreciate, this remote and still largely unspoilt region fashioned by aeons of enormous natural forces.
However, a conversation around the family dinner table a few nights before, had not instilled much confidence my aspirations would be realised. As I finished describing the natural wonders and adventures that lay in store, my 15-year-old asked, "But does the motel have Sky?"
How will this weekend go, I wonder, as our vehicle chases its headlights through the night.
It is still dark when my wife and I wake the next morning, but only because the motel curtains keep us cosily cocooned. Pulled back they reveal lake, trees, snow-capped mountains and a big, open sky. It is a startling and beautiful introduction to Fiordland and her largest settlement, Te Anau.
Our four children, from the 10-year-old to the 17-year-old, still have the curtains firmly closed despite having been awake for some time. They have discovered a television in each room and prove reluctant to engage with any other sort of sky.
But we have a timetable to keep. So just after 10am - following a disputatious family breakfast and then an informative conversation with Radfords Lakeview Motel owner Kerri James, we are heading out of town, passing through rolling farmland and scrub on the eastern edge of Lake Te Anau, bound for Milford Sound 120km to the north.
"Is this where we are going sheep riding?" our youngest asks. He is bright, but I sometimes think he exists in a similar yet distinctly parallel universe. For several years our hairdresser has sworn he told her we ate our cat.
I glance at my wife who is quietly chuckling.
The further we drive, the more spectacular and ancient the scenery becomes. Mystery-laden native forest hems the road, gives way to vistas of wide river valleys converted to farmland, returns, and then delivers us at the feet of an apparently impenetrable range of snowy mountains.
Teenagers in the back row of the van studiously practice an unaffected attitude.
The 1.2km-long rough-hewn Homer Tunnel takes us through the rock, and 35km later we are standing on the edge of Milford Sound, swatting sandflies as we quickly munch sandwiches.
According to Maori mythology, the gods were concerned the beauty of Fiordland would mesmerise travellers. So they introduced sandflies to make sure no-one stood on the same spot for long.
It's an effective ploy that soon has us aboard Real Journeys vessel the Milford Mariner for a nature cruise on astonishing Milford Sound.
Not, in fact, a sound at all, Milford is the smallest and northernmost of 14 glacier-carved fiords in this region.
We only get a fleeting glimpse of Mitre Peak's arrow-head summit. But if there is plenty of cloud, there is an equally plenteous supply of thunderous waterfalls cascading down often sheer cliff faces from terrific heights. And no wonder - receiving up to 8m of rain a year, Milford Sound is New Zealand's wettest inhabited spot.
While my wife spends most of the two-hour, 26km round trip to open sea and back on the vessel's uncovered top deck soaking up the awe-inspiring scenery, our two younger boys alternate between interest in their environs, sipping free hot drinks, and sharing the teenagers' unhealthy interest in the welfare of a motion-sick overseas visitor struggling to keep her lunch in her stomach.
On our way back to Te Anau for dinner we stop to walk a short loop track through the dew-heavy bush to view an impressive chasm where the waters of the Cleddau River spill and churn down through narrow races worn in the rocks.
A temporarily imploded teenager remains in the van; one son has to be chided for going behind a barrier despite large warning signs; and there is a brief fracas over a stone that may, or may not, have been thrown in anger.
But some fun is also had skidding on the damp sloping boardwalk, and throwing a frisbee in the gravel car park surrounded by misty, forested mountains more than 100km from anywhere. Are we still sliding downwards, or have we reached a turning point?
Sunday morning we greet Te Anau with billowing smoke signals as we try to flush the motel unit following an accident with the toaster. Then we do it again. Environmental degradation - what a way to begin the last day of our Fiordland excursion.
Today has an animal focus, and we are starting with a horse trek at Highride Adventures. Owners Aaron and Louise Duthie waste no time getting us saddled up and on to the rolling farmland of a 283ha sheep, deer and cattle farm just 20 minutes drive from Te Anau.
These are placid horses which take commands from novices with surprising grace, but also know how to play follow-the-leader as they trace farm tracks up gentle hills, through bush, and then down to, and across, the Upukerora River. All except for the horse ridden by son No 3. His charge is gentle but shows an unshakeable preference for the road less travelled. As the rest of us veer right to go around the base of a hill, his horse turns left and sets out determinedly for a hilltop 200m away.
Aaron has to fetch him back.
The horse trek is a great experience. Something different, and perfectly in keeping with Fiordland's wilderness and wildlife focus.
Lunch is consumed in a foreshore car park before boarding the catamaran Luminosa for a 16km trip up and across Lake Te Anau. Blue sky and sunshine complete the picture-postcard views of dark lake water, beech forest and snow-capped mountains.
Standing together on the upper deck, our eldest points out to us an island on which she spent a night under the stars during a school-holiday camp.
It's not long before we are disembarking at the entrance to the magical, underground world that is the Te Ana-au Glowworm Caves. It was the name Te Ana-au, which means a cave with a strong current running through it, which led to the rediscovery of the caves in 1948.
Making up more than half of a group of 10 visitors, we are led through a veil of greenery into a universe filled with the sounds of rushing and tumbling streams, visions of limestone caverns thousands of years old still being carved and shaped by water, and the disquieting question of what lies hidden beyond the light's reach. We are, after all, in Lord of the Rings territory. We follow the metal walkways and bridges deeper and deeper into the 250m-long cave system before being invited to board a small boat. Our guide manoeuvres it through the pitch black to a silent hidden grotto. Above our heads are thousands of starry pin-pricks of light emitted by glowworms on the hunt.
Returning to the subterranean landing bay, and still in deep darkness, the guide steps out of the boat, reaches for the light switch and turns to tell us to disembark. Already standing right behind her - and no doubt looking like a cavern-dwelling halfling - is my youngest.
The guide manages to stifle a scream. Our "Smeagol" gets a round of smiles and back-slaps from his siblings as they pass.
Before hitting the road, we debrief over dinner in a local restaurant. The pleasant chatter is of the thrill of standing on the deck of a large vessel rolling on the open sea beyond the hidden mountainous entrance to a fiord; of discovering what it feels like to sit high in the saddle, trusting yourself to the steed's willing co-operation and sure hooves; and of leaving behind the comfortable beauty of forest and sky for the unfamiliar but undeniable thrill of a shadowy, water-sculpted underworld.
It has been a short, jam-packed weekend, and now we are driving away from Fiordland wrapped in the same inky blackness that brought us here. But the unparalleled beauty and earthy fun we have experienced has worked its rejuvenating, transforming magic on all of us. I am grateful.
I cannot tell you how to get there - I have not seen any of the landmarks that might help you steer a true course. I can only state that if you need it, Fiordland is out there somewhere, and you must find it.
• Bruce Munro and his family were hosted in Fiordland by Radfords Lakeview Motel, Highride Adventures and Real Journeys.