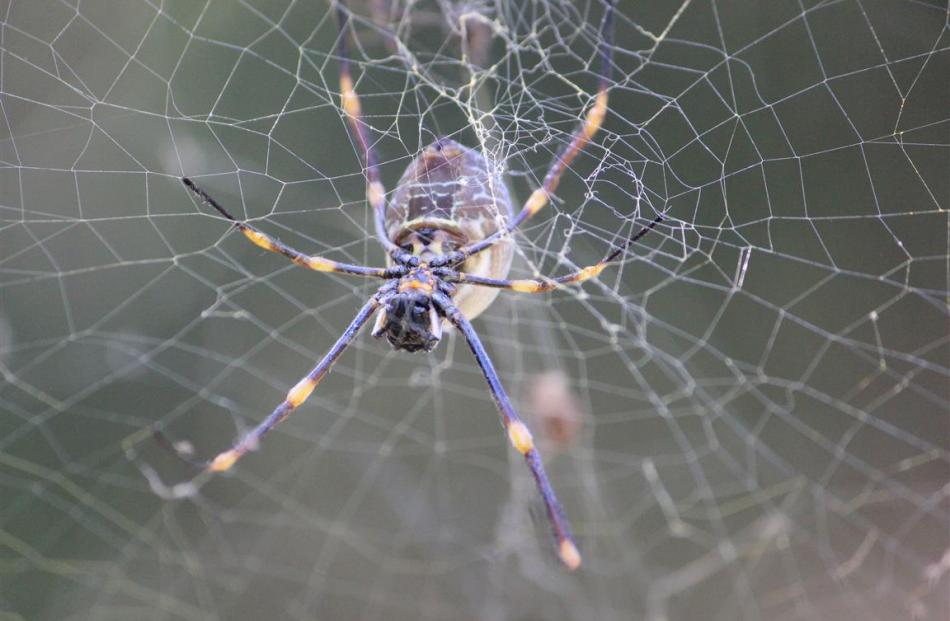 When you've had your fill of the hustle and bustle of the Sydney CBD and ticked the usual touristy things off your list - the Opera House, Circular Quay, The Rocks, and taking a ferry across to Manly - there's an attractive bush haven a hop, skip and jump away. Allison Beckham and her husband John took some time out there recently.
Walking along a bush track in Lane Cove National Park we could have been miles from anywhere. Appropriately-named noisy miner birds competed in the sound stakes with parakeets, kookaburras and cockatoos.
Bold brush turkeys came looking for food scraps.
Eastern water dragon lizards sunned themselves everywhere, unperturbed by our approach until darting off into the undergrowth at the last minute.
We "read'' the trunks of the scribbly gum trees, trying to make words from the interesting burrowing patterns left by scribbly gum moths.
We watched water birds and people enjoying the lazy Lane Cove River from the riverbank, later enjoying a leisurely hour on the water in a paddleboat.
The smell of barbecued food assailed our nostrils as we walked through picnic areas being used by family groups.
Then came the reminder we were still in metropolitan Sydney - yet another jet flying low overhead. Lane Cove is obviously on the Sydney Airport flight path, but fortunately, this was a minor distraction for park inhabitants and us.
We had seen the park on a television wildlife documentary and were hooked. We wanted to visit this place so close to the Sydney CBD it was possible to see skyscrapers from its highest point.
Without a vehicle, reaching the lookout was impossible for us, but in all other respects, Lane Cove exceeded our expectations.
No-one we spoke to initially knew much about Lane Cove. Could we stay there? Were there any shops to buy food? How could we get there? Our research provided enough answers to formulate a plan.
We would catch a commuter train across the Sydney Harbour Bridge and into the northern suburbs. We would stay in a cabin in the tourist park operated by The New South Wales National Parks and Wildlife Service on the edge of Lane Cove. There were no shops, so we would buy everything we needed in Sydney, leave some of our gear in our CBD hotel and load up one suitcase with food.
The plan worked beautifully. It was a hot walk from the station to the tourist park, but our accommodation was fantastic - a self-contained, air-conditioned cabin with an inviting covered deck overlooked by trees where noisy miners made themselves at home.
The park had amenities we were not expecting - a refreshing pool which swimmers shared with a family of ducks, and a tiny shop selling essentials like milk, water, newspapers and ice creams.
On our first stroll that evening we discovered it was a steep walk from the tourist park into the national park itself, which wasn't so bad going downhill but was a real trek on the return journey.
However, tourist parks are friendly places. Seeing us walk past their camper van the next morning with cameras in hand, keen birdwatchers and long-term park residents Bill and Janet shared their local knowledge - just past the northern end of the tourist park was a public access road providing a much more gentle gradient down to the riverside walks and picnic areas. Thank you Bill and Janet.
They also told us what birds and wildlife to look out for and where they congregated at particular times of the day.
That evening at dusk we sat with Bill and Janet and watched the brush turkeys put themselves to bed in the huge gum trees beside the tourist park laundry building. Brush turkeys, about the size of a large chicken, can't fly well but need to roost in the trees to protect themselves from predators like foxes.
They have developed an awkward but successful strategy accomplished with much flapping of wings - flying from ground level into a smallish tree, on to the laundry roof, into the nearest branch of the roost tree, and clambering to their preferred branch.
We sat and watched until night fell, the climbing and flapping stopped, the other birds stopped singing, the frogs stopped croaking, and everything went quiet. Magic.
Lane Cove is one of eight national parks within metropolitan Sydney. If the others are as attractive and peaceful as Lane Cove, some more research and another city holiday away from it all is a distinct possibility.
---
Getting there
Lane Cove National Park is in Sydney's northern suburbs, about 40 minutes from the CBD by train. Take the North Shore, Northern and Western line to North Ryde station ($9.60 return for an adult - less with an Opal travel concession card). Signage is poor at the station and we did not see any taxis. At ground level, turn right and walk for about 50m. Turn left into Plassey Rd and follow this about 500m to the Lane Cove River Tourist Park and Plassey Rd park entrance. Our walk, towing suitcases, with temperatures in the mid-20s, took us about 15 minutes. Tip: Buy an Opal travel concession card as soon as you get to Sydney. This provides cheap travel on all trains, buses and ferries. Most buses now only accept Opal cards so don't offer the drivers cash.
The park
A 600ha oasis of bush walks and picnic areas alongside a stretch of the picturesque Lane Cove River. There are three main entrances - at DeBurghs Bridge at the northern end of the park and Lady Game Dr at the other, and off Plassey Rd, at the Lane Cove River Tourist Park. There are only two bridges, one at each end. The entire loop track is about 7km long. Walking from the tourist park entrance to Lady Game Dr and return takes about two hours, without stops. On weekends you can hire a canoe, rowboat or paddleboat at the Lane Cove boatshed, near Lady Game Dr. If you have a vehicle, there is a network of roads through the park and plenty of shady parking places.
---