Diana Noonan goes roaming in rural Armenia. 
Entering Armenia from arid Iran via the Nordooz border crossing is to be thrust into a world of shady canyons and refreshing green forest. Not even the lonesome, somewhat eerie walk across the austere concrete bridge that spans the Aras River and separates two vastly different interpretations of democracy can detract from it.
The greenness of southern Armenia's Arevik National Park, towering above the town of Meghri on the other side, and the freedom to at last abandon hijab and the watchful eyes of Iran's morality police, set our souls singing, yet could not detract from the fact that Armenia harbours its own dark and shameful secrets.
A dying rust bucket, piloted by a manic chain-smoking driver, sped us through the deep and dangerously winding road of the Meghri River gorge, and on to the town of Goris, four hours away, where we settled into a B&B.
Given that Armenia was part of the Soviet Union until 2010, the relatively new concept of accommodating foreigners in one's home may go some way to explaining why the establishment's walls groaned under the weight of governmental certificates of compliance.
From our bedroom window, framed by sour cherry and walnut trees, we looked out to forgotten Stone Age troglodyte cave-homes and a horse-riding shepherd bringing his cows in for the night down the dirt farm track that ran between them. Later, when we went exploring, we found the caves were not only unsignposted and sans interpretation of any kind, but inhabited by sheep, and littered with cigarette and sweet packets.
Tourism is only beginning to attract a serious following in Armenia, so in a country where an evening meal with wine costs no more than $NZ10, it was surprising to find we were less than an hour away from the world's longest return cable car line.
An engineering feat of spectacular magnificence, the "Wings of Tatev" is a world record breaker at 5.7km long. Spanning what is arguably the world's deepest gorge, it conveys visitors to and from Tatev, the oldest and most prominent monastery in Armenia. More marvellous than this, however, is that in a country where the annual average income is just $6000, the Wings of Tatev, built in 2010 to promote tourism, cost an estimated $20million to build. Much of the finance for the ambitious and somewhat bizarre construction came from private donations - or so claims the National Competitiveness Foundation of Armenia, which oversaw the project. But then, we were in a land of incongruities.
We went to see it, of course, and were welcomed aboard a space-age cable-pod by a young woman decked out in a starched side cap and powder-blue blazer that would not have been out of place in a Star Trek movie. She was happy to hold cameras and pose alongside cable riders, but was rather ineffectual in preventing the party of Israelis, with whom we were sharing the pod, from standing on their seats for a better view, and setting the car rocking dramatically above the river 320m below. On arrival at our destination, our hostess was not permitted to open or close the cable car's doors - something that was delegated to a male colleague.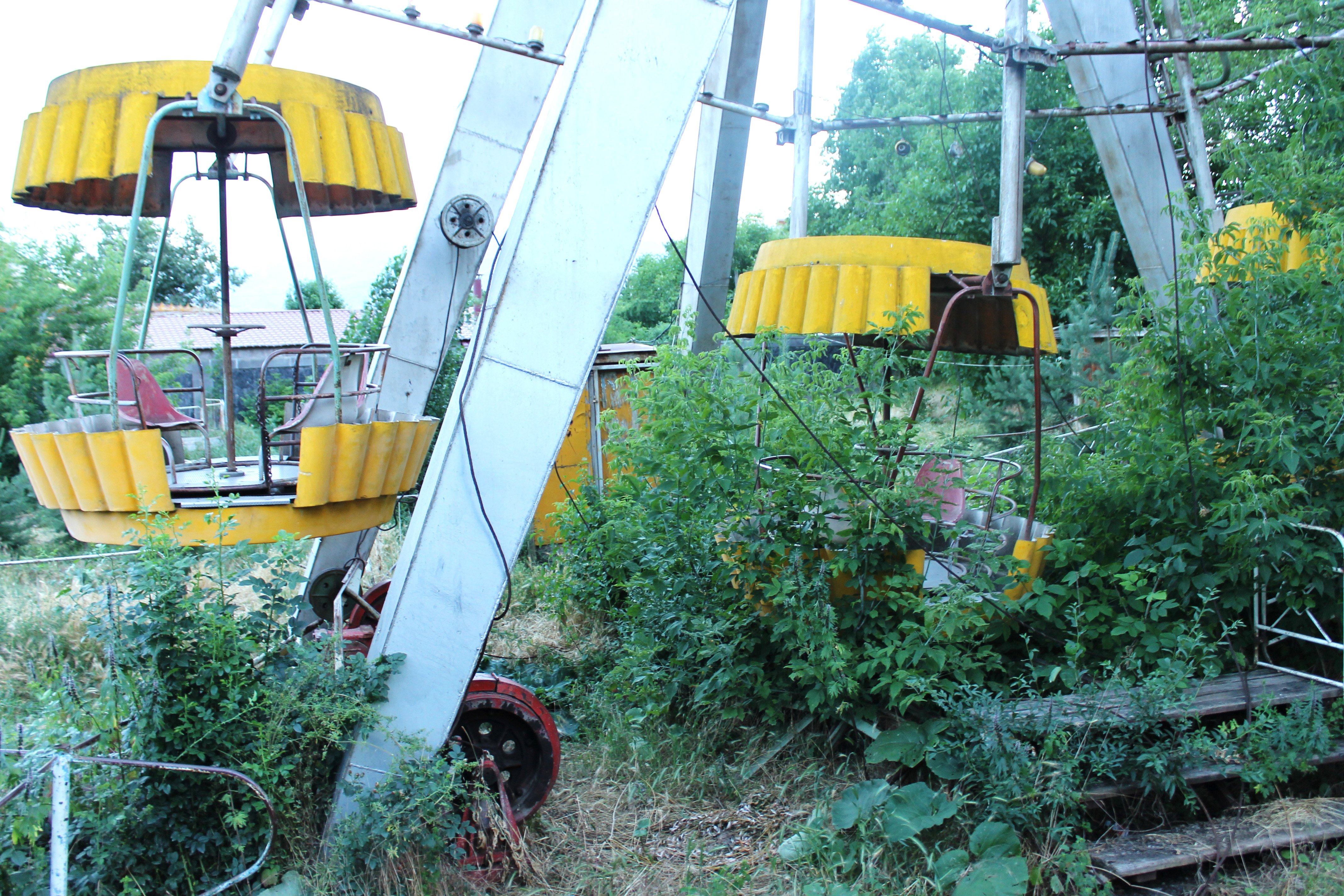 The bleak 9th-century Tatev Monastery perches on a cliff-edge high above the Vorotan River, and is still in use. A baptism was in full swing on the day we were there, so I took myself off for a poke around the outbuildings and discovered a bevy of antiquated beekeeping equipment that was obviously still in use. This, along with the fact that Armenia's monastic history has secured its standing as one of the oldest wine producing regions in the world, seemed somehow reassuring in the face of the cable cars whining along their steel ropes outside.
Also whining, but this time through holes bored through 7500-year-old standing stones an hour's drive away, was the wind at Karahunj. A 7ha site containing over 200 stones (some of them weighing more than 10 tonnes) the arrangement is thought to be an observatory of prehistoric origins.
To get there, we drove through wide plains striated with colours dictated by whichever wild flowers had managed to colonise the wheat fields first. White yarrow, orange-red Flanders poppies, and bright yellow tansy were the clear winners. Unfenced, the cropland was assiduously guarded from flocks of straying fat-tailed sheep by nonchalant shepherds with mobile phones pressed to their ears.
On the way to Karahunj we occasionally detoured through the deeply rutted streets of bleak villages dotted with Ladas and ex-army trucks. The drabness of the houses, with their rusting roofs was interrupted only by the excited flapping of exuberant young storks, exercising their wings in nests perched in the branches of pylons high above.
Outside its vibrant capital, Yerevan, Armenia is a strange mix of forgotten landmarks, wildly beautiful natural spaces, and the chequer-board stone block Christian churches the country is famous for. Dating back to medieval times, and often decorated with frescoes and carvings, this ecclesiastical architecture is defined by its satisfying chunky "squareness" (the height of these early churches often exceeds their length). We caught up with a cluster of them at Norovank, where they huddle within the confines of the Darichavay River gorge. To perch on the narrow upper balcony of one these churches is to stand in the doorway of more than 1700 years of Christianity, and to look out on a country that was the first in the world to embrace the institution as its official religion.
Less well known (you are sure to have the site to yourself) is the quiet and abandoned monastery at Yeghegnadzor a short way off. Set in a field of rough grass above a gorge of terraced fruit trees and, in summer, scythed hay, it drips in stone carvings, and is inhabited only by troops of blue-black swallows.
After our first few days in Armenia, we found we had become addicted to its B&Bs, due largely to the tasty meals they offered. We sought the accommodations out wherever they could be found, and were often personally handed over, with a phone call of introduction, from one host to the next. Breakfasts of salty farmhouse cheese inevitably ensued, along with thick yoghurt, home-made bread, and dishes of preserved apricots and cherries swimming in sticky syrup. Suppers were concocted from whatever grew in the garden - garlicky fried eggplant, courgette and tomato stew, green beans with egg, spicy stuffed cabbage leaves for the meat-eaters, and always a bowl of white mulberries for desert, or a chunk of Russian halva that, although deliciously sweet, looked not unlike a piece of farmhouse soap.
Rooms were modest - bare board floors, bulky quilts, and usually not a stick of furniture other than the bed - but they were always scrupulously clean and with the promise of loo paper and a plug in the hand basin to cheer things along.
Enjoying the warmth of summer, branches of ripening plums overhanging footpaths, and the pleasant drone of bees wherever we went, it came as something of a shock to learn, just as we were rattling along in a local bus with a perfect view of snow-covered Mt Ararat in the distance, that Armenia was not altogether the gentle country we had come to believe it was.
The news came via a young American Peace Corps worker who had hiked down from the mountain village where she was teaching English for six months and was heading to Yerevan for a weekend of socialising. Jammed up hard against me in our shared seat, she volunteered the information that set us thinking, and when I later checked out the details she'd relayed, I found that everything she'd told me was true.
It turns out that Armenia ranks third in the world, behind China and Azerbaijan, for female foeticide. While one baby daughter is acceptable, more are unlikely to be welcome, especially among a woman's in-laws. Families also demand that women remain virgins until marriage, and in rural communities especially, hymenoplasty is frequently sought out at great expense.
The country is also riddled with domestic violence, and it was only in late 2017, largely through the efforts of the Armenian diaspora, that legislation was introduced in an attempt to combat the abuse. Even then, the original wording of the draft parliamentary document was altered to include the aim of "restoring harmony in the family".
That evening, having had our impressions of rural Armenia somewhat dented, we ate dolma and lavash in a small town cafe with a view on to a derelict Ferris wheel, and decided to head for Yerevan, said to have adopted a more liberal outlook than the rest of the country. We were in the mood for a change.
Besides which, the Pope was due in town, so we knew the famous singing fountains in the city's central square would be at their best.