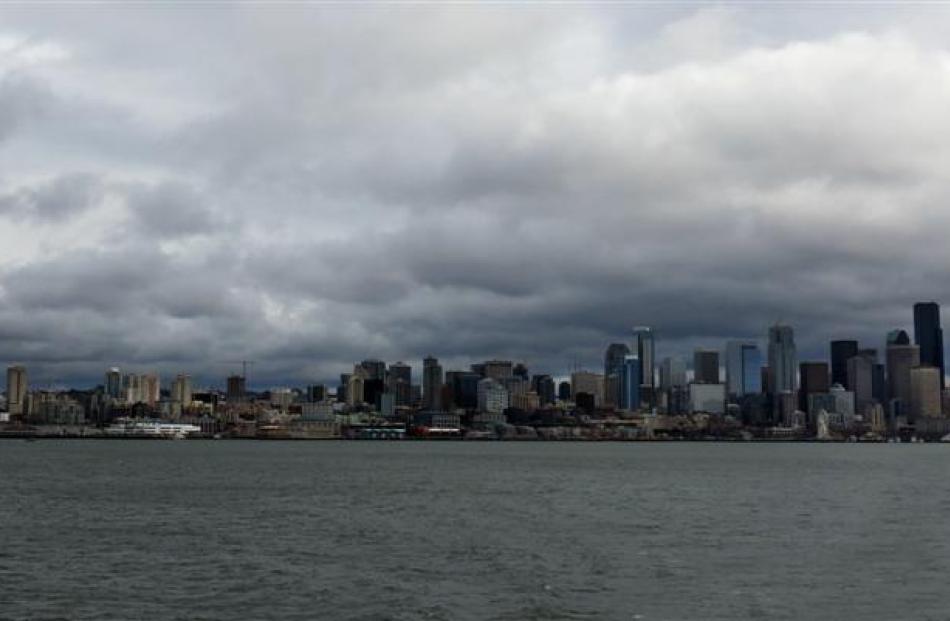 Despite the city's liquid sunshine, Debbie Porteous found there was plenty to see and do in Seattle.
Liquid sunshine was how the flight attendant described Seattle's weather on approach to the city's international airport.
I immediately felt at home.
And how it pelted down as we were swept along the freeway to downtown Seattle in one of our host's giant square FBI-style vans.
On the way, we passed the Centurylink Field, the home of the Seattle Seahawks who recently swept to their first victory in the Superbowl.
The Seahawks' win, we would learn, was still high on locals' radar.
There would be constant reminders, on shop walls and windows, hats, T-shirts, on thousands of eponymous all-American hoodies.
They were even a favourite at the Seattle Art Museum, where the famous bronze Broncho Buster was displayed on loan for three months after the museum won a friendly wager with the Denver Art Museum, from the hometown of the defeated Denver Broncos.
The museum itself is well worth a visit. Small enough not to be overwhelming or exhausting, it was our luck our visit coincided with an extensive exhibition of Joan Miro's works.
Well-practised beggars operating every downtown corner and a late-night walk around 1st and 2nd Ave and a darkened Pike Place Market revealed a grittier side of the city, also home to the Pacific Northwest's ''grunge'' rock and, possibly most famously, a band called Nirvana.
Pearl Jam, Soundgarden and multiple other bands hailed from Seattle, but Nirvana appears to be still its most famous product, even 20 years after Kurt Cobain's death.
An early morning visit to Pike Place Market was actually a bit of a disappointment.
Plugged by all spoken to as a must-do, it proved hard to even find something for breakfast at 9am.
No shops were open, only one fish could be seen flying (a market attraction), and there only seemed to be one level of six operating.
Turns out I was caught out by the late opening hours of Seattle retailers, who mostly opened up about 10am or 11am and stayed open until 9pm at night (although the market closed about 5pm).
A return visit at 3pm found the market at full throttle.
People everywhere, food from bagels, to landjaeger sausages, the northwest's ever popular salmon and crab, cheese made before your eyes, French pastries, new-season tulips, delicatessens, clothing, art, books, crafts, restaurants, whatever you want.
The buzz was crazy.
I was sad not to have a whole day to lose myself in the alleyways and shops.
If you want to get around Seattle, public transport is the way.
Nothing beats the people watching or city sights on offer on a bus or train.
It is also reliable, and cheap.
A bus from downtown to super-trendy Ballard - $2.25 return.
A 35-minute ferry ride across Puget Sound to Bainbridge Island - $7.25 return.
It's a $40 taxi-ride to Sea-Tac Airport but just $2.75 on the train.
Being a waterside city, Seattle is one of those places that should be seen from the water, and the ferry ride to Bainbridge Island is a great way to get an eyeful of the skyline.
The island, with its waterfront homes and craftsman-style houses is charming on approach.
On land, the action is relatively sleepy on a midweek morning and, after a brisk walk along the small town's main street and a lunch of hashbrowns, fried eggs and buttermilk biscuits at the quintessentially American Streamliner Diner, one is ready for the return trip.
With more time, a whole day spent discovering the island's plentiful art galleries, restaurants and delis would probably be on my to-do list.
Back on the mainland, the suburb of Ballard was next up.
Touted as as one of Seattle's hip, bohemian neighbourhoods, it did not disappoint.
Not dissimilar to Melbourne's Fitzroy, it was easy to see why all the cool kids brunched on the historic Ballard Ave at the weekend.
Even on a quiet weekday there were plenty of cool cafe options, and a great choice of cute children's, gifts and homewares stores to browse in afterwards.
It was also a great spot to reset after a few hours watching the boats move up and down the nearby locks on Seattle's working waterfront.
Observing the city from on high is also a must - traditionalists will go for the Jetsons-style Space Needle and I would too.
But the day I went, a news crew helicopter had crashed nearby, killing its two occupants.
The Needle was closed out of sympathy to the families and colleagues of the two men, who were working for a local news agency based across the road.
So I trod the half-hour walk back downtown, observing the city's fascinating architecture as I went. The Seattle Public Library, in particular, is stunning.
Like New York, Seattle has a secondary lookout, which in my opinion (of both cities) is actually better than the main attraction.
In New York you can go up to the 70th floor of the Rockefeller Centre and see the Empire State Building and the city in its glory.
In Seattle, you can go up to the 73rd floor (after working out the lift maze to get there) of the Columba Centre and see the Space Needle and the city in its glory.
I can also fully recommend my hotel of choice, the Moore Hotel, which, for the price, location and history, was tops.
The tiger-print carpet and see-through purple curtains in the hall, gave some inkling of the rock-star history of the place, which is attached to Seattle's oldest still active music venue and theatre, the Moore Theatre.
It's in Belltown, where there are some fantastic bars, restaurants and cafes and only blocks from Pike Place Market, downtown shopping and the Seattle Centre.
Throw in meals in a few restaurants with top-notch wine and food, and a visit to the mind-blowing Boeing Factory in nearby Everett, and a few days in Seattle is too easy to fill.
• The writer travelled to Seattle as a guest of Air New Zealand.