Arriving in Sydney with no luggage could potentially be a way to ruin one's holiday, but not for Louise Frampton,  who discovered Sydney's beaches, restaurants and shows were just the places to forget about the rough start to her holiday.
Relaxing on a ferry travelling to Watson's Bay with the sun warming our backs, myself and my partner had a chance to put our worries of no luggage into the back of our minds.
We had flown in the day before from Auckland, but unfortunately our luggage hadn't. We weren't the only passengers affected. The forlorn look of six other passengers staring rejectedly at an empty luggage conveyor belt signalled the realisation that our plans had just gone astray.
Rushing to dinner and a show in the same clothes we had flown in was definitely not part of the plan, nor was making a dash to the 24-hour corner store for emergency supplies.
But finally, the next day, we started to relax and appreciate what a beautiful city Sydney truly is. As the ferry crossed the glistening harbour it gave us the chance to admire unobstructed views of the harbour bridge and Sydney Opera House and the multimillion-dollar real estate we could only dream about.
On arrival at Watson's Bay we were greeted by stand-up paddle board instructor Terry McDermott from WatsSup.
A Bondi Beach lifeguard, he seemed a patient man, which was an attribute he was certainly going to need to coach two novices like ourselves.
After expert on-land instructions, we were ready to show our prowess - or not as it turned out.
Terry made it look so simple, `` . . . once on your knees, get up a good speed and then spring on to your feet''. Yeah, right!
After three or four unplanned dips into the warm water, I was certain we were going to be one of Terry's first failures.
But as determination set in, stand up we did. As our wobbly legs began to relax, we managed to slowly paddle to a couple of bays and admire the real estate before heading back.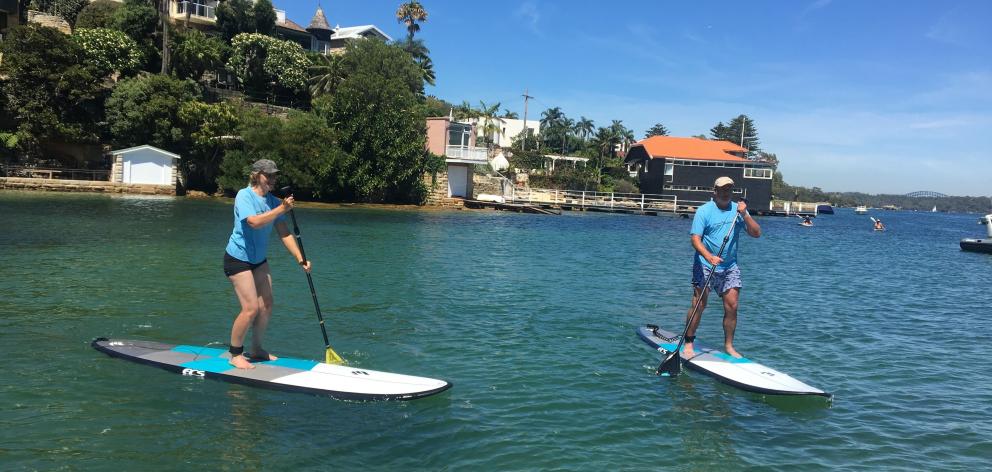 And despite our initial failures, we actually enjoyed it. There's nothing like trying a new challenge to make a holiday more memorable.
Visiting Sydney in January definitely had its advantages. Not only was it an ideal time to take advantage of the golden beaches, but it also coincided with many top art exhibitions and stage shows.
We timed it perfectly to see Pipilotti Rist's Sip My Ocean exhibition; Muriel's Wedding The Musical; as well as Riot - a variety show part of the Sydney Festival.
Rist's exhibition at the Museum of Contemporary Art took up the whole third floor. She uses computer pixels as her medium of choice rather than paint.
The audience engages with the exhibition by walking through a forest of pixels (hanging lights) or laying back in couches, beds or cushions to view images of nature projected on to the walls, ceilings and floor while tracks such as Chris Issak's Wicked Game play in the background. It's an interesting concept that gives viewers the opportunity to escape the outside world and plunge themselves into Rist's predominantly underwater images.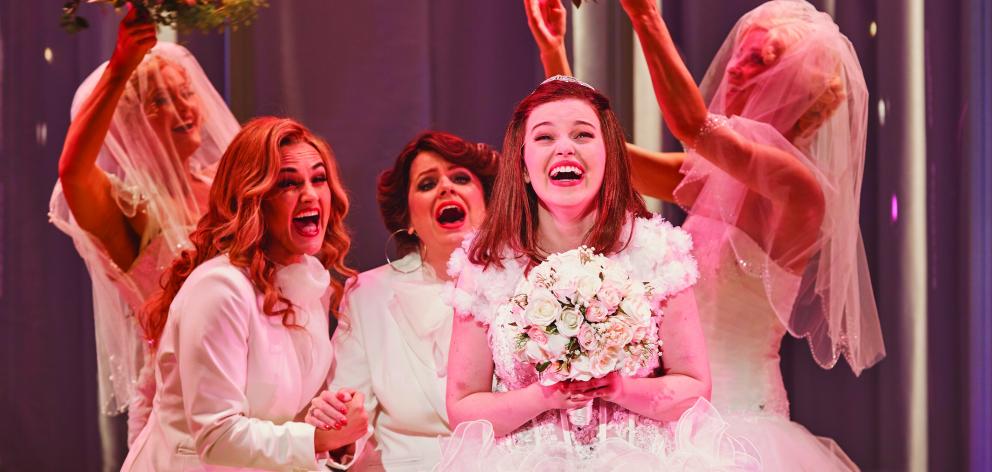 This peaceful exhibition was in stark contrast to Riot - an Irish variety show, part of the annual Sydney Festival.
Promoted as a disorderly cocktail of partying and politics, the 10pm show melded a drag queen, Irish dance, circus acts, poetry, comedy and song.
These were individually talented performers putting together an absurdly eclectic show which definitely lived up to its name.
In one act Irish dancers performed with large pink balloons pulled over their heads, whereas in another act a circus performer, wearing a mankini, bent himself in half to fit through a hoop that looked about 40cm in diameter. You can only imagine the view.
But Miss Panti Bliss and the crew of Riot had the audience members in hysterics and delivered a show not to forget.
But my highlight was Muriel's Wedding The Musical. An adaptation of the iconic Australian film, it was sold out for the last two weeks and a return season has been announced in Sydney for July 2019.
The opening scene of brightly coloured bikini-clad surfers and girlfriends epitomised the iconic image of Australian beach life to a tee and set the scene for a brilliant adaptation of the original movie.
Bringing Muriel up to date in the age of social media by giving her a Twitter account was a clever idea. Add in fabulous singer Maggie McKenna (Muriel) and her live Abba band and you have a top-class musical.
No longer will people be saying ``Muriel, you're terrible,'' after this show it will be ``Muriel, you're amazing''.
Where to eat
 • Henry Deane Lounge, upstairs at Hotel Palisade, Millers Point
Just a 13-minute walk from Circular Quay Wharf, the Henry Deane Lounge is a great place to start your dining experience in Sydney. With views of the harbour bridge, the rooftop bar and restaurant was buzzing. It specialises in ''sharing plates'' such as roast cauliflower and smokey sauce, baby octopus with chilli and lime and grilled lamb cutlets with tricky sauce.
 • Watson's Bay Boutique Hotel
On the waterfront at Watson's Bay, diners sit outside under blue and white striped umbrellas looking across the bay to Sydney's centre. It has a casual approach whereby patrons order food at the bar and then collect it themselves. But don't underestimate this hotel. With choices ranging from beach classics to an impressive selection of seafood, it has an extensive menu sure to keep food connoisseurs more than satisfied.
 • Chin Chin
The Chin Chin brand is regarded as one of the most popular restaurants in the country, serving an Australian take on Asian food. With impressive service, it's popular. Don't even think of turning up without a booking. But, a warning: it's loud. Located in the historic, heritage-listed former Griffiths tea building in Surry Hills, the sounds of 200 diners laughing and chatting bounces off the concrete walls competing with the background music. It's not for a quiet night out, but if you're in a party mood, it's the place to go.
 • Louise was a guest of Destination NSW and stayed at Fraser Suites. She flew Virgin Airlines and was reunited with her luggage after 26 hours.