Pam Jones takes a trip through the Teviot Valley and down memory lane as she shares in a milestone birthday that reminds her of a simpler time.
Age might weary most of us eventually, but advancing years do not seem a problem for the leader of this trip.
Helmet on securely and satchel slung diagonally across his back, my father is off like a rocket on our anniversary trail journey.
A seasoned motorcyclist for decades of his life, the electric push bike is clearly well within his capabilities and I can't keep up with my own pedal power. Literally, I cannot see him for dust as he heads off straight as a die, on a mission with strategy, purpose and a glint in his eye.
This is what a 70th birthday present looks like: Dad casually mentions he'd "quite like" to cycle some of the Clutha Gold Cycle Trail to revisit the stomping ground of his youth (he grew up on an orchard in Roxburgh East, knowing the eddies and bays of that section of the Clutha River like the back of his hand) and his eldest daughter (me) decides an electric bike will do the trick.
So a surprise birthday voucher ensues, plus the offer of company for the bike ride: three generations are planned, myself, my youngest son, and Dad.
You know that saying about giving the gift you would like to receive? It's a delicious feeling knowing I'll benefit from the trip as much as anyone, and in a lovely expansion of the project Dad's sister Robin and her youngest daughter come on the trip as well. We all end up sharing the fruits of the gesture, five family members travelling both together and for their own purpose, enjoying a riverside trail and our own reflections on three score and ten.
The 73km trail, opened in 2013 at the same time as the Roxburgh Gorge Trail (which goes from Alexandra to the Roxburgh Dam) runs from the Roxburgh Dam to Lawrence. Almost two-thirds of it runs alongside the Clutha Matau-au River and then it heads inland at Beaumont; points of interest include various gold-mining relics. You can also call in at the local swimming hole Pinders Pond, detour to the historic Lonely Graves and of course wander in to Roxburgh for a pie from the well-known Jimmy's Pies.
It all honours life in the Teviot Valley decades ago, a simpler time that in my mind produced generations of hard-working, patient, civilised, intelligent folk.
The eldest of three children to orchardists Bert and Alma Jones, Peter Jones combined studies at Roxburgh Area School with work on the orchard, as did every other orchard youngster at the time.
Oil-pot frost fighting, paddock tractor driving, stonefruit picking and No 8 wire repairs and inventions were par for the course for a schoolboy who benefited from a gentleman-country boy father and countrywoman-school teacher mother.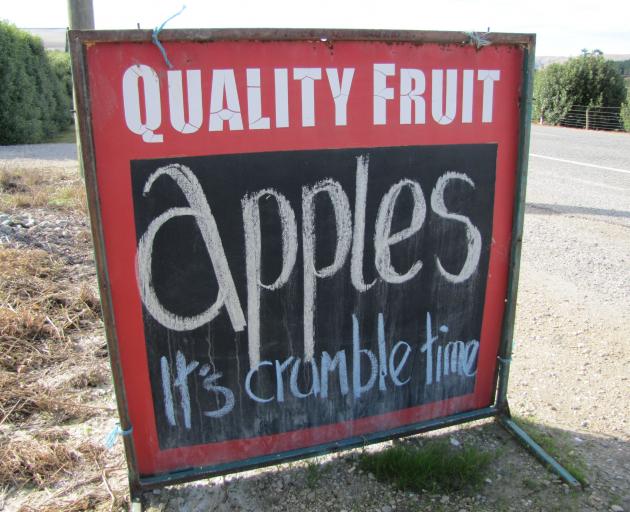 "It was a very privileged upbringing", Robin once said to me, "privilege" meaning the freedom, fresh air, respect, honest food and opportunity Bert and Alma provided their children in unlimited measure.
I'm certain Robin's definition of privilege would benefit many not as lucky as the Jones children, but feel secure knowing the children of today's Teviot Valley are under the tutelage of another generation of orchardists and others possessing generosity and integrity.
Are those children doing the same things my father did in his youth, or that I did in my own Central Otago upbringing?
Deciding to cycle just the modest 20km return stretch of the trail between the dam and Roxburgh itself (we may not yet be wearied by age, but we're not silly either, none of us as fit as the 16-year-old in our group), we wax nostalgic as we quietly follow the river - initially downstream - the stories coming immediately.
This is where Dad and one of his mates crawled across an old suspension bridge that was so patchy when they got to the other side they weren't brave enough to cross back, then having to walk a several kilometre loop around the top of the Roxburgh Dam back to the start point to collect their bikes, which were parked just a stone's throw away on the other side of the bridge.
This is where Dad and his sisters used to go on family picnics and apple picking missions with their wise, gentle parents, following family trails to the river but never once disrespecting the rules and sneaking off to banned places by themselves. ("Did you always obey your parents?" I asked Robin. "It never occurred to me to do anything else," she replied.)
This is where Dad used to call in at the Teviot River on his way back from school every day, and have a quiet fish with the rod he kept behind a tree there and tucked back every afternoon. The eeling was good, too, and any catches were taken home to the family to be cooked up and enjoyed.
It all seemed so straightforward, and the stories continue, amid autumn willow leaves.
The Jones family orchard featured the usual stonefruit crops but plenty of combination trees too, and Bert Jones was described by his children as the "acknowledged expert" in grafting in the area at the time.
A patient teacher, he advised and assisted many orchardists and injected some fun into his own proceedings: Robin and Dad gleefully remember the "fruit salad" tree on their orchard, which featured plums, nectarines, peaches and apricots on the same tree.
A "Bert Jones block" still remained at Darlings' orchard, in Ettrick, family orchardist Mark Darling said. The "red delicious" apples Bert grafted for the orchard were well gone, but the pears in their place continued to produce sweet fruit each season.
Bert's wife Alma left a strong legacy too. Former pupils still remember her focused teaching at Roxburgh Area School, and artists and craftswomen benefited from her stewardship as she shared her own talents, painting, sewing, crocheting and hosting huge "cook-ups" at the back of her orchard, where pots of sheep's wool were boiled up with various lichens to produce an earthy rainbow of dyes.
Former long-time orchardist Stephen Jeffery said that creativity and resilience were still trademarks of the Teviot Valley, where those in the horticulture and agriculture industries continued to adapt to change, and locally driven projects and events forged on.
A fierce advocate for the valley as a long-standing Roxburgh ward district councillor and community board member, Mr Jeffery was also chairman of the trust which built the Roxburgh Gorge trail, and is now chairman of the Central Otago Queenstown Trail Network Trust, which is overseeing $27million of spending on more new trails in the district.
It was his undying belief in the Teviot Valley and wider Central Otago that fuelled his work, Mr Jeffery said.
"I just want the Teviot Valley district to stay vibrant, innovative and connected in a fast-changing world."
Rosehips, poplars, wild lilac and hawthorn look over us as we consider all of this, pausing to slurp on a Benger Gold juice just below the house where Dad grew up. (Later, the family would move to Coal Creek, living on the much-loved orchard I remember as a child.)
The pitstop also produced another interesting tale: Robin and Dad both remember the filling of Lake Roxburgh in the 1950s when the Clutha River downstream of the dam was completely drained for a period of time. Able to walk on the river bed for the first time in living memory, residents flocked to the gravel to pan it - with traditional gold pans but also hubcaps - for the gold they felt sure was sitting near the top. For most it was a fun day's activity but others struck it rich: one Millers Flat farmer was reputed to have collected enough gold to pay off his mortgage.
Later at a Teviot River stop we talk more about the Teviot Valley of old as well as the wonders of electric bicycles, which were mastered quickly by the middle and older-aged of the group.
"Every now and then I channel my inner 12-year-old and things go smoothly," Robin says, as I ask how the modern mechanics are working for her.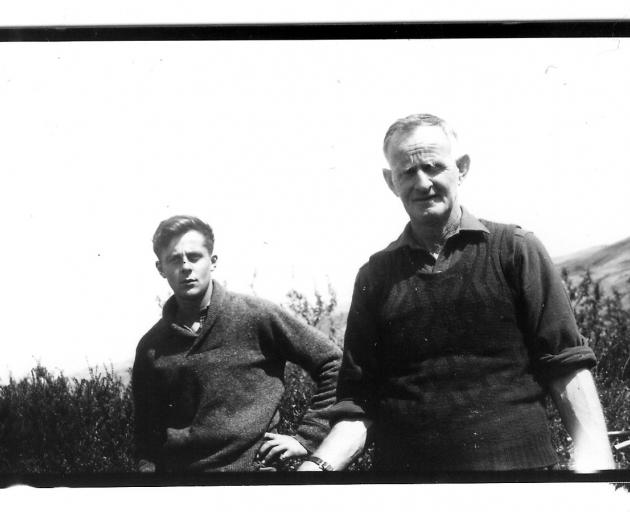 Three years older than his sister, Dad, I suspect, is therefore channelling his inner 15-year-old as he shoots off back towards the Roxburgh Dam to finish our trip.
The verdict from all?
Dad's happy, the trip's an undeniable success - a nice snapshot for the family album of memories and one of the better birthday gifts I've given my father.
My wise uncle once mulled over the inevitable changes in families that occur upon the passing of grandparents, the dilution of family units without the unifying patriarch and matriarch who inspired compulsory but precious joint gatherings.
How true, which makes trips like this all the more important.
I treasure the family footnote to a trail that reflects the deep love many have for the Teviot Valley, and the commitment of today's generation to keep it all going.