Apparently, "attending a Tami Neilson concert is like attending a lecture" is how one reviewer described a previous concert... and this is exactly what she did.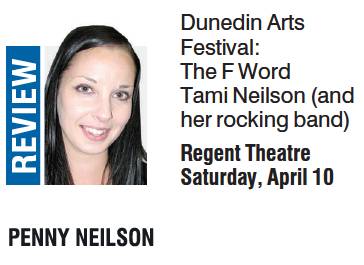 The F Word is a history lesson in feminism, women's liberation and ultimately a celebration of female empowerment. The show is narrated by Dr Jada Watson, played by Olivia Tennet, from the University of Ottawa, where she introduces each country music artist with a bit of background history before Neilson performs their songs.
Tami Neilson is no relation to me, but man, I wish she was: she is just so cool, calm and collected. Karaoke this is not, Neilson brings all of her admiration, adoration and sass to the entire performance.
Her rocking band is made up of Brett Adams (guitar), Chip Matthews (bass), Tom Broome (drums) and Neil Watson (on the very awesome slide guitar) along with local support from Jenny, Maegan and Nicola Mitchell as her back-up singers.
There is even a mini Grand Ole Opry on stage as a poignant nod to country's ancestral home.
The opening song,
Stand by your Man
, by Tammy Wynette sets the tone for an amazing night of music and laughter - Neilson is also somewhat of a comedienne - the set list is mostly a chronological story featuring some of the best of what country music has to offer.
Wanda Jackson, Emmylou Harris, Loretta Lynn, Patsy Kline, The (Dixie) Chicks and of course the one and only Dolly, to mention a few. Jolene will always be my favourite country song.
Watson's history lesson is coupled with a PowerPoint presentation, which makes this "lecture" all the more profound and provocative, the slides remaining while the band performs, allowing the audience to fully take in the importance that these women represent in getting female artists to where they are today - although the work is not done yet.
Another standout is the first of the two encores. A brand new song, cowritten in a recent workshop by Neilson and Jenny Mitchell, Trouble Finds a Girl is a promise of things to come from a phenomenal talent. We will see big things from Mitchell.
Neilson's performance is both endearing and powerful, and her voice is simply incredible.
The only negative is that Saturday's performance was the only one for Dunedin to enjoy.