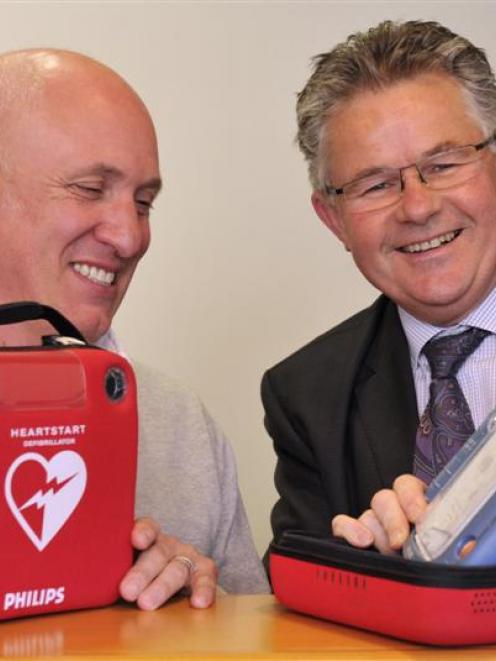 A grateful Dunedin Management Venues Ltd chief executive David Davies (left) checks two donated external defibrillators (AED) as Dunedin cardiologist Associate Prof Gerard Wilkins explains how they work.
AEDs can restart a person's heart after cardiac arrest and require no medical training to use.
Prompted by a letter in last Friday's Otago Daily Times taking issue with the fact the Forsyth Barr Stadium had no AEDs of its own, Prof Wilkins organised the donation of two left over from research at the University of Otago.
The international research, of which Otago was part, looked at whether there was a need for individuals to own AEDs. Researchers concluded it was best for them to be stationed in public places, making the stadium donation fitting.
"The largest place in Dunedin where there will be people getting excited will be the stadium," Prof Wilkins said.
The devices were fully automated and instructed people what to do, including whether to apply a shock.
Mr Davies said the AEDs were unlikely to be in action during the Rugby World Cup because St John would attend with its own. They could be most useful for events the emergency services would not attend, such as conferences.
Worth about $3000 each, they would be bracketed to walls, probably after the tournament.
St John advises on its website that AEDs can increase survival rates by up to 40% for sudden cardiac arrest.