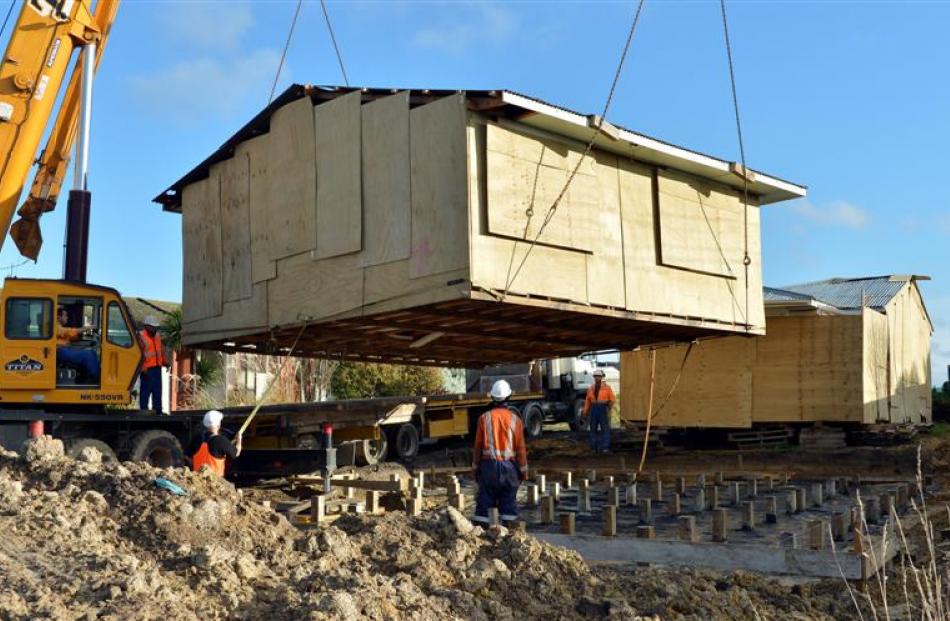 A house from Christchurch's red zone has been given a new lease of life in Dunedin after it was saved from demolition and brought south by truck.
Half of the house, from the quake-devastated suburb of Burwood, was winched on to its new foundations in the suburb of Corstorphine by a crane yesterday, and the other half - which is already on site - is to be lifted on to the foundations in about a week.
It was one of six to be moved by Dunedin house-relocation company Patterson Contracting, which is selling the houses for a dollar and only charging buyers transportation costs.
Company owner/operator Brent Patterson said yesterday's job was the first house from Christchurch's red zone it had relocated to Dunedin.
The company had been saving houses from demolition since February. Other houses had been moved to locations around the South Island, including one to Waikouaiti, Mr Patterson said.
"It's a win-win for everyone, because they get rid of the house for nothing, someone gets a free house, and we get the transportation work out of it," he said.
The former owners of the houses were also "stoked" they were being reused, as opposed to being demolished.
He said it and other relocation companies would save only a small proportion of red-zone houses: many would end up as fill in Lyttelton Harbour, where the wharf was being extended.
"It's a good opportunity to do a bit of recycling and do the right thing, I suppose."
Before being moved, each house was checked by an engineer to ensure it had not received earthquake damage.
Despite a housing shortage in Christchurch, few houses were being reused there, because of consent issues, he said.
"They want to get a new city out of their earthquake, so the [Christchurch City Council] make it about as hard as they can [to reuse old houses]," he said.
The company hoped to save and relocate at least another 10 houses, he said.