The team of five million has now had five million doses of the Covid-19 vaccine.
The five million-dose milestone was passed yesterday after a further 51,000 vaccinations were dispensed on Saturday, a Ministry of Health spokeswoman said.
Just over 1.7 million people are now fully vaccinated.
In the Southern District Health Board region, just over 363,000 injections have been given and 80% of eligible people have had a single dose.
About 45% of those people are fully vaccinated.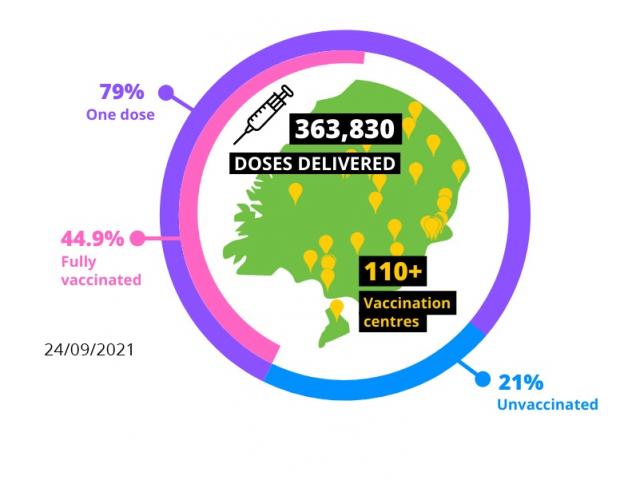 A total of 34 community cases of Covid-19 were reported over the weekend, all in Auckland.
A further four cases were reported in quarantine, three of which were historic cases.
Four out of 12 patients in hospital with Covid-19 were in intensive care.
In recent weeks southern health officials have prioritised encouragement for isolated settlements or communities which were difficult to contact for them to be vaccinated.
To that end, WellSouth cross-cultural navigation staff helped organise a clinic at Dunedin's Al Huda Mosque aimed at members of ethnic communities.
"We are blessed in Dunedin that we have a hall in our masjid that we can use the space for everyone to come together and get vaccinated, not just Muslims, but the wider community," Otago Muslim Association chairman Dr Mohammed Rizwan said.
"It's really important to fight against this pandemic."
WellSouth clinical services manager Katrina Braxton said Otago and Southland had 110 pharmacies, general practices and Maori and Pacific health p0roviders which offered vaccinations, as well as the major dedicated clinics in Dunedin and Invercargill.
However, targeted clinics like the one at the mosque late last week played an important role, she said.
"We know that making the vaccine accessible is important to increasing uptake and we're pleased to be able to help support delivery the vaccine at a time and in an environment that that is familiar and comfortable."
Covid-19 response minister Chris Hipkins yesterday took issue with an opinion column written by former Prime Minister Sir John Key, which called New Zealand "a smug hermit kingdom" in its response to Covid-19.
Mr Hipkins said it was an insult to New Zealanders who had achieved some of the highest rates of freedom in the world "by going hard and going early."
Sir John's column, which ran in several publications and on www.odt.co.nz, called on the Government to draft a coherent and public plan for how the country would focus in a post-Covid environment.
Mr Hipkins said many of the actions Sir John had called for were already happening.