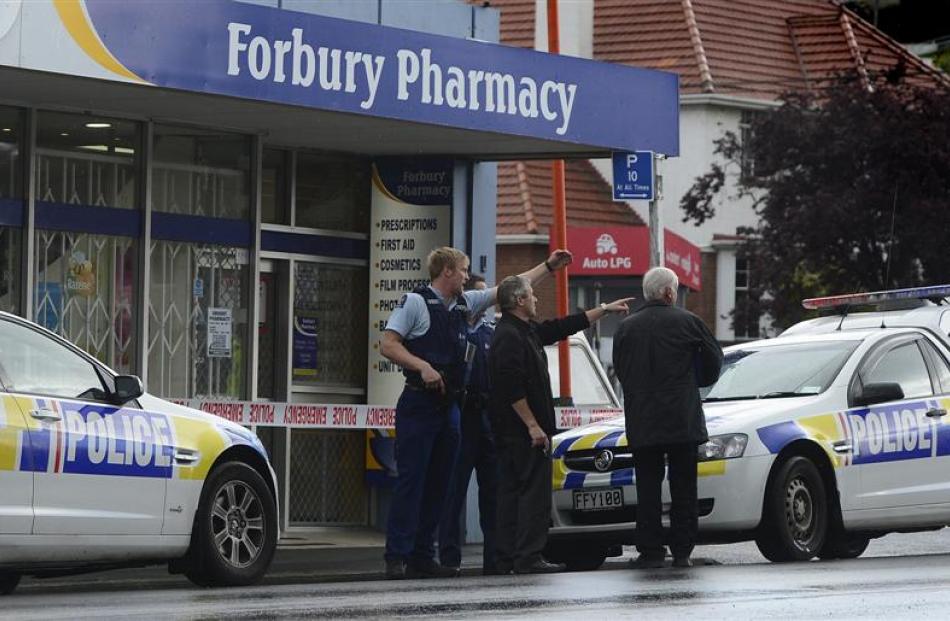 Members of the public are being praised for helping Dunedin police capture a man who threatened three pharmacy workers with a knife, tied them up and robbed the shop last night. 
A 45-year-old Dunedin man has been charged with two counts of aggravated robbery.
Detective Sergeant Brett Roberts said a man entered the Hillside Rd pharmacy about 5.30pm wearing a balaclava and told a staff member he had a knife.
While the man was restraining the three staff members with tape, a member of the public outside the shop noticed the incident and called Dunedin police, Det Sgt Roberts said.
When police arrived, members of the public were able to point officers in the direction of the man's escape.
The man was pursued into nearby Ruskin Tce, where he allegedly told police he had a gun.
Det Sgt Roberts said the man was pepper-sprayed and taken into custody.
The man had a bag with him, but police were unable to say last night what was in it.
They said circumstances of the robbery were similar to another at the pharmacy in July, in which the offender was never caught.
A knife-wielding man made off with a quantity of prescription drugs following an aggravated robbery which occurred about 5.25pm on July 5, just before closing time.
The man had herded the five staff members into a back room.
The offender stole prescription drugs and left the pharmacy, running off along Ruskin Tce.
Det Sgt Roberts praised the public for their assistance and the calmness of pharmacy staff.
"We're absolutely pleased the man was caught.
"This robbery was solved by members of the public getting involved and reporting the activity to police and pointing out the offender decamping.
"They acted correctly in not getting involved, but were invaluable to solving this armed robbery."
The staff released themselves and were unharmed.
They were shocked and seemed to be coping "admirably well" following the incident.
Det Sgt Roberts said other charges would follow.