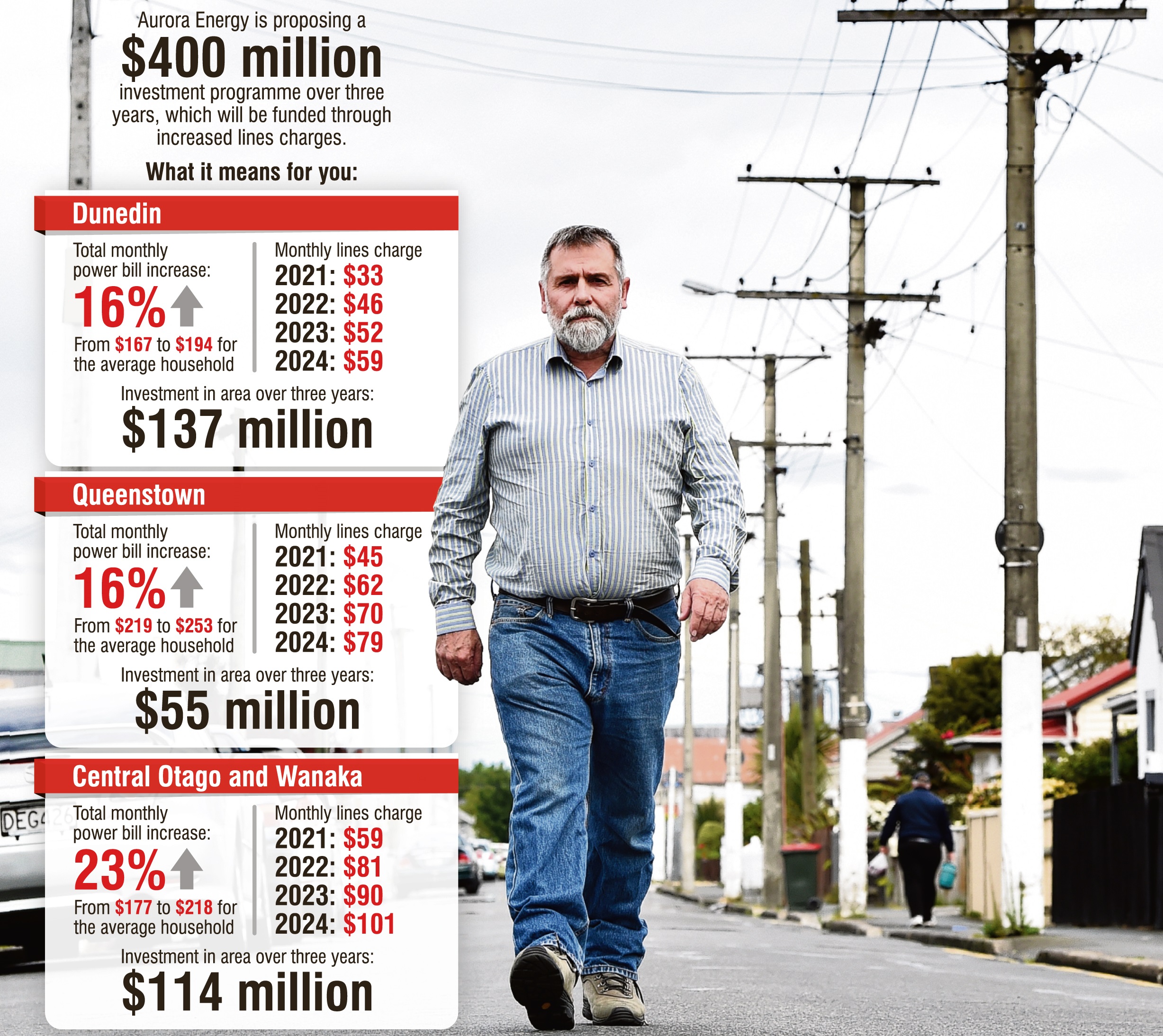 Power price hikes of up to $500 a year are a result of ''deliberate and sustained negligence'', a Dunedin MP says.
Aurora Energy yesterday released its draft pricing structure, which outlined a three-year, $400million programme to tackle ageing electricity infrastructure in Dunedin, Central Otago and Queenstown.
Aurora chief executive Dr Richard Fletcher said the proposed plan was about the ''prudent investment that is essential to meet the needs of our communities now and into our future, to address the errors of the past and position the network for its future use''.
It outlines estimated increases in residential line charges of up to $21 a month in 2022, or $252 for the year, followed by up to $10 a month in 2023 and 2024.
The announcement has come under fire from both Dunedin South MP Clare Curran and Queenstown Lakes District Mayor Jim Boult.
Ms Curran said the price hikes would severely impact on households.
''People on fixed incomes, low and medium wages simply cannot afford an extra $250-$500 annual price increase for a basic utility.''
The increases were the result of years of under-investment in basic infrastructure by a council-controlled company that had never been held accountable for its negligence, she said.
''In my view, Aurora has stuffed up big time and their plan is not prudent. It's deliberate and sustained negligence.''
She said the price increases were well flagged, but not by Aurora or by its owner, the Dunedin City Council.
''Instead, it took the research work of a former employee turned whistleblower to warn people that big price increases were coming.''
That whistleblower was Richard Healey, who yesterday said his reaction to the report was ''despair''.
''For three years, I've been predicting that this is coming - not only that it was coming but the degree of harm that this was going to cause.
''It's one of those days where you just don't want to be right.
''Energy poverty is a real thing and this is going to spread it.''
Meanwhile, Queenstown's council is preparing to fight the proposal.
Mr Boult said the increase was ''in large part a result of highly inflated dividends'' paid by Aurora to the Dunedin City Council.
''I would suggest this money should have been invested more wisely in maintaining and improving Aurora's infrastructure and, if it had been, this situation would not be before us now,'' he said.
He believed the Dunedin council should consider a capital contribution to Aurora to help address the infrastructure issue.
He had asked staff to prepare a submission to the Commerce Commission strongly opposing the proposal.
Central Otago Mayor Tim Cadogan also had reservations, saying while the community had been clear with Aurora about the need for infrastructure improvements, he was concerned about the impact of significant price increases.
Dunedin Mayor Aaron Hawkins agreed there would be some households that struggled to absorb the cost, but because price increases would not take effect until July 2021, there would be time to look at ''how we can make it easier, through supporting more energy-efficient housing, for example''.
He acknowledged it was a more sudden change than it could have been, but said it was important to note line charges would have increased whenever the work had happened.
''It's also about more than playing catch-up - it's future-proofing the network.
''Electrification is going [to] play a big role in our zero-carbon transition, and we need to make sure our infrastructure isn't an obstacle to that.''
Dr Fletcher said the company acknowledged the price rise would be difficult for some customers. But the alternative was a continued deterioration in the safety and the reliability of the networks, he said.
''In Aurora Energy's case, low levels of investment in the intervening decades has helped keep line charges lower than the national average but has led to a gradual deterioration of the electricity networks which power our communities and economy.''
Across the entire network, the monthly total electricity bill was expected to increase on average by 18% for households.
The proposal will form part of Aurora's application to the commission, for a customised price-quality path rather than staying on a default price path, expected to take effect from April 1 2021.
Public consultation will take place until January.