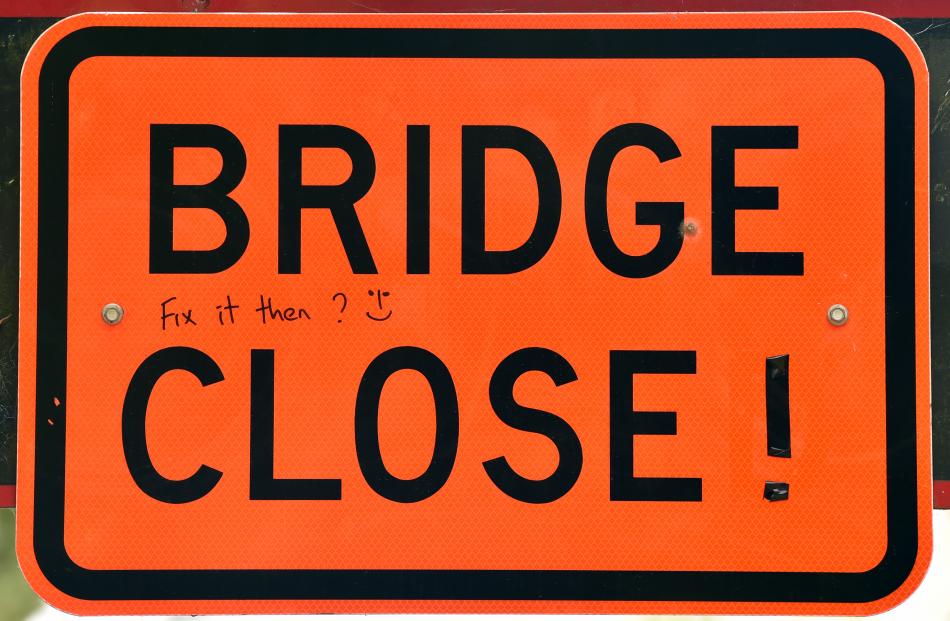 Just fix it then.
That was message left by an unknown writer on a ''bridge closed'' sign on a Waitati footbridge late last week.
Boards installed by the Dunedin City Council stopping people from using the potentially dangerous bridge were also removed.
In July debris-strewn floodwaters damaged the important footbridge, but five months later it is frustration which is rising in the Waitati community.
The suspension bridge had initially been closed, using gates, but after some people continued to cross, entrances to the bridge had been boarded up in recent weeks and warning signs added, making it harder to cross.
Residents say that continued closure of the bridge, at the end of Erne St, interferes with ready access to Waitati School, on the south side of the Waitati River, north of Dunedin.
The closure has also limited access to the recently-completed Orokonui Lagoon Walk, formally opened by the Dunedin Mayor Dave Cull in November.
Speaking to the Otago Daily Times yesterday Waitati resident Kate Morrison said many residents were pleased someone had taken the issue into their own hands.
''You could say there have been one or two residents making the most of the bridge since the boards came down.''
The boards being removed showed how fed-up the community had become with the situation, she said.
The Otago Daily Times was unable to speak to anyone at the council yesterday but last week group transport manager Richard Saunders said the July floods had caused extensive infrastructural damage which was being repaired as quickly as possible.
The city council, with its contractors, was ''working through'' about $12million in flood-related repairs, including to bridges.
People with concerns should raise them directly with the council or talk to their community board, he said.
Waikouaiti Coast Community Board chairman Alasdair Morrison said the bridge was not safe, and he appreciated that extensive overall repairs were needed.
The board had been regularly raising the bridge issue with city council authorities, and the solution was simply to ''get on with it'' and undertake the repairs, Mr Morrison said.
But residents are fed-up waiting on the council to fix the bridge.
Waitati resident Gerry Thompson said the bridge was a ''vital link for the community''.
Others said urgent repairs were ''really important''.
Parent Fleur Sculpher said it took up to 20 minutes longer to walk her three children to school.
Blueskin Bay community librarian Louise Booth said there had also been concern over the ''lack of communication''.
Residents would benefit from learning more about plans to repair the bridge.
Adding an information board with a map, at each end of the bridge, explaining about where and how to access alternative routes would also help visitors who lacked local knowledge.
A family which had recently driven out from Dunedin had been ''most disappointed'' that they could not access the Lagoon Walk as intended because the bridge was closed, she said.
- Additionally reported by Tim Miller