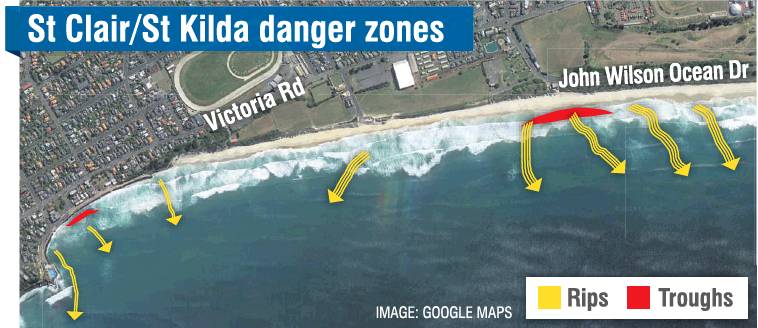 A surf life-saver has sounded the alarm about potentially lethal troughs in the sand at St Clair and St Kilda, after more than two dozen people were rescued at Dunedin beaches in the past week.
St Clair Surf Life Saving Club chairman Cam Burrow said there were 15 rescues from St Kilda Beach at the weekend and five at nearby St Clair - along with 30 people assisted to shore by volunteers - over the scorching two days.
Several more swimmers had been rescued over the past week, he said, including three Indian men caught in a rip at St Clair Beach near the St Clair Hot Salt Water Pool on Wednesday night.
Many recent rescues happened due to the ''massive troughs'' near the shoreline of St Clair and St Kilda Beaches, dug deeper thanks to sand movement and the swell, Mr Burrow explained.
''People can go from knee deep water to over their head [in] a step.
''All of a sudden they're in the trough, they can't touch the bottom and they panic.
''The majority of our rescues are coming from those troughs, especially at St Kilda.''
Another common subject of rescues were beginner surfers.
''There seems to be a lot of people with surfboards that don't necessarily know how to surf.''
He urged those keen on a dip to stick to patrolled beaches, which this weekend would be St Clair, St Kilda, Warrington and Brighton, from noon to 5pm.
Because of the troughs and rips at St Clair and St Kilda, the safest options were Brighton and Warrington, he said.
The veteran surf life-saver also urged people to use common sense and stay out of the water during rough conditions.
''If people are in doubt or the conditions look big, don't go out.''
Mr Burrow said the increasingly popular but unpatrolled Tomahawk Beach could be especially dangerous because the rip near Lawyers Head was in the same location as the most convenient swimming spot, showing that the closest swimming spot was often not the safest.
''It's safest to swim at the middle of the beach rather than right near the entrance, where the rips are.''
A lack of resources meant Tomahawk was not able to be patrolled at present, but volunteers were frequently deployed there to rescue swimmers, he said.