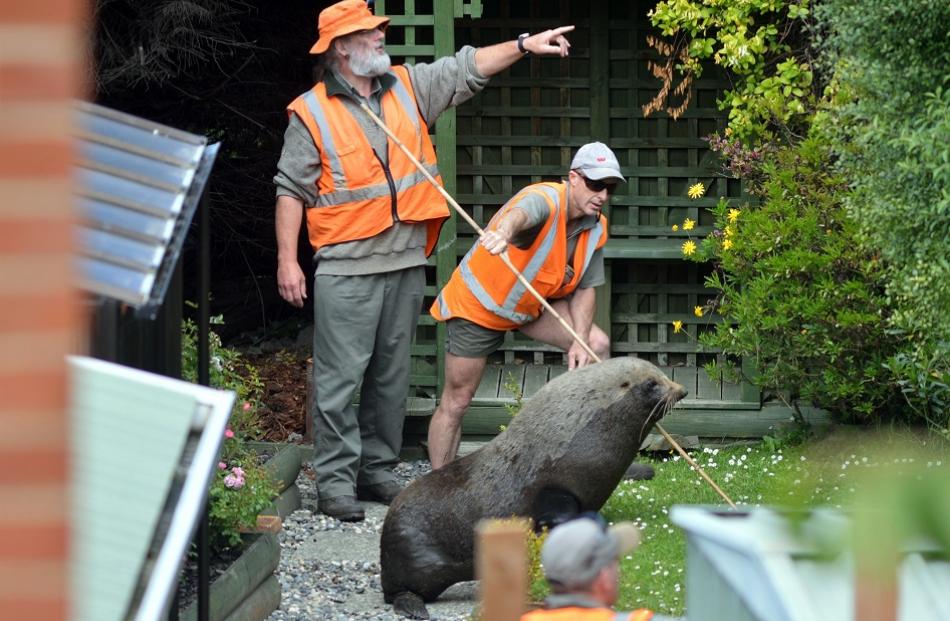 Perhaps he thought they were doing some sealing work.
A New Zealand fur seal surprised a gang of road workers when it emerged from a hedge in Andersons Bay yesterday, about 1km from the sea.
The 150kg seal led his would-be rescuers a merry dance through a succession of backyards, before being returned to the ocean.
The male adult seal was spotted coming out of a Spottiswoode St hedge about 8.20am.
It made its way along Gresham St, before ducking down a pathway into No 16.
From there, it travelled through four backyards before settling on a sunny, daisy-strewn patch of grass under a clothesline in the backyard of 26 Gresham St.
''It's not the sort of thing you'd want to come across when you're getting the paper out of the mailbox in the morning,'' resident John Fiddes said.
''I was taking a video of it coming along the road and I fell over backwards. I've never seen a seal here before and we've been here since 1970.''
Neighbourhood dogs made their feelings about the intruder known, while police and Department of Conservation staff contained the animal.
''It's the biggest one I've seen in a surburban environment,'' Doc coastal ranger Jim Fyfe said.
''You'll occasionally get sea lions wandering about, but it's unusual to see fur seals this far inland. It's also breeding season, so most of the big males are holding harems down the coastline,'' Mr Fyfe said.
Doc staff considered sedating the seal, but a vet would not be available until late in the day.
The decision was made to attempt to capture it in a body sock net, roll it on to a board and lift it on to the back of a ute.
The seal noisily protested at some length during this indignity, but it was safely carried to Tomahawk Beach, where it gave a final snort of disgust and was last seen heading into the surf at 2.10pm.
''It's always good to see them swim away. It went very smoothly. They're wild animals, so you never know how it's going to go,'' Mr Fyfe said.
Doc staff were mystified as to how the seal came to be in the area.
''It's hard to know where it's come from. Tomahawk or, possibly, even the upper harbour and Andy Bay Inlet. But, we don't know, exactly. We'd be interested to hear of any other sightings of him.''