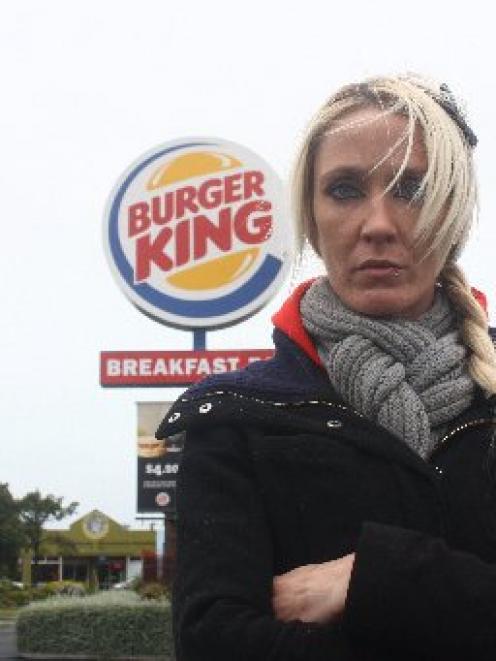 A visit to a Burger King drive-through has left a Dunedin woman with a bad taste after a burger she ordered had the tell-tale signs of having been sampled by someone else.
Sharmaine Paterson said she was shocked last Monday to open the wrapper to find a burger missing a crescent-shaped chunk - a chunk very similar to a bite mark.
She said she contacted the Andersons Bay Rd restaurant to complain her burger looked to have been bitten by someone else.
She was unable to talk to a manager and was told someone would contact her the next day. This week, she told The Star that call did not come.
Burger King Andersons Bay manager Komal Atryani said she tried contacting Miss Paterson as soon as she was told about what happened. A week after the incident, she and Miss Paterson discussed the complaint.
It was the first time the restaurant had received a complaint of that nature, Mrs Atryani said. She would not discuss the details with The Star.
Mrs Atryani apologised to Miss Paterson and offered a $30 meal voucher and a full refund. The restaurant would look into the incident but would not comment any further, she said.
Miss Paterson was happy with the solution but disappointed she waited a week to get it.
''I don't think I will be eating there again,'' she said.
Dunedin City Council senior environmental health officer Wayne Boss said the council received about 80 food safety complaints each year. Miss Paterson had not laid a complaint.
The council oversaw food safety and did not deal with food quality such as taste but investigated any complaint that breached food safety rules.
If there was an allegation of food poisoning, the complaint would be passed on to Public Health South.
If someone felt they had a safety issue such as food not prepared properly or found a foreign object in their meal, they should keep the evidence and contact the council, Mr Boss said.