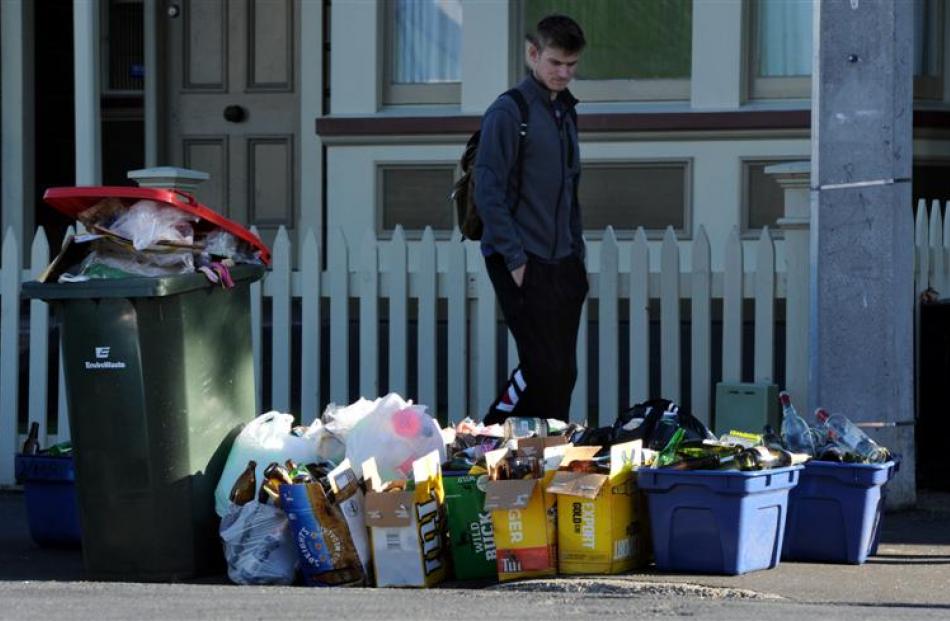 Castle St couch-burners are moving from the streets and into the shadows, residents of the street say.
With the potential for students to be kicked out of the University of Otago if caught lighting fires, revellers have taken to lighting them out of view, in driveways and backyards.
The disorder came to a head during the weekend, as police arrested two people for disorderly behaviour and the Fire Service attended seven couch fires on Saturday night and Sunday morning, including two lit close to homes.
Many students regarded couch-burning as a rite of passage, Castle St resident Georgia Lentjes said.
Although she did not light the fires, she noticed many had taken to lighting them in concealed areas to avoid the eyes of police and the university.
''It's such a big consequence,'' she said, of the possibility of being kicked out of university.
The punishment far outweighed the act of burning a couch, she said.
''It's just a bit of fun, as long as it doesn't get out of hand.''
But Dunedin alcohol harm reduction officer Sergeant Ian Paulin said if fires were started, then the party was out of hand.
''I was really disappointed to see what happened on the weekend,'' he said.
''If one of these flats goes up, you don't know who's in it or who's meant to be in that flat.
''It's going to be a hell of a mess,'' Sgt Paulin said.
A fire which scorched a house and cracked windows at the weekend caused Senior Sergeant Matt Scoles to warn, ''Kids are going to die down there.''
Sgt Paulin agreed and said students were taking greater risks to avoid being caught.
Couches were being soaked in petrol and taken down driveways, where they were set on fire, with the culprits fleeing the scene.
''They have probably got a bit smarter because of the fear of what happens if you are actively involved,'' he said.
Flatmates Hamish Boult, Aidan Waterhouse and Josh Stewart had a fire lit in the backyard of their Castle St flat during the weekend's disorder.
''There were hundreds of people here and we didn't even know [there was a fire] until we heard a bit of chanting going on,'' Mr Waterhouse said.
''One person starts it and it's a domino effect.''
Like moths to a flame, burning couches brought students in droves and, when police and the fire service became involved, the mix of alcohol, fire and crowds of young people could prove explosive.
Mr Boult felt the behaviour on the street had improved in recent years, but the strict stance being taken by authorities meant it was only a matter of time until someone took a risk too great.
''Around houses, it [couch burning] can get pretty dangerous,'' he said.
Mike Lucas, another Castle St resident, said the culture of partying and the street's association with ''scarfies'' were part of the appeal.
But he had also witnessed the risk-taking of fellow students and a friend set fire to a couch in Mr Lucas' flat during the weekend.
''A friend kind of lit a few patches of the couch on fire and it took off quite quick,'' he said.
The same friend, who did not live at the flat, also threw a chair through the window.
When asked why the friend did it, Mr Lucas said, ''He was having too good a time - there wasn't anything malicious in it.''
While the behaviour was extreme, ''that was the worst we have had it'', he said.
Most of the time, life on the street was trouble-free.
''I love it,'' he said.
Sgt Paulin said there was no ''quick fix'' and it would take a multiple agencies working together to stamp out the behaviour and change attitudes.
''It's always that 5% that cause 95% of the problem.''