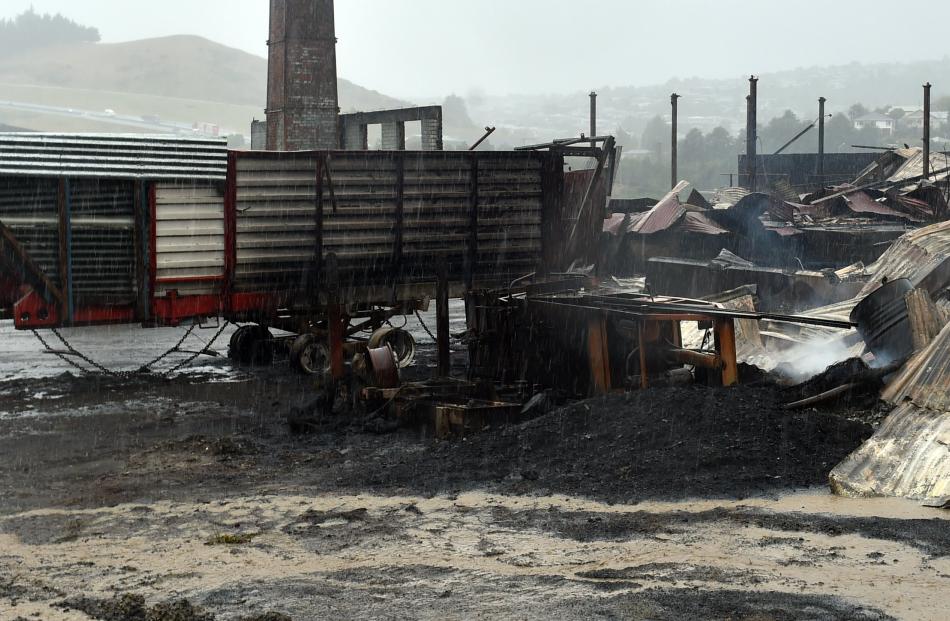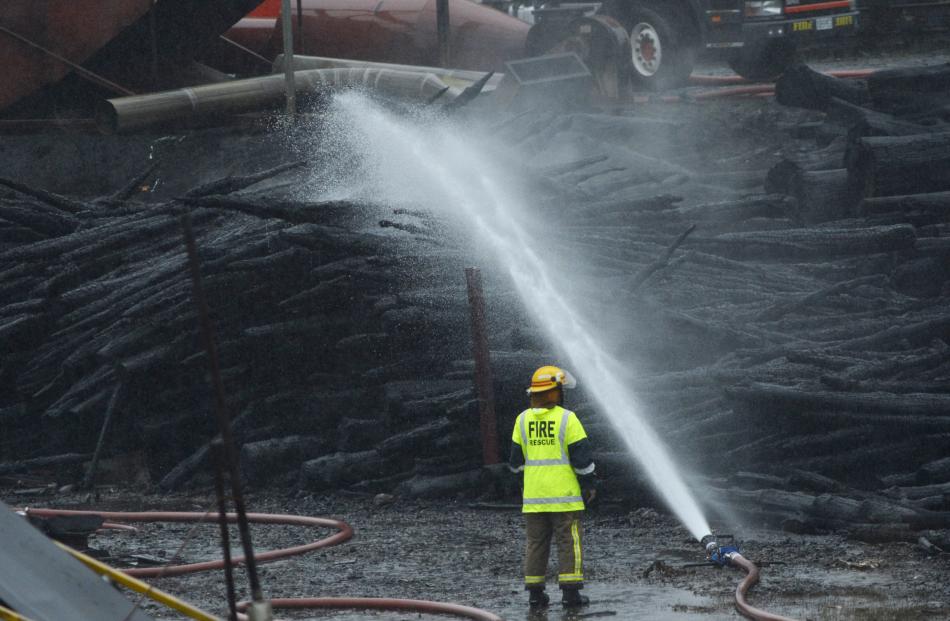 A Dunedin waste disposal business owner is devastated after much of his property was destroyed by Wednesday's blaze at Burnside.
Greenwaste owner Bob Gillanders lost more than $60,000 worth of machinery and tools in the blaze, including a  wood chipper and  large silage trailer.
He said the weather had been so hot, he decided to go home early and ended up falling asleep on his couch.
He was woken by a phone call, telling him the hill above his business was on fire.
"When I drove in the bottom gate, I saw it had hit that great big hillside of gorse and I knew it would only be a matter of time before it got to the bottom of the hill.
"What was going through my mind was: 'What can I save and what is going to be lost?'
"I managed to save four machines. I was still trying to save property when the fire brigade told me to get out.
"It was pretty upsetting to watch it all go up in flames."
Three industrial buildings and a shed at the neighbouring property, owned by Kaikorai Valley Properties Ltd, were also destroyed in the fire.
Company director Ezra Eini was surprisingly upbeat, saying the fire had saved him a job because the buildings were derelict and were due for demolition to make way for a small industrial subdivision.
He said one of the buildings was used to store old cars but the others were empty.
He said none of the buildings were insured.
Fenz incident controller Phil Marsh said it was a hair-raising and stressful event for fire-fighters.
"With this really extreme fire behaviour, it's really one out of the bag for what we've had to deal with.
"This fire had everything. It was vegetation, it was structural, there were gas cylinders, there were all sorts of unknown drums of things burning, so we had to treat it as worst-case scenario right throughout."
Mr Gillanders believed the fire started near Keep It Clean Ltd, a meat rendering plant on Reservoir Rd, Mount Grand.
A paddock of grass next to the facility had been mowed for hay, and it was very dry.
"It had dried out and it was just like a sheet of paper across the paddock.
"And once the fire got into that, there was no way to stop it — not with that wind.
"From there, it just went straight down into the gorse. It all happened extremely quickly."
Despite his losses, Mr Gillanders was counting his blessings yesterday after discovering his office building and his nearby golf driving range were not damaged by the fire.
He was most surprised his office — a small shed on the site — was not damaged, despite buildings only a couple of metres away being totally destroyed by the fire.
"My little office was the only thing spared. How [the fire] missed it, I do not know.
"It's quite remarkable. My man who uses it, he's religious — I'm not sure which religion — and a hell of a nice guy.
"From now on, I'm starting to think there might be something in his religion.
"I'm thanking whoever his god is."
He said he was insured.
Unfortunately, one of his young employees was not so lucky.
Mr Gillanders said the "hard working" guy had four uninsured cars sitting in one of the neighbouring sheds which burnt to the ground. He had been working hard to restore the cars and had just returned from Oamaru with a motor for one of the vehicles.
"He'd only dropped it off there an hour beforehand  ...  He's lost it all."
Given the heavy rain yesterday, Fenz said there was no likelihood of the fire reigniting in the short term.
Digging machinery and fire crews were on site yesterday, working in steamy, smouldering material  to dampen  hot spots.
They will remain there for the next two days.
Fire investigators arrived on the scene yesterday and would continue working today to determine the cause of the fire.
Evacuated residents were allowed to go home at 8am yesterday after being  accommodated in motels and hotels.
The Southern Motorway reopened early in the morning after being closed during the fire.
A KiwiRail spokesman said the railway line reopened at 8.15am, after staff  inspected it.